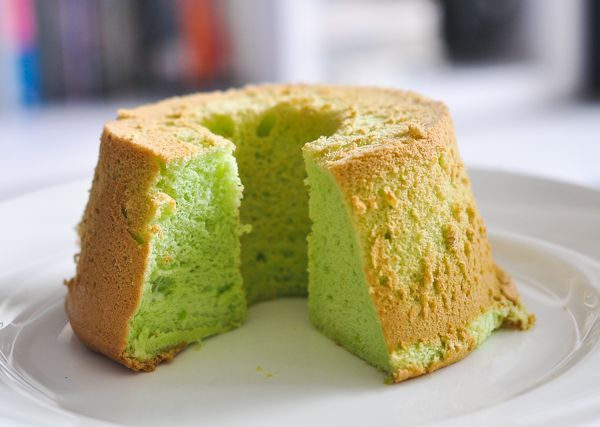 I love pandan chiffon cakes and the Bengawan Solo version is my favorite. Their pandan cakes are so soft, moist and flavourful. I can eat one whole pandan cake on my own.
I have tried baking chiffon cakes several times, including a goma version and a kinako version from the Okashi recipe book, but my cakes just would not rise properly. So I signed up for a class at Maple & Market to learn how to do it properly.
During the 2-hour class, we made two types of chiffon cakes – a pandan cake and three smaller sized Earl Grey cakes.
Both cakes turned out quite well. I felt that the pandan chiffon cake would have tasted much better if we had used fresh juice extracted from pandan leaves, instead of pandan paste from a bottle. I will try using fresh pandan juice the next time using the Hurom, and crossing my fingers that the machine will not let me down.
Pandan Chiffon Cake
Ingredients:
[A]
3 egg yolks
25g sugar
27ml corn/canola/sunflower oil
30g coconut milk
1/4 tsp pandan paste or 10g pandan juice
[B]
60g plain flour
Pinch of baking powder
Pinch of salt
[C]
3 egg whites
40g sugar
Pinch of cream of tartar
Method:
Preheat oven to 170 degrees Celcius. In a large bowl, mix all the ingredients in [A]. In another bowl, sift ingredients in [B]. Then sift [B] a second time into the bowl containing [A]. Lightly fold [B] into [A] until incorporated. Do not over-fold.
Using ingredients in [C], whisk egg whites in a medium-sized bowl. When the egg whites resemble foam, add cream of tartar (without pausing the whisking action). Continue beating until soft peaks form, then add in sugar slowly. Beat until stiff peaks form. Fold the meringue into the [A+B] batter until fully incorporated.
Pour the batter into a 7-inch tube baking pan, hit the pan against the table thrice (to burst any air bubbles) and bake in the oven for approximately 22 to 25 minutes. Remove from the oven and turn the cake tins upside down to cool. Do not turn over until completely cooled (approximately 2 hours).
Earl Grey Chiffon Cake
Ingredients:
[A]
3 egg yolks
30g sugar
30ml corn/canola/sunflower oil
15ml water
20ml milk
[B]
75g plain flour
5g Earl Grey tea powder
[C]
3 large egg whites (or approximately 130g egg whites)
35g sugar
Pinch of cream of tartar
Method:
Same method as the one described under Pandan Chiffon Cake.
Pandan Chiffon Cake + Earl Grey Chiffon Cake