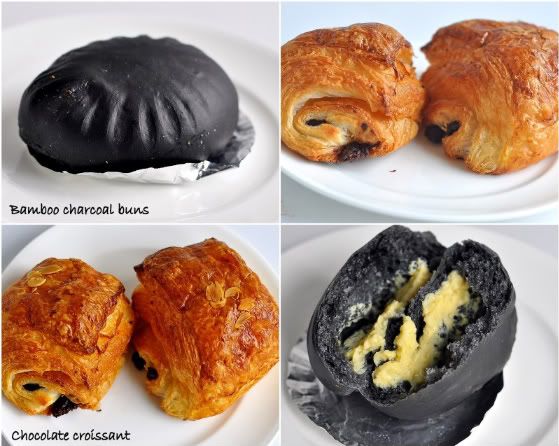 My colleague told me that Mirabelle's chocolate croissants are very good.  Since we were in town, we swung by this little bakery at 27 Mackenzie Road, to pick up some for ourselves.  I visited this bakery once before but didn't pick up any croissants; bought the sweet potato bread and some tarts.
Odd.  I love chocolate croissants but hate the plain ones.  For some reason, the plain ones make me sick in the tummy almost immediately after consuming them.  I used to overdose on the chocolate croissants (and blueberry tarts) at the Parkway Parade Delifrance because the cafe was one of our favourite hang-out places during college days. 
Ah, sweet memories. Somehow, I have been reminiscing alot lately.
The suaku me does not remember eating croissants from any place in Singapore except at Delifrance (and I have never been to France…).  I was supposed to try the ones at Hiediard but never got around to doing so.
Back to Mirabelle.  The chocolate croissants were amazing.  Light, flaky and buttery.  I wished I had bought more than just two croissants.  I am not eating croissants from Delifrance ever again. 
At Mirabelle, while waiting to pay, I saw a guy come into the shop and buy up all the bamboo charcoal buns on the tray (about 6 or 7, I think) and that were the only items he bought.  I had also picked up one of these black-coloured buns to try since they looked interesting and the colour reminded me of squid-ink pasta. Plus these buns had a custard filling and I'm a sucker for all things custard. 
All I could say about the charcoal bun was…UM. WOW! 
It was very good!  I loved the soft, chewy texture of the bread.  But I felt that the bun could do better with a more generous filling of custard.
I complained bitterly to TBH that I wished I had bought all the charcoal buns so that the guy who came in after me would be so disappointed that he had none to buy!  Now I have to wait till the next weekend to visit the bakery again since they are not opened on Sundays.   Okay, the next time I drop by the bakery, I am buying up ALL the charcoal buns. 
For sweet potato lovers – I am one – the sweet potato bun was very tasty too.
Charcoal Buns Filled With Custard