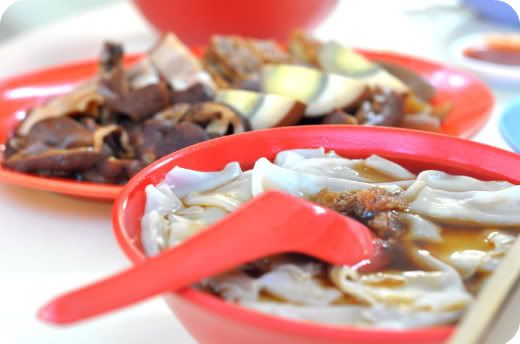 Garden Street Kway Chap, Serangoon Gardens Food Centre
Garden Street Kway Chap has always been my favourite place to go to for a kway chap fix. I know they are not the best in Singapore for kway chap but it is still one of the better ones around.
Our standard orders are eggs, DOUBLE servings of pig's intestines, TAU POK, pork belly, pig's skin, salted vegetables (or is it called pickled vegetables…??) and perhaps, the fish cake. I like the kway as it is thin and smooth, and I find the pig's intestines very flavourful, but they could do to improve on the pig's skin which is not sufficiently tender and tastes a little rubbery (but I still order it anyway!).
One of the reasons why I enjoy going to Garden Street is because it brings back good memories of my secondary school days. In those days, Garden Street was located at the former Blanco Court. After every exam or major test, my friend and I would go to Blanco Court and pig out on kway chap from this stall; always with a big glass of yummy sugarcane juice from the drinks stall next door to wash it all down.
It all sounds so inane now – what really is the big deal about eating kway chap at Blanco Court (as the husband will say)? But it was a big deal to us in those days, at least to me, and it is also reminiscent of good times spent with a very good friend.
Sheesh, I think I am turning into an old lady. I am beginning to sound like grandpa, always talking about the 'good ole days'.