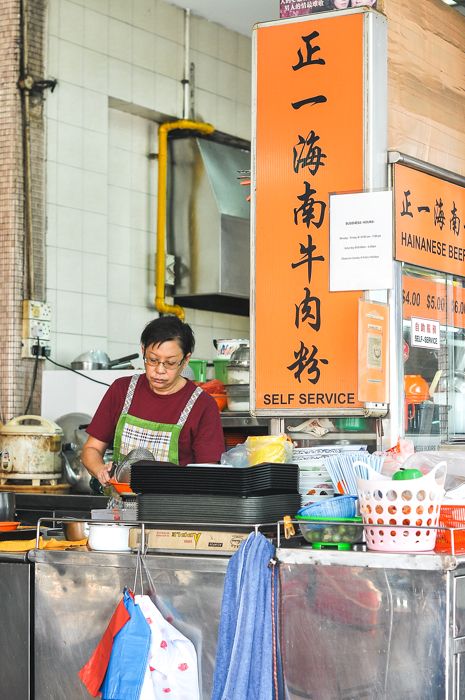 It took me four visits before I managed to eat a bowl of beef noodles from this stall run by a middle-aged Hainanese lady (not the one in the photograph above) at a corner coffeeshop at Tai Thong Crescent. I always relish the opportunity to order my food in Hainanese 'cos besides my maternal grandmother and mother, there is hardly anyone else whom I can converse with in that dialect.
I love eating dry beef noodles. The beef noodle stall at the now-defunct Scotts Picnic foodcourt was the one that I used to frequent as a teenager. Then I started going to the popular Purvis Street and Hwa Heng shops. But I have never really found a stall that serves beef noodles having the flavour of of the ones that my maternal grandparents used to bring me to eat as a child. My grandparents had distant relatives (that is, people who came from the same village as them in China, and not necessarily part of the same family) who made a living here selling beef noodles. Sadly, these relatives are no longer around.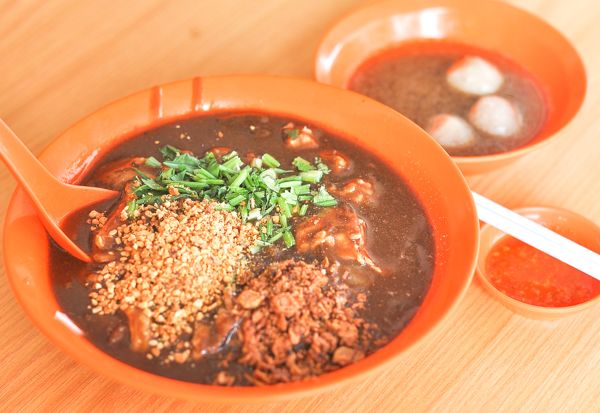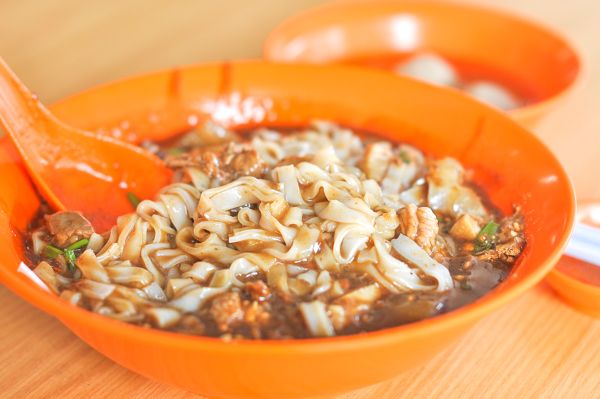 I ordered a bowl of dry mixed beef noodles (containing beef slices, beef tripe, beef tendons and yes, beef balls) topped with spring onions, peanuts and fried shallots. It costs me $7.
When I ate my first bite, my immediate reaction to the noodles was that the sauce was a little too bland and needed more salt. But as I continued to shovel noodles and beef tendons into my mouth, together with the very hot and piquant chili, the flavours started to get better and better. It was one of those dishes where the flavours start to come together after a while. The beef soup on the side was sooooo delicious. The stall is also very generous with the hunks of meat.
The beef noodles sold by Zheng Yi reminded me of the ones in my childhood years. Unlike the other beef noodles, Zheng Yi's gravy is less salty, less robust and does not turn into a watery mess mid-way into the meal. I have no idea what sort of starch or cornflour the stall uses because their gravy holds very well.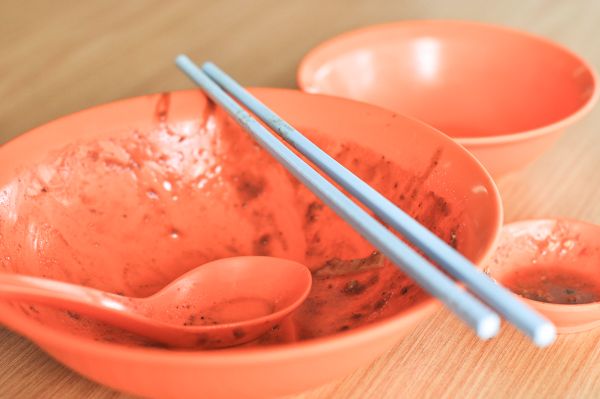 Licked the bowl dry. Truly satsifying!
I enjoyed this bowl of noodles sooooo much, I went back again today, after eating it yesterday.
Zheng Yi Hainanese Beef Noodles
47 Tai Thong Crescent
Kin Seng Coffeeshop
Daily 11.30am – 6.30pm except Sundays and PH

View Zheng Yi Hainanese Beef Noodles in a larger map
Zheng Yi Hainanese Beef Noodles At Tai Thong Crescent