Foodie friends have been telling me about how we must go to eat at several places in Ubud – Ibu Oka (babi guling), Babek Bengil (crispy duck), Naughty Nuri's (char-grilled ribs and potent vodka martinis). One of the resort staff also recommended that we visit Ibu Mangku who is well-known for her spicy fried chicken.
So we did. We went to all these places with our friends. And ate way too much for our own good.
All are local eateries with a laid-back atmosphere, menus scribbled in chalk on blackboards and great food at very affordable prices. I should also add "warm, no air-conditioning and mosquito-infested".
A plate of rice, crackling babi guling skin with a thick, unctuous layer of fat, slices of tender pork accompanied by a very addictive spicy sauce and other fixings like blood sausages, deep-fried-something and vegetables.
Ibu Mangku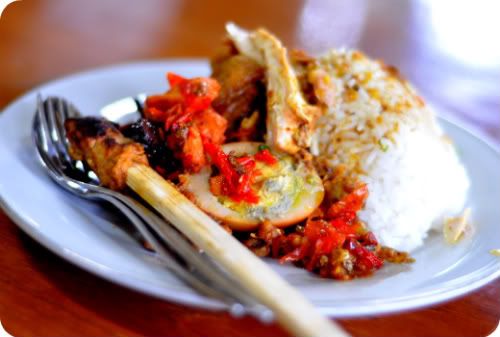 Nasi Ayam Kedewalan.
A plate of rice, a stick of satay, a small hunk of fried chicken (never mind that it was chicken breast which I am not particularly fond of), hard-boiled egg and all the delicious toppings of chili and fried bits (I had no patience to figure out what they were).
My braces "snapped" while I was shovelling nasi ayam into my mouth. I have no idea why, but my braces seem to always "give way" whenever I eat chicken (the last time it happened at Chin Chin Chicken Rice).
Naughty Nuri's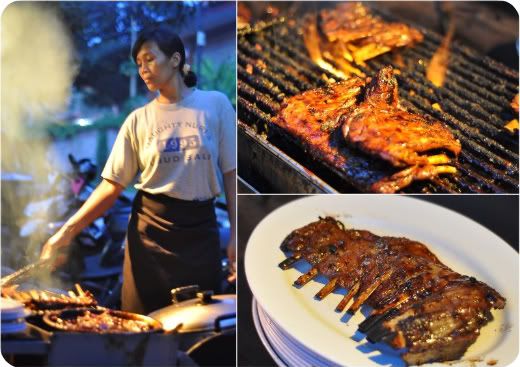 The photos didn't do the ribs any justice. The place was dark and I was too hungry to try harder.
This is basically an open-air, dingy-looking hut by the road and they cook slabs and slabs of pork ribs on a small charcoal grill in full view of the customers.
Nothing naughty about this place except that they serve a mouth-watering rack of char-grilled ribs and a very very mean vodka martini and margarita. I could barely walk straight after a glass of each.

Most joints serve ribs using a marinade that taste just sweet. But here, the ribs have a deep, complex and smoky flavour (from the charcoal grill, no doubt) and the meat is so succulent and tender, it falls off the bones easily. I savoured every bit of the ribs with my hands so that I could lick my fingers afterwards.
Problem with this place is that the smoke from the grill is so thick, I had difficulty getting rid of the smell from my hair even after two washes.
Babek Bengil (also known as Dirty Duck Diner)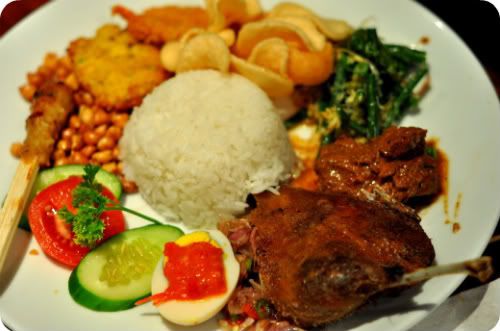 Nasi Campur Bebek.
The first time I ate this was at its outlet in Jakarta and I didn't find the famous crispy duck tasty. Also, the duck was too hard for me to bite into with my braces so I skipped it this time but TBH tried it and did not find it spectacular.
We also pre-ordered the babek betutu which is smoked duck stuffed with Balinese spices and wrapped in banana leaf. I thought it was very good. If I ever visit Dirty Duck again, I will definitely want to order this and skip the crispy duck altogether.
During our first visit, we ate in most of the time because the restaurant does a very good nasi goreng and mee goreng. I ate mee goreng at least once a day and there were other days when I ate it for all three meals.
Both dishes still taste very yummy.
Breakfast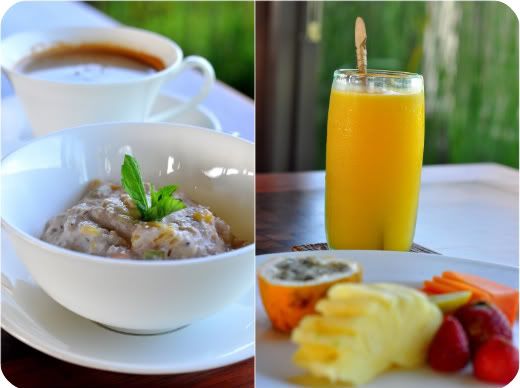 Fruits and bircher muesli (which I love).
It wasn't all sinful food that I ate at every meal. Breakfast was healthy.
I also ate passionfruit for the first time in my life on this trip. Why have I not eaten passionfruit before, I don't know.
Whatever the case, I definitely need to go on a "'detox diet" over the next couple of weeks.
DO NOT ask me out for lunch!
Other Posts On Bali:
Bali: From Ubud With Love
Bali: The Chedi Club
Bali: Adorable Creatures We Saw
Bali: Bedugul
Bali: The Padi Field Walk