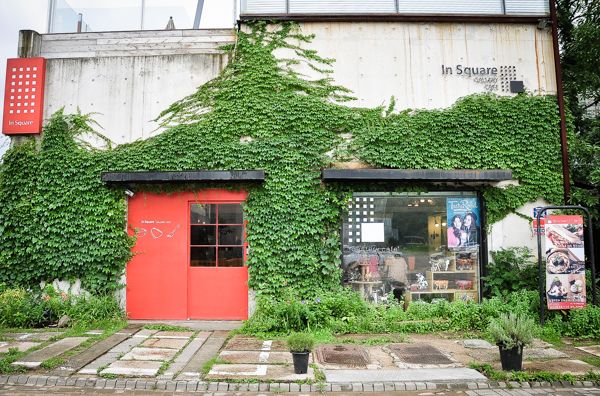 I have been planning to visit Heyri Art Village, a cultural art village located outside Seoul in the city of Paju, since I first heard about the place in 2010. From the accounts that I have read of the place, it sounded like an art-sy, quirky and bohemian type of place that I would like to spend some time exploring in.
I finally made it to Heyri during my summer trip. The 20 minute bus ride from Seoul to Paju was one of the nicest rides that I have gone on, passing by the outskirts of Seoul and a barbed fenced up area, which is probably North Korea beyond that. Heyri sits on a fairly large plot of land dotted with buildings housing galleries, restaurants, cafes and several shops. Maybe it was due to the dreary, gloomy and rainy weather on the day that I visited, 'cos the village looked grey, cheerless and desolate, and not showing the 'vibrance', 'trendy' and 'cultural' vibe that I was expecting to experience.
Entry to the village is free-of-charge but some of the museums charge a small entry fee. The information office located at the entrance of the village provided maps in the Korean language only. I couldn't really tell what was available to see in the village so I decided to just check out as many buildings as possible.
But before I do so, I needed to fill my belly, quench my thirst and put my feet up.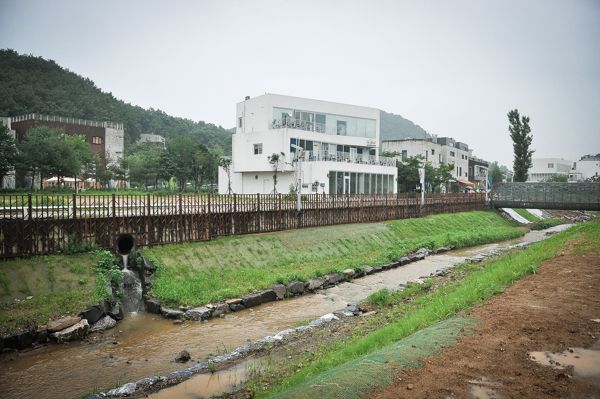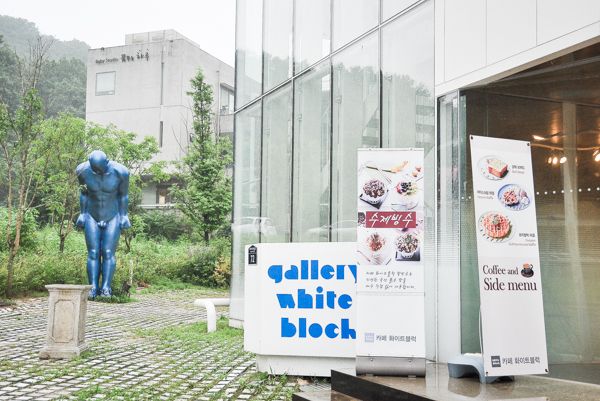 I found a cafe called InSquare Cafe, located in one of the buildings near the entrance of Heyri Art Village. There was a row of cafes but InSquare caught my attention with its bright red door and the pretty creepers (is that what you call such plants?) sprawled on the walls. I peeked into the cafe from the window and saw a spacious cafe with a high ceiling and dozens of cute cow figurines on display.
I found a table in a corner of the cafe to do the usual – take photographs, people-watch, read a book and surf the Internet. I usually pick a quiet corner in cafes because this position provides a paranomic view of the cafe for photography.
There was no major wow factor in the cafe. It was spacious, airy and quiet. I really liked the set of pendant lamps that were hanging from the ceiling. How I wish that the ceiling in my flat was high enough for me to hang pendant lamps.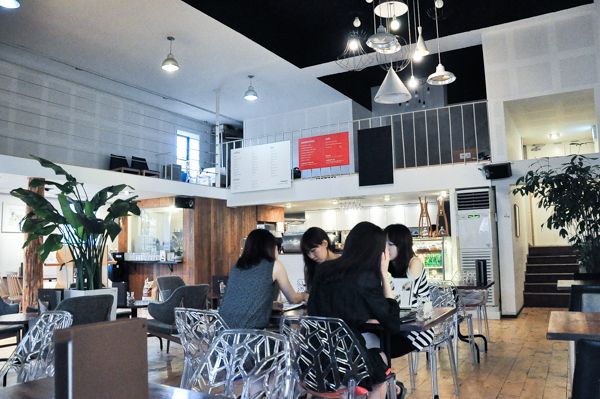 The menu had mostly Western options. I chose the meatball lagsane, which came with a saucer of pickles. I like how the food came in a cast-iron skillet. For some reason, a skillet makes food look tasty, though not necessarily the case once you put some of it in your mouth.
I think all Italian food served in Korea is accompanied by pickles, like kimchi in Korean food. I am not quite sure why. I love kimchi, but I really hate those pickles.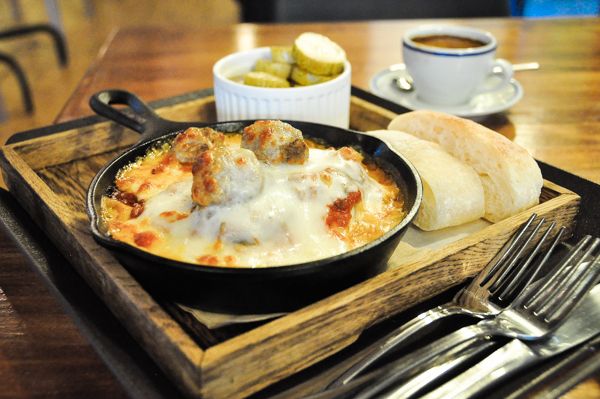 I also ordered coffee, and a patbingsu for dessert. I have always wanted to eat patbingsu but have never done so because most of my visits to Seoul are during the cold seasons where eating a giant bowl of ice shavings wasn't at all appealing. The traditional patbingsu, similar to the Singapore ice kacang, is a popular ice shaving dessert, contains sweetened azuki beans (which I am crazy about). The modern options come with a variety of other toppings such as fruit, ice-cream, yoghurt, rice cakes, etc.
I love ice kacang and I thought I would enjoy patbingsu too. How not to like a bowl containing ice shavings, ice cream, fruit, sweetened azuki beans during hot and humid weather? I was expecting to indulge in many bowls of patbingsu on this trip. But I didn't enjoy the dessert. I don't really know why. It just didn't taste very nice. I concluded that ice shavings and ice cream should not be paired together. I should have tried the ones sold in other cafes but after this experience, I wasn't inspired to eat more of the dessert.
After my meal, I wandered around the shop, looking at the cow figurines on display at a corner of the cafe. These figurines remind me of the Elephant Parade that was held in Singapore in 2011, an open air art exhibition of decorated elephant statues to seek support and awareness of elephant conservation. These statues were displayed in the Central Business District and the Botanic Gardens, and miniatures of these statues were also sold in department stores to raise funds.
Photo galore of these moo figurines. Glad that the cafe only displayed 'no touching' signages and not 'no photography' ones.
This is my favorite. I wanted to ask the cafe whether I could buy it, but I didn't think the husband will approve.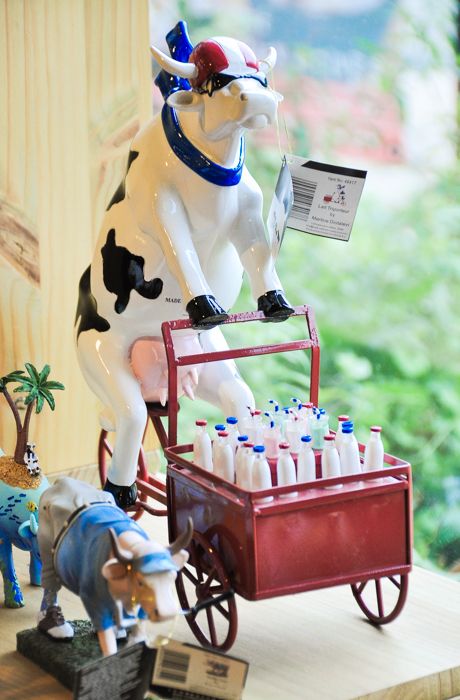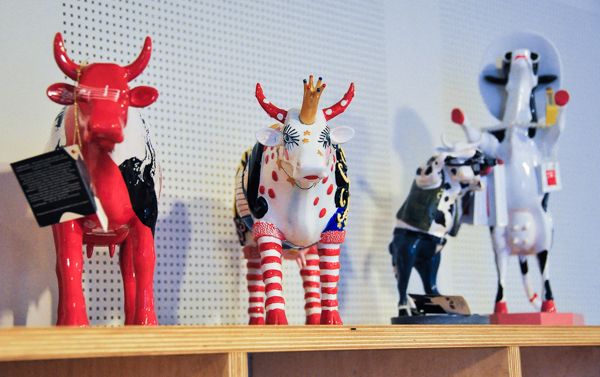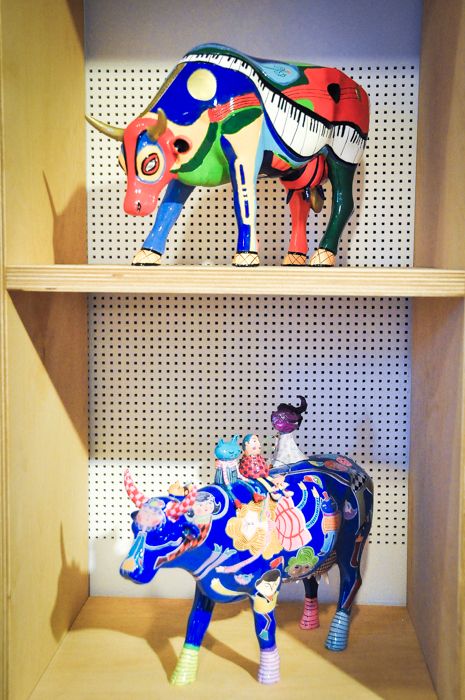 This set of three figurines are sooo cute. I particularly like the one soaking in the tub.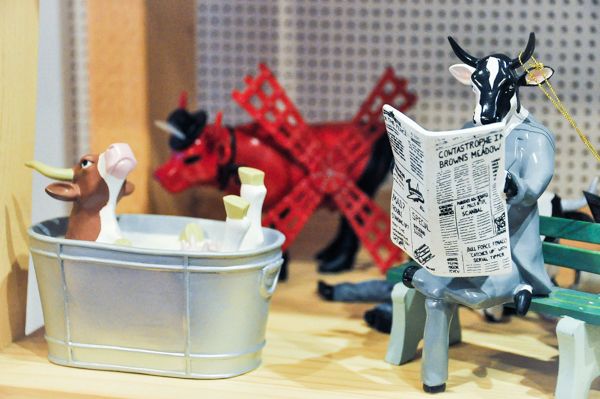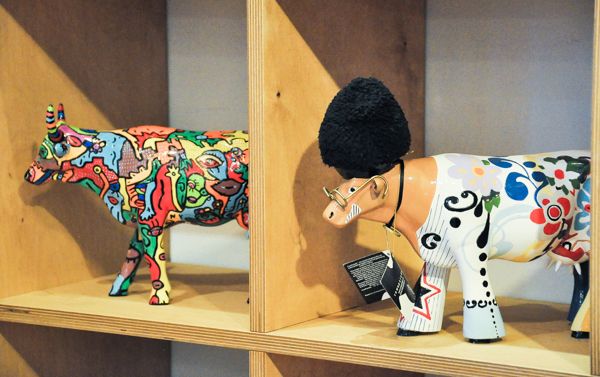 I was quite reluctant to leave the cheery atmosphere of InSquare for the wet gloominess outdoors. I wandered around with my brolly and headed to the Toy Museum just a block away from InSquare. I LOVED THE TOY MUSEUM (in the next post…)!
Directions to the Heyri Art Village
Take the subway to Hapjeong Station (Line 2, Exit 2), the Green subway line. (The Green line is right outside Metro Hotel and I didn't have to change trains to get to Hapjeong. Which is why I love staying at this hotel.)
Leave the Hapjeong station at Exit 2. Take bus number 2200 from the bus station just outside Exit 2 which heads to Heyri Art Village. (I usually confirm with the bus driver that the bus is heading to Heyri Art Village and plop myself on the seat that is nearest to the bus driver so that he will prompt me to get off at the right stop). It takes about 40 minutes to get there and announcements for bus stops are in English (some of the announcements are in Korean but the ones for major tourist stops such as the Lotte Premium Outlets and Heyri Art Village are in English).
To head back to Seoul, cross the road from the bus-stop where you alighted, and look for a flower shop. The Seoul-bound bus stop is just in front of the shop.
Try to avoid going to Heyri on Mondays as most of the museums and galleries are closed.
Other posts on Heyri Art Village:
Toy Museum At Heyri Art Village
Seoul: InSquare Cafe at Heyri Art Village