My first pit-stop in Korea was Gyeongpo beach in Gangneung.
After I arrived in Gyeongpo in the afternoon and checked into the hotel, I wandered around the Gyeongpo beach-front area, looking for a place amongst the many seafood restaurants for a place to have a late lunch.
I chose an eatery whose owner could speak a smattering of English, and he recommended that I try the hwedupbap. It's a Korean rice bowl with raw fish, vegetables and gochu-chang.
That was the first time I ate hwedupbap and it was delicious – the raw fish was very fresh and came in thick chunks while the banchan contained most of my favourite side dishes.
These days, whenever I have a craving for hwedupbap, I head to Bukang Tuna at the Red Dot Traffic Building at Tanjong Pagar.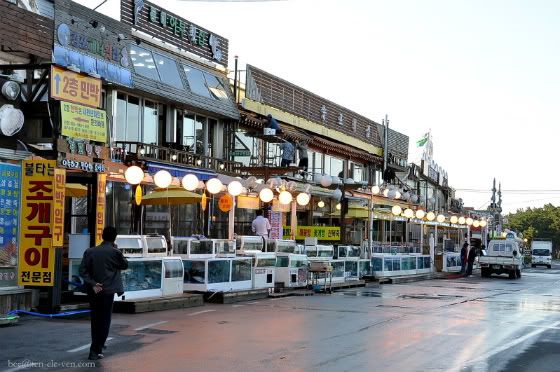 A long row of seafood shops along the beach-front of Gyeongpo beach.
Gangneung: Hwedupbap at Gyeongpo