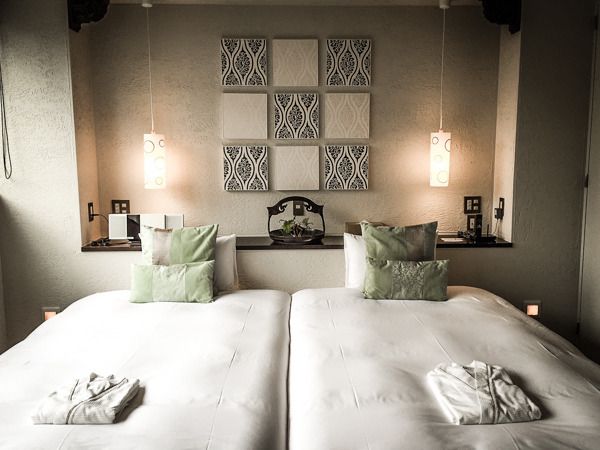 We stayed at Hotel Mume in Gion for the first time when we visited Kyoto two years ago.  I came across a review of the 7-room boutique hotel on Time's website.  I was charmed by Mume's design around 4 nature themes of "Butterfly", "Wind", "Moon" and "Flower".  However, the only room that was available to us at that time was the "Moon" double room.  The room was chic, intimate and elegant but we found the room a little too dark for our liking.
For our second visit, we managed to book the bright and airy "Wind" room (photo above).  It is quite difficult to get a room in Mume so we had to plan our two-week Japan schedule around the availability of rooms in the hotel.  That is how much we like Mume!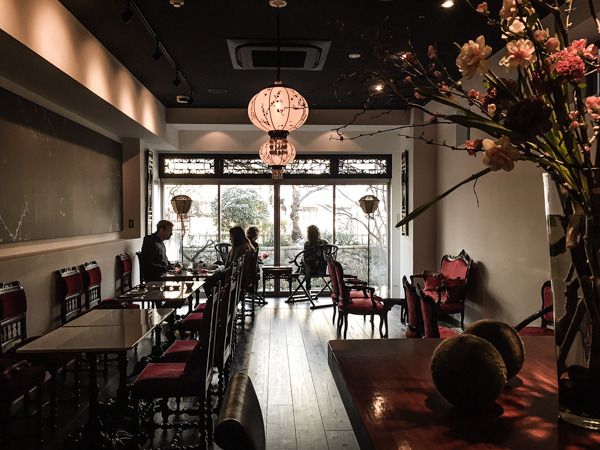 This is Mume's chinoiserie-style lounge-cum-bar, furnished in dark wood accents, European and Chinese furniture, Chinese lanterns.  There is always a huge floral arrangement sitting on the counter.  This is where guests gather to have their breakfast, pre-dinner drinks, coffee/snack when you are back from a day out traipsing around Kyoto.
I am fairly sure that we will be repeat guests at Mume.  I would say that the level of personal service shown by the owner, manager and staff is the winning factor for me.  The Mume folks show an incredible amount of hospitality to its guests, always inquiring about your day and making sure that you know exactly how to get to the restaurants and attractions in Kyoto by printing out maps, train schedules and photographs of the exterior of the restaurants.
We always look forward to chatting with the owner or the manager at the end of the day.  They speak good English so that makes for easy conversation.  Twice, I have left behind something in Mume after checking out, and both times, they called me at my next hotel to let me know that they have forwarded my things to the hotel through the Japanese delivery service.
I love Mume's breakfast (which is included in the room price).  They serve a daily continental breakfast set comprising fruit juice, homemade yoghurt, fruit, homemade soup, breakfast rolls, soft-boil egg, assortment of jams and coffee from the Nespresso machine.    The food is simple, clean, fresh and delicious.  I usually skip the breakfast rolls and soft-boil egg because too much food in the morning ruins my appetite for lunch.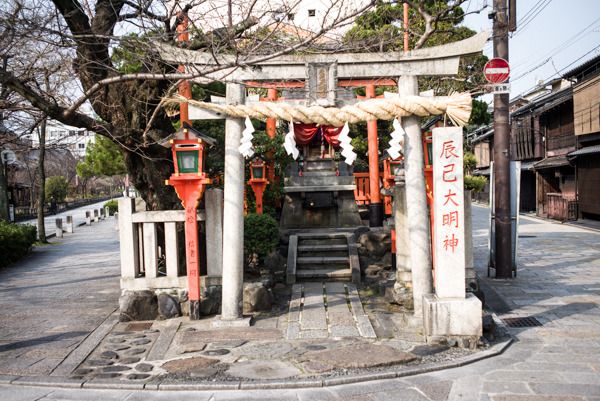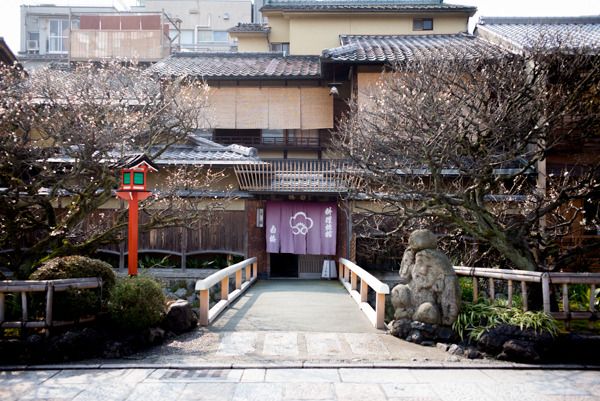 Another reason that we like Mume is its location.  It is conveniently situated a couple of streets behind Gion, and within walking distance to the Kamo River, the Gion-Shijo subway line, the shopping districts in Shijo-dori and San-jo-dori, as well as the Kiyomizu Temple, Yasaka Shrine and Maruyama Park.
Just a short walk away from Hotel Mume is the pretty Shirakawa-minami-dori, an old street lined with machiyas, plum and cherry blossom trees.  We walk past this lovely street everyday, to get to Shijo-dori or the Gion-Shijo Keihan subway station.
The Shirakawa river runs parallel to the street, with stone bridges connecting the pavement to the restaurants housed in the machiyas.  We were here at the start of spring two years ago and it was particularly scenic with the spring-time foliage.  This is a popular place for Japanese bridal photo shoots and to see maikos.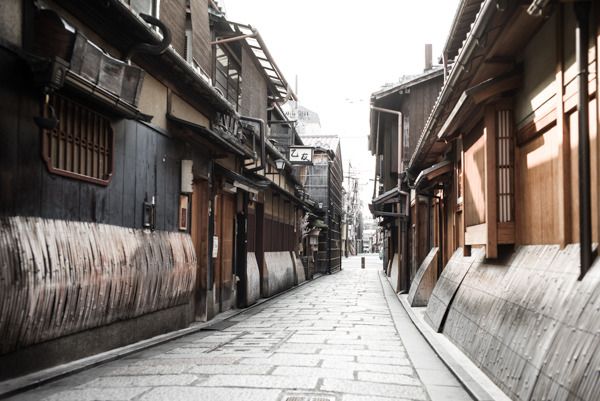 Another stretch of machiyas that is very popular with bridal shoots.   It is a lovely spot for a morning walk, before the crowds turn up.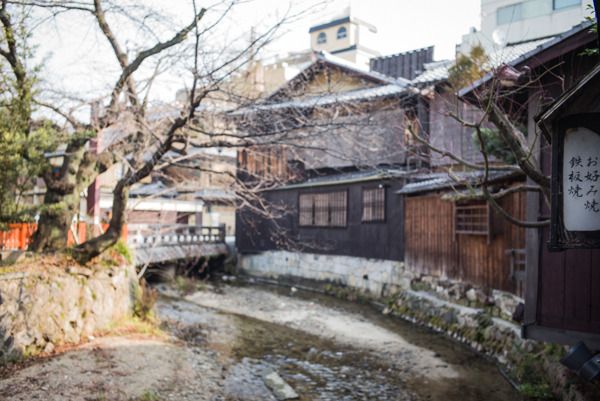 Kyoto is just so charming.
Kyoto: Hotel Mume / Shirakawa Minami Dori