Enroute to San Francisco in March, I decided to do a 4-day layover in Seoul. Taking a long-haul flight directly to San Francisco was too daunting for me and I wanted to break it up. Also, I never miss a chance to visit Seoul whenever I can. 🙂
It was a busy period at work for the two months leading up to the trip, so I was looking forward to spending 4 days in Seoul on my own, eating my favorite foods, visiting my favorite shops and just wandering around on the streets hoping to find a charming cafe to drink a cuppa and surf the Internet on my iPhone.
I was quite pleased to find a number of pretty cool and quirky cafes on this trip. And I spent most of my time sitting in cafes, taking photos and reading a book. I know that some people may feel that it is an absolute waste of time to do nothing on a vacation but this is the best-est type of holiday for me – the sort where there is nowhere in particular to go, and nothing in particular to do. Just go wherever my feet takes me and do whatever my heart feels like doing.
On my first day in Seoul, I explored the streets of Daehangno. I was thinking of going to Ihwadong but decided to just wander around Daehangno instead. I had arrived in Seoul that morning on a red-eye flight and I was feeling quite tired, so I was not terribly excited about taking a long walk around Ihwadong.
I walked around Daehangno for a while and stumbled on this quirky cafe, called Miss Lee's Cafe! It seems that this cafe is quite famous in Seoul, why, I am not too sure but I guess it appeared on a popular reality show called "We Got Married".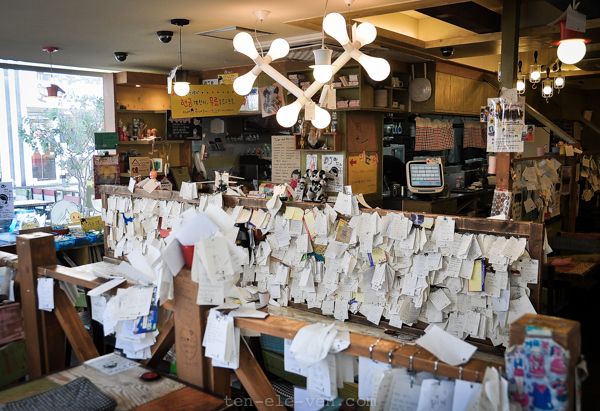 I stepped into Miss Lee's Cafe and the first thought that came to my mind was – there is SO MUCH paper everywhere. Pinned to the walls, the tables, the windows and hanging on the lights…too bad I don't read Korean, and have no clue what was written on the pieces of paper in the cafe. My guess was that these are notes hand-written by guests. I should have written something in English or Mandarin and stuck it somewhere.
Miss Lee's Cafe had a quirky, girl-y decor and had a treasure trove of little ornaments and cute toys.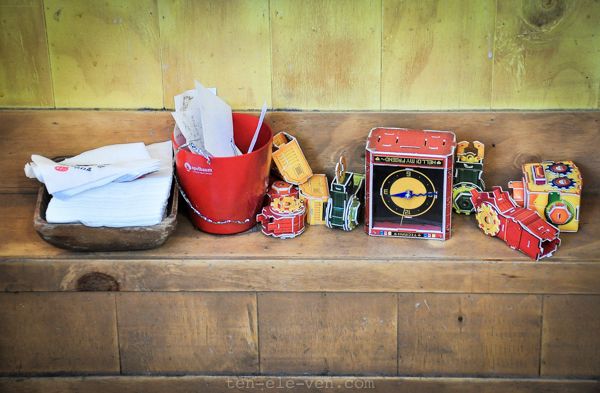 I liked these grumpy-looking black dolls. I wanted to ask the shop if they were for sale, but decided against it. Bringing one of these back would surely make my husband's face as black as these dolls.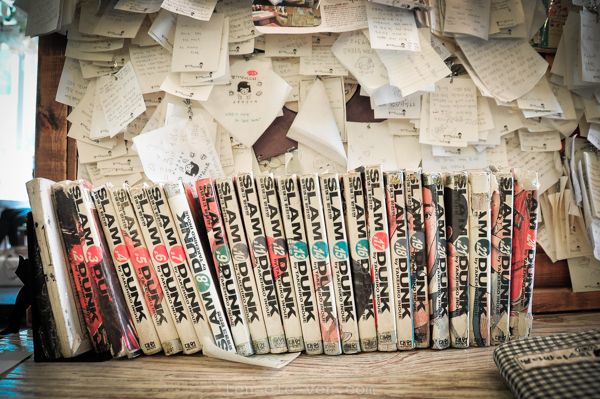 Slam Dunk comics! I used to read the series when I was in college. Maybe I should pick up these comics again and see if they are still as fun a read as before.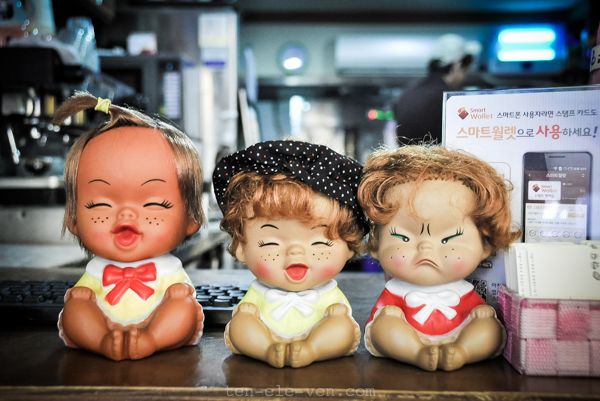 Love these dolls. 🙂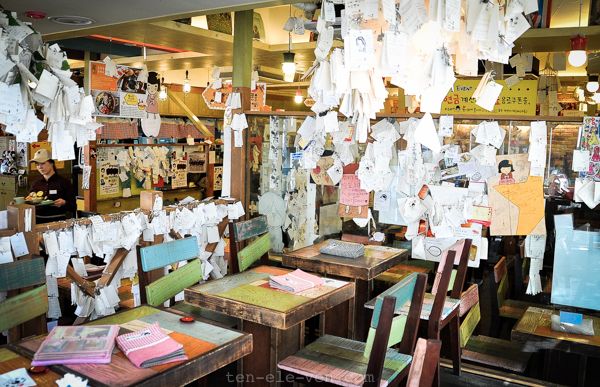 I ordered only a cup of coffee at Miss Lee's Cafe in Daehangno 'cos I had already eaten my lunch. I flipped through their menu and saw that they sell simple dosirak sets (Korean lunch boxes similar to the Japanese bentos), traditional Korean sweets and cold desserts. I observed that many tables ordered the dosirak sets which were served in the traditional rectangular metal lunch boxes used in the old days. How quaint! I told myself that I had to find time to make a repeat visit and try the food.
On my last day in Seoul, I stepped out of my hotel – Metro Hotel in Myeongdong – in search of lunch, and saw this right outside the hotel. How in the world did I miss it all this while during my stay…?!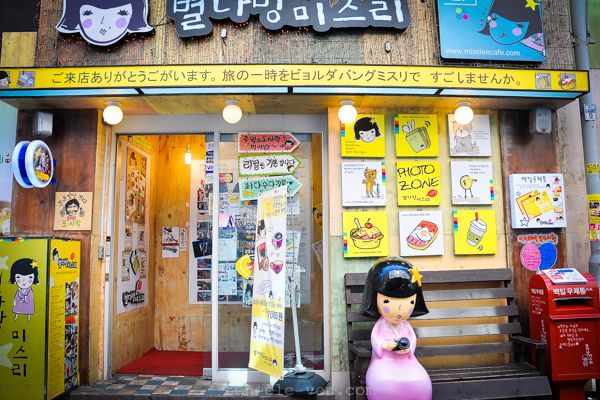 Another Miss Lee's Cafe. Right outside the hotel that I almost always stay at. I squealed and skipped into the cafe. The decor in the Myeongdong outlet is similar to the Daehango outlet with plenty of retro toys. I was in love with all the little dolls and old-world telephones. One is never too old for these things!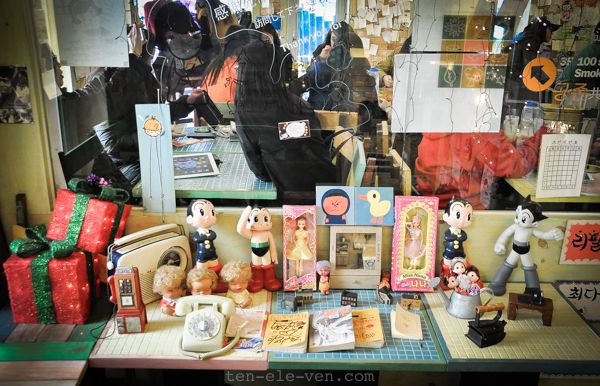 I was very hungry and ordered myself a kimchi dosirak and it turned out to be the best kimchi meal that I have eaten. It was served school lunch-style and I felt like I was back in school, eating my meal in the canteen.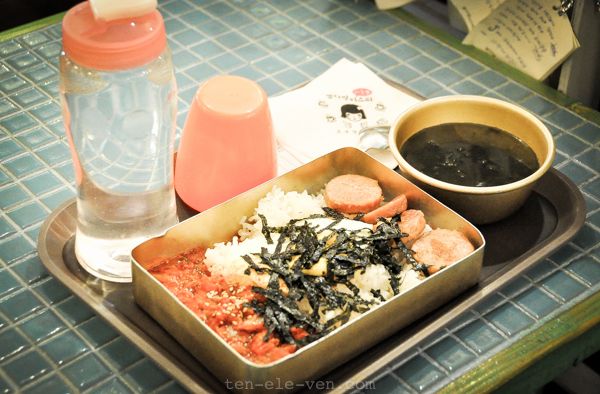 Kimchi. Egg. Luncheon meat. Rice. Seaweed soup. It was a simple , heartwarming and comforting meal that tasted fabulous. This is something that is going on to my must-eat list everytime I visit Seoul.
More of my favourite photos of Miss Lee's Cafe in Daehangno in the gallery below.
Besides the outlets in Myeongdong and Daehangno, there is another one in Insadong which I will definitely visit during my next visit! One can easily spot the cafe by looking for the huge mascot (doll) sitting outside the cafe.
Seoul: Miss Lee's Cafe In Seoul