After spending 5 days in Fukuoka, I took the shinkansen from JR Hakata to Kyoto where I met up with my husband, who had flown into Kansai from Singapore that morning. It was a Friday and the JR stations in Osaka (the transfer station for trains bound for Kyoto) and Kyoto were packed to the brim with people! It was only upon arrival at our hotel in Kyoto that we realized that we had run SMACK into a long public holiday weekend (the Vernal Equinox Day) in Japan. It was not the best time to be in Kyoto.
Despite the long queue for a taxi outside the JR station, I managed to hop into one fairly quickly. We chose to stay at Hotel Mume which seemed to be located in an obscure street somewhere in Gion, given the deep frowns of the rather grumpy taxi driver when I showed him the address of our hotel in Japanese. Muttering the address repeatedly to himself throughout the drive, I got the impression that he did not recognise either the hotel or its address. I was afraid that we would wound up circling the streets looking for the hotel, and eventually burning a hole in my pocket. I whipped out my iPad, looked for the hotel's location on Google Maps, and monitored the path of the taxi making its way to the hotel. Good, we were on the right track.
Hotel Mume is located in a very quiet street. The hotel has a discreet entrance; so discreet that the taxi driver and I were standing right in front of the main door yet could not see it. More about the hotel later. After checking-in, we decided to find ourselves some lunch. As it was a public holiday, quite a number of restaurants around the hotel were closed, so we ended up eating a fast-food sort of pasta in a cafe after wandering around fruitlessin in a very crowded Gion, trying to find a place to eat. On hindsight, we were obviously looking for food in the wrong part of town. Everyone seemed to be in Gion. The crowded streets were filled with lovely women, elegantly clad in their kimonos with flowers tucked in their hair. I felt like a klutz, as usual.
To avoid the crowds, we escaped to the Kamogawa, strolled along the river before crossing over to the quieter side streets along Teramachi-dori. This street was lined with beautiful traditional wooden houses, swaying willow trees, pretty lighted street lamps and tinkling waters from the canal. Peaceful and zen. A completely different stage compared to the streets of Gion that we had just left behind.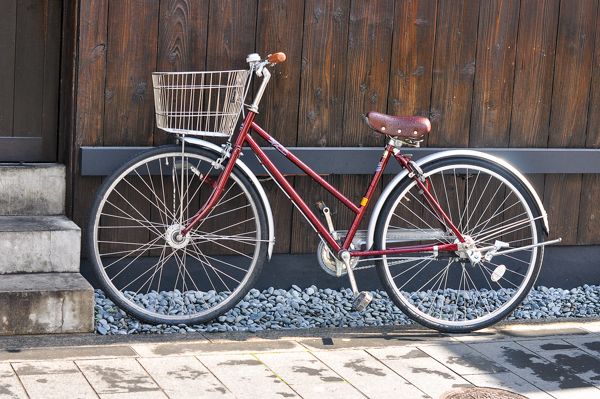 Many bicycles dotting the street. Leaning against walls or on the ground. They made me want to get on one and cycle around too. The weather was just perfect for cycling.
I have always wondered what it is like to live in one of these Kyoto houses. I toyed with the idea of renting a machiya with a river view in Kyoto, instead of staying in a hotel, but did not follow through with the idea in the end. We had no regrets staying in Hotel Mume. It is one of the best places that we have stayed in. The service was impeccable.
I could gaze at this view and not be tired of it.
We should have been more patient in finding a lunch spot. Our fast-food pasta was absolutely un-satisfying, yet we were too stuffed to comtemplate a second lunch in one of these lovely restaurants in the back alleys. Even the way the Japanese scribble menus on the chalk-boards is so stylish.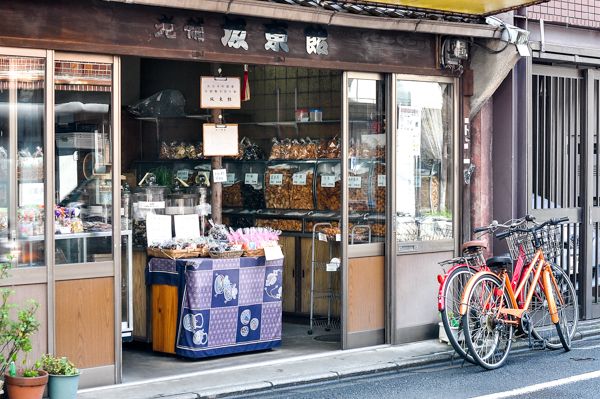 If Kyoto had been my last stop before heading home, I would be buying bags of these traditional snacks to give away to family and friends.
My husband. My drinking buddy.
We took a break in a quaint little cafe run by an old couple which serves traditional Japanese sweets, Japanese food and alcohol! We enjoyed an o-zenzai and a bottle of beer (in spite of the cold)! One of the things that we have in common is that we both love alcohol, particularly wine, sake and beer. And we indulge in it whenever we are overseas. I also like whiskey, soju and makgeolli which he isn't very fond of. We drank SO MUCH sake in Kyoto.
The small Shirakawa canal before it flows into the Kamo.
The picturesque area around the Tatsumi Bridge. Everyday, we walk past this stretch to and from Hotel Mume to Shijo.
Willow trees, sakura trees, stone walk-ways, machiyas, fat grey doves waddling around, herons perching on the window sills or peering into the restaurants in the machiyas. So many people, including bridal parties, were ambling around taking photos in this scenic street.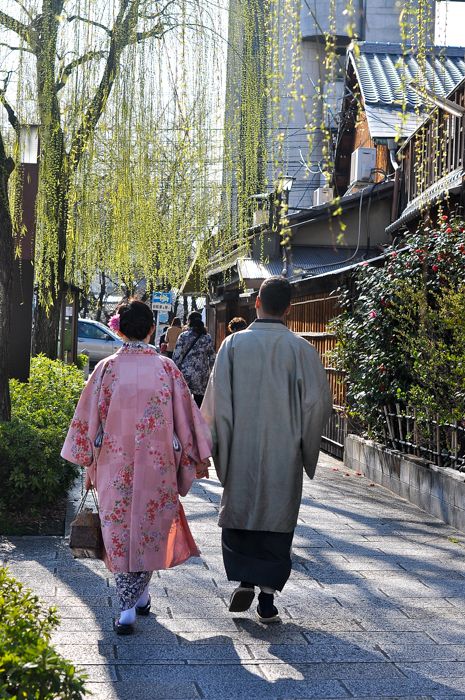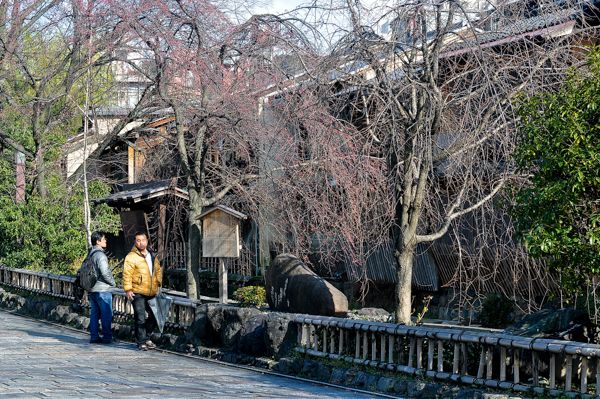 Beauty in bare trees, with a hint of budding pink flowers.
I was told that spring time is a popular season for Japanese couples to tie the knot.
Another bridal couple posing for photos.
Photo opportunity with the maikos. I wanted to ask them to take a photo with me but I was too shy!
Kyoto: Getting Our Bearings