During my last trip to San Francisco, I did not do any of the 'Top 10 things to do in SF' that travel guides recommend. I didn't eat seafood at Fisherman's Wharf, I didn't visit Alcatraz, I didn't take a walk in the Golden Gate Park, I didn't go shopping in Pier 29, I didn't go premium outlet shopping. I did quite a bit of that during our trip to SF many years ago and was quite happy to skip most of the touristy bits this time.
Besides wining and dining me, My friends brought me to Dogpatch, an interesting neighbourhood in San Francisco. I read that Dogpatch was previously a working-class, industrial neighborhood that is currently being revived as a trendy area with restaurants, artist studios, cafes and design areas Lofty, abandoned warehouses and defunct industrial spaces are slowly being converted to house gastronomic and artistic offerings.
The afternoon that I visited Dogpatch, the neighbourhood was very quiet. I guess the place comes alive only after the sun sets. It was a very pleasant stroll – lovely weather, clear blue skies, very little vehicular and human traffic along the streets.
I don't know what these flowers are called but they resemble cherry blossoms. I haven't seen cherry blossoms in quite a while. Such pretty colors against the clear, blue sky.
Besides the architecture of the buildings in that area, even the signs along the roads show an artistic bent in the colours, font and shape that are used.
The stairs that make me think of Pretty Woman.
Charming. They are never going to construct buildings that look like this again. These warehouses would look so trendy after they have been given a makeover, like how Oslo did with theirs.
Gorgeous brick building. If this building is situated in Singapore, I bet you the local authorities would have repainted the brick facade in some boring, hideous colour.

Ah,the Just For You cafe. That's where I had huevos rancheros and beignet for breakfast!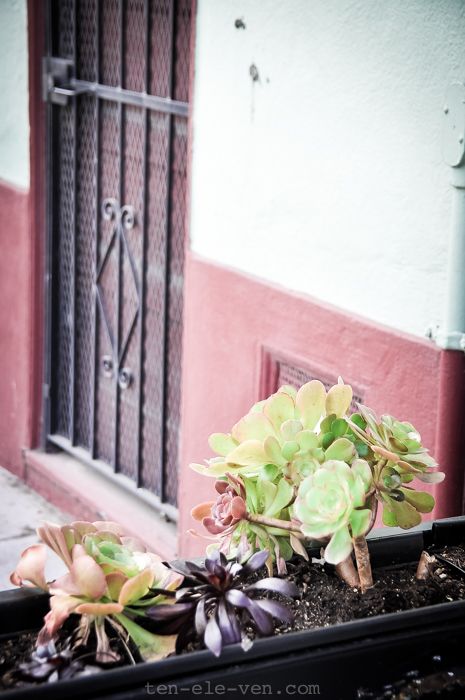 Outside the Dogpatch Saloon. I love the colors in this photograph.
Coffee time!
San Francisco: A Walk Around Dogpatch