I was wandering around Hongdae looking for the Fell + Cole ice-cream parlor, when I spotted this traditional-looking cafe in front of a large open-air carpark. Looking at the menu that was displayed outside the cafe, the place specializes in patbingsu, a popular Korean shaved ice dessert that comes with a variety of toppings, such as sweetened red bean, or fruits. Quite similar to our ice-kachang (except that any ingredients in ice-kachang are buried under the pile of shaved ice, and not piled on top like a patbingsu).
The weather was wretchedly hot that day, and a bowl of shaved ice sounded like the thing to cool me down. I have visited Korea so many times, but this is only my second time eating patbingsu. The first time I had patbingsu was at InSquare cafe in the Heyri Art Village. I didn't quite enjoy the dessert then, and I wanted to give it another try at a different place. So for this trip, I marked out a couple places on Google Maps that I hoped to visit. It turns out that this patbingsu cafe that I stumbled into is Ok Lu Mong, one of the two patbingsu places on my to-go list.
From the outside, I was expecting Ok Lu Mong to have a rather old-ish decor. But to my surprise, the interior of the cafe looks like a hipster cafe with an industrial vibe – dark and moody atmosphere, exposed lightbulbs swaying from the ceiling, unpainted cement walls.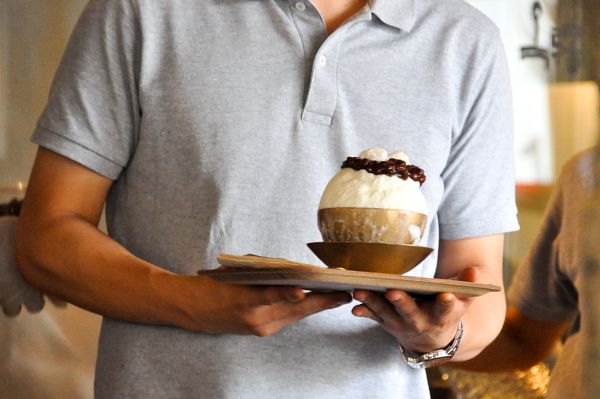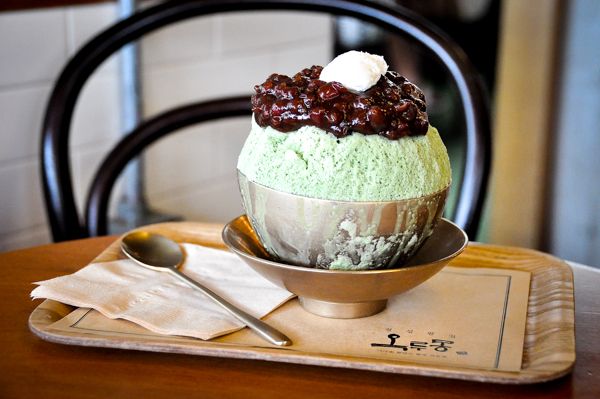 I ordered the green tea patbingsu, which came with a generous mound of sweetened red bean, and served in a beautiful brass bowl. The texture of the shaved ice was velvety smooth, almost like eating whipped cream. Unlike our ice-kachang that comes with colored syrup, condensed milk, red beans, cubes of jelly and corn, which makes every bite feel decadent, the Korean patbingsu tastes more bland by comparison.
I have to say that the patbingsu isn't one of my favorite Korean things to eat.
Ok Lu Mong
402-12 Seogyo-dong, Mapo-gu, Seoul, South Korea
Directions:
Leave Sangsu Station at Exit 1. Walk straight until you see a big parking lot. Turn right there and it is on the left side, very close to a Cafe Droptree.
Seoul: Patbingsu At Ok Lu Mong