There is just so much shopping, eating and drinking that I can do in one day when I am in Seoul. In the evenings, I like to watch a musical in one of the theaters in the city. (No late-night Dongdaemun shopping for me…!) Or if nothing interesting is playing, I will go to my favorite joint to eat spicy pork bone stew and drink a bottle of makgeolli.
Before I leave for Seoul, I will check out Interpark to see what musicals are playing in the city. If there are performances that catches my eye, I will buy tickets through Interpark using my credit card. I collect my tickets at the theatre's ticketing booth on the day of the performances. All I have to do is to give them the booking number and show them my passport for verification. It is so convenient for foreigners to create an account and purchase tickets online.
In my last few trips to Seoul, I watched several musicals – The Sorrows of Young Werther, Elisabeth, Joseph and the Technicolour Coat – all of which had Song Chang-ui as the lead. (I have been a fan of Song Chang-ui since I watched his sensitive portray of a gay doctor in Life Is Beautiful) In this trip, I caught two performances – Dracula at the Seoul Art Centre, and Blood Brothers at the Hongdae University Daehakro Art Centre. In case you are wondering, the performances are in Korean. No, I do not understand Korean, and no, the theatre does not provide English subtitles. But the language handicap has not stopped me from enjoying myself immensely at these performances. It is not much different from watching an Italian opera.
I was surprised that I managed to get a ticket for Kim Junsu's performance in Dracula, because tickets to his performances are usually sold out very quickly. The performance was fantastic! It was a very high-quality production – from the stage, to the props, costumes, cast, orchestra. I found it to be every inch as good as the ones that have a mostly Caucasian cast. In Dracula, the stage was as gorgeous as the one in Les Miserable, and every member of the cast, whether it was a minor or major role, turned in a wonderful performance. They all have such beautiful and powerful vocals.
Hmmm, having finally seen Kim Junsu in the flesh, I have to say that his singing voice and stage presence is not something conjured up by the media and his ginormous fan-club. He is mesmerizing on stage. (Being a successful K-pop idol helps cultivate the shiny stage presence bit.)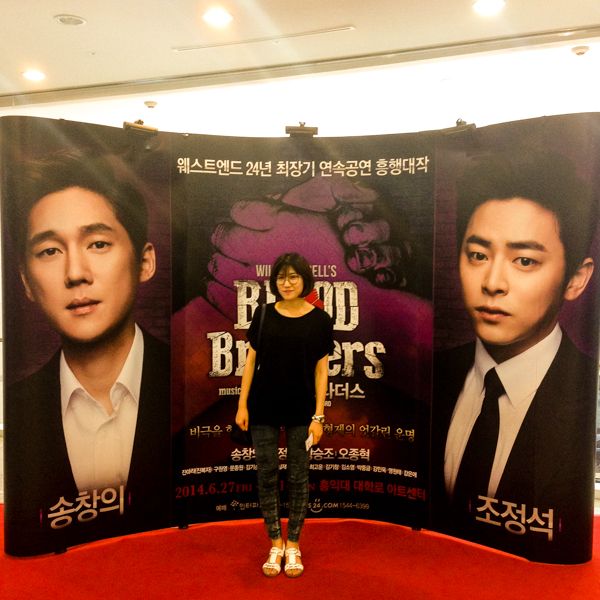 I struggled a little with Blood Brothers, because unlike the other musicals, this one had more talking and less singing. I could follow the story in general, but I could not understand all the jokes and conversation. In this musical, the leads were required to play roles of their characters from the age of 7 to adulthood. It was interesting to see how they pulled it off so well.
Ah, I wonder what performances would I get to watch in my next trip!
Seoul: Watching Korean Musicals – Dracula & Blood Brothers