I cannot believe that I have not heard of Maisen, this popular tonkatsu restaurant until recently! From what I have read and heard, Maisen is housed in what used to be a public bath-house, and is practically an institution in Tokyo. My husband is a big fan of tonkatsu, just not me. Not sure why, I love eating pork, but tonkatsu isn't something that I am very fond of. I was really happy to learn that Maisen serves kaki furai, deep-fried oysters, 'cos that's one of my favorite things to eat.
So off we went to Maisen on our first morning in Tokyo. He gets his fried pork, I get my fried oysters, and we both get our cup of joe from Omotesando Koffee located just around the corner before that. No disagreements there. We read about the long queue during the lunch-hour, so we made sure to arrive 15 minutes before their opening hours at 11am. I hate queuing for food, but I am Singaporean, and queuing for food is in our blood and this is one place that I don't mind queueing at.
That's what I ordered – 5 deep fried oysters accompanied by a huge (and re-fillable) bed of cold, crisp, shredded cabbage and a bowl of miso soup. I like to eat my kaki furai 'neat', that is, without any tonkatsu sauce drizzled over the luscious little golden packages of fried oysters. I find the taste of tonkatsu sauce too heavy and it masks the flavors of the food.
The fried oysters tasted as good as they looked. They were bloody good. I savored every bite with utter delight. 🙂 Plump. Fresh. Juicy. And they had a slight hint of that metallic taste that comes with oysters. The batter was very light and didn't leave an oily aftertaste on my lips.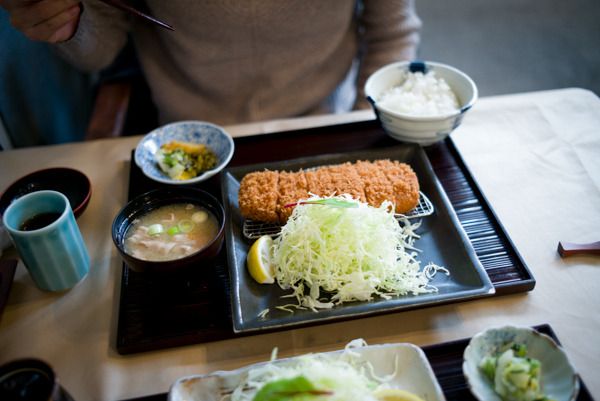 My husband ordered some special cut of pork loin that had only 5 portions a day. I took a small bite of my husband's pork and needless to say, it was super. But I still prefer kaki furai.
That's the interior of Maisen. I like the high ceilings and that the windows let in lots of light into what is otherwise a rather sombre dining room decorated in the 1980s Japanese style. I didn't get any good shots of the dining room because the wait staff kept giving me the evil eye when I took out my camera.
This dining room is for customers who come in a group. If you are on your own, they will probably ask you to sit at the bar counter outside. I think we might give the bar counter a try on another visit. That area looks less sombre and more…well, fun.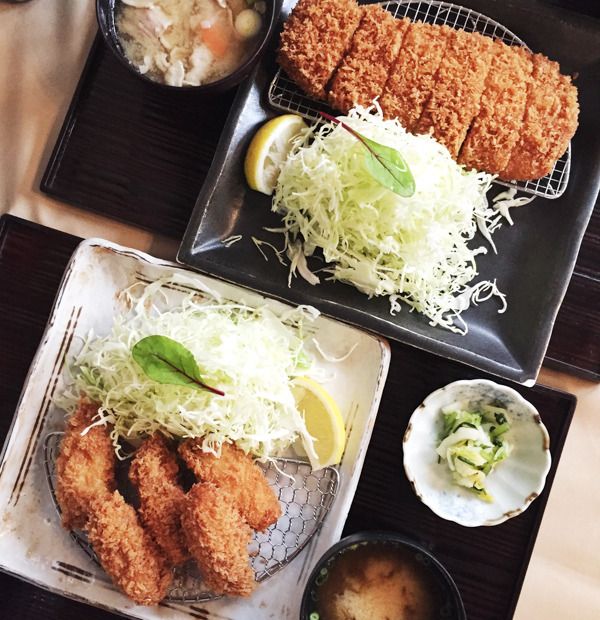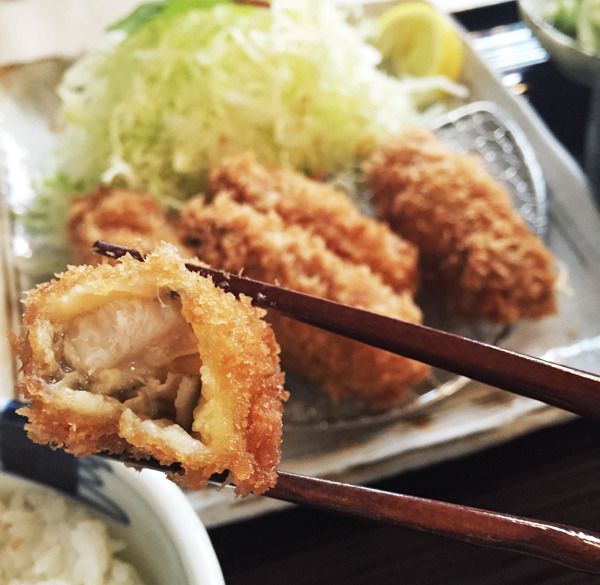 Sorrieeee! I cannot resist putting up more photos of these lovelies. This close-up shot of the kaki furai is making me want a piece so much now.
Maisen Tonkatsu
Address: 4-8-5 Jingumae, Shibuya-ku, Tokyo, Japan (Omotesando Exit A2), 東京都渋谷区 神宮前4−8−5
Tel: +81 3 3470 0071
Opening Hours 11:00am-10:00pm
Directions: Please refer to this link.
Tokyo: Maisen Tonkatsu In Omotesando