One of the first Japanese words that anyone learns in a beginner Japanese class is 'kissaten' – meaning 'coffeeshop', or 'tearoom', or 'cafe'. In my mind, I have always associated 'kissaten' with a modern (the popular word nowadays being 'hipster') cafes that have been popping up like flies in Singapore, or one of the chain cafes like Starbucks. Nope, nothing like that.
I visited a kissaten located in Ningyocho for the first time when we were in Tokyo last year. It is an old-fashioned Japanese coffee-shop that transported us to a somewhat different world when we entered it. 1960s jazz music streams out of an LP record player. Red vinyl chairs. Brick walls. Dark paneled walls. Grandfatherly Japanese men wearing hats, and smoking with their friends over cups of drip coffee. Smoky.
I felt like I had walked into a Murakami-ques coffeeshop described in one of his books.
We chanced upon this kissaten when we were waiting to join the lunch queue at Tamahide Oyakadon. The kissaten was just two doors away from Tamahide, on the same street. Being the typical 'kiasu' Singaporeans, we had arrived an hour before Tamahide's opening hours, and decided to get a cup of coffee in this kissaten, called Kissako Kaiseiken.
Feeling a little hungry, I also ordered a plate of toast with marmalade. I have no idea what sort of bread they use but it was the most delicious toast that I have ever eaten. I gobbled all of it up, and immediately ordered another portion.
Finishing that, I walked to the counter to find out how the kissaten toasts its bread. I was expecting to see some sort of special equipment, or a special toasting-bread technique. Alas, they used a simple pop-up toaster, coupled with typical Japanese precision timing in toasting the bread. The guy who was toasting the bread was using a timer, and concentrating so hard on getting the bread toasted with the right timing.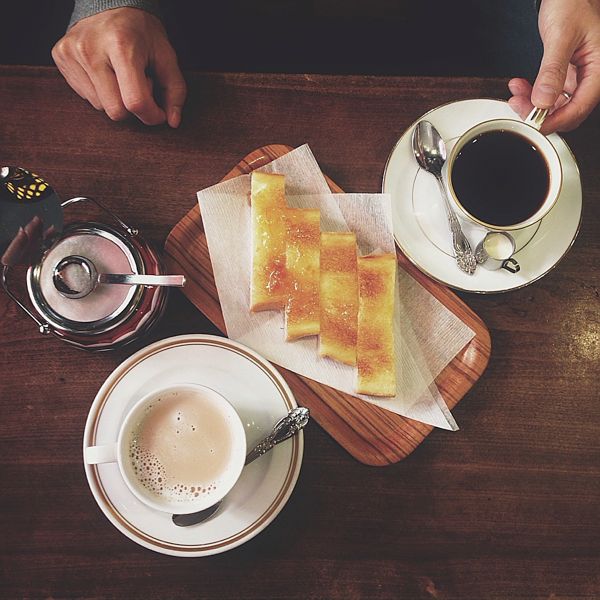 I am definitely going back to Kissako when I next visit Tokyo. Coffee – drip coffee – is not great, but drinkable. But oh, I scream for the toast.
Kissako Kaiseiken
Address:
1-17-9 Nihonbashi Ningyocho,Chuo-ku (1-17-9, 中央区日本橋人形町)
Tokyo: Kissako Kaiseiken In Ningyocho