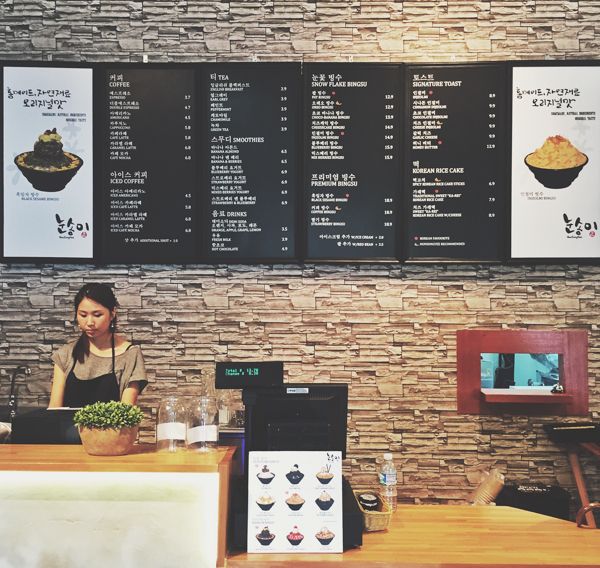 Today, I visited this Korean dessert cafe called Nunsongyee tucked away in a corner of the Serangoon Gardens residential estate at 45 Burghley Drive. From the vibe of the cafe, to the trendy Kpop music playing in the background, to the Korean lady manning the cafe, I felt as though I had been transported back to Seoul. All that was missing were the loud voices of Korean girls speaking in Korean.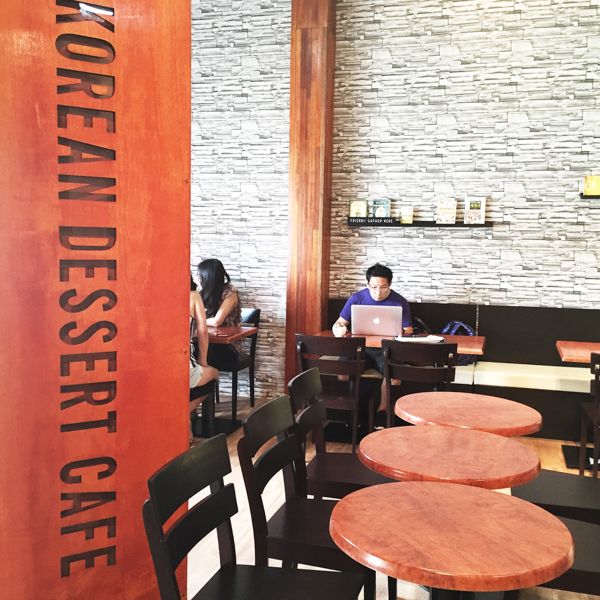 Spacious, high-ceilinged and fairly empty at noon, it was a comfortable space for me. I don't like crowded places – they give me a headache.
The focus of Nunsongyee seems to be a large variety of bingsu (I call this the Korean ice kachang) and toast. They also have a drinks menu that includes coffee, smoothies and soft drinks. I have tried bingsu several times in Seoul, and I always walk away feeling disappointed. I like the texture of the ice shavings – powdery soft and smooth – but I find that the dessert doesn't have much taste. But since I was at the cafe, I decided to order a bingsu.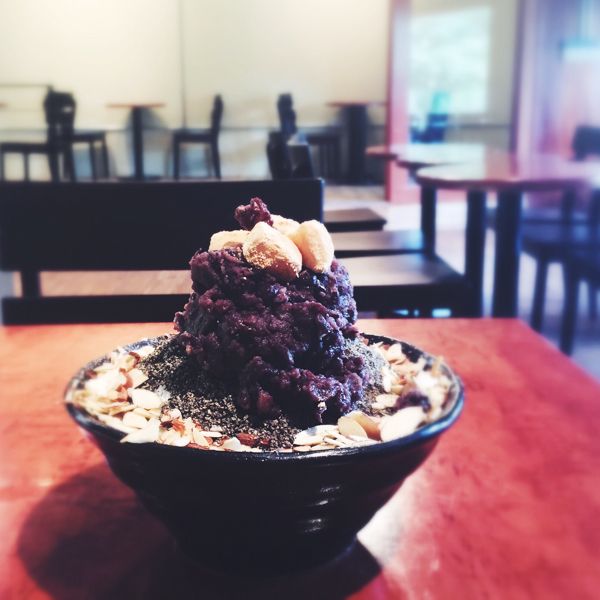 After dithering between the black sesame bingsu and the injeolmi (a type of Korean rice cake – not the same as tteokbokki) bingsu, I ordered the former (about $19.00 – quite pricey!). Better to go with the familiar. In Korea, bingsus are usually served in fairly sizable portions. I guess that's because the dessert is meant for sharing, and not eaten alone.
The black sesame bingsu at Nunsongyee came in a big bowl, accompanied by almond flakes, black sesame pounded into a powder, a generous helping of red bean paste, topped with several pieces of injeolmi (this has a texture similar to that of muah chee). The cafe also gave us a small serving of a milky syrup to pour over the bingsu.
I liked Nunsongyee's bingsu much better than the ones that I have eaten in Seoul. The texture of the cafe's ice shavings was as good as the ones in Korea, and it was very tasty without being syrupy sweet. Who knows, I may just become a bingsu convert. I want to go back and try their toast!
Nunsongyee: A Korean Dessert Cafe In Burghley Drive