Thit Nuong – Vietnamese grilled pork. Fresh off the charcoal grill from a roadside stall in Saigon.
This pushcart stall is located somewhere behind the Opera House. I had forgotten to note its exact location in our post-drunken stupor.
What I usually like to eat in our local Vietnamese restaurants is Bun Thit Nuong which is cold vermicelli topped with slices of grilled pork, fresh vegetables and a dipping sauce (known as nuoc cham). I find that this dish has more interesting flavours than pho.
At this roadside stall in Saigon, we had the grilled pork with rice, some vegetables and a fried egg. The grilled pork was super yummy.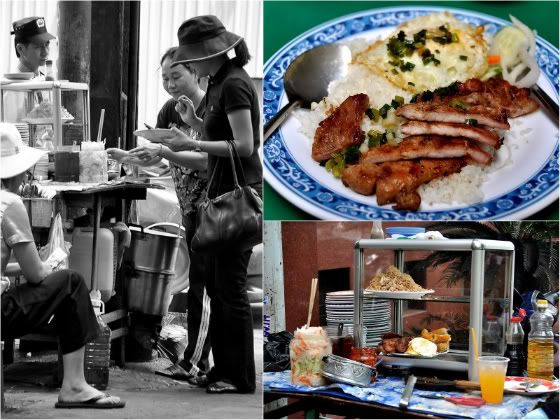 We polished off two plates of rice with grilled pork at one go. Sitting on tiny stools in a dingy alleyway. I had trouble trying to balance my butt on the stool while shovelling food into my mouth.
No stomach trouble afterwards. In case you are wondering.