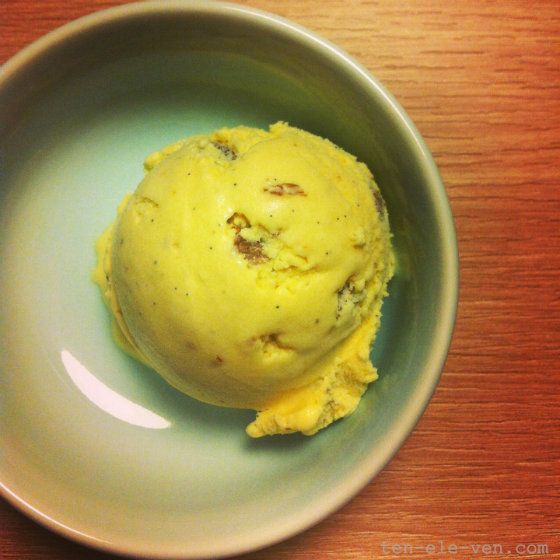 A week ago, I soaked one cup of raisins in some Myers Rum and stuck the bowl in the fridge. I was planning to make rum-and-raisin ice-cream sometime during the week, after I have had time to make the trip to the supermarket to buy heavy cream and a tray of eggs.
Then I felt like making David Lebovitz's Philadelphia-style vanilla ice-cream. I loved the French vanilla ice-cream made using his recipe a couple of weeks back. Half of that ice cream is still sitting in my freezer.
So I decided to combine the two by adding the rum-soaked raisins to David Lebovitz's Philly-style vanilla ice-cream recipe and made rum-and-raisin ice cream. The ice-cream turned out quite well and I am quite pleased with the results.
Philly-style ice-cream is lighter in flavour and not as jelak (local slang for 'rich'), and psychologically, feels healthier so I feel less guilty stuffing my face with it. But I still prefer ice-cream that has a much richer and creamier, so my vote is cast in favour of custard-based ice cream.
Whatever the calory counter indicates, I am having alot of fun making my own ice-cream including the excitement/trepidation of watching the mixture churn in the ice-cream maker and turning into ice-cream.
Ingredients:
2 cups heavy cream (I used approximately 1 cup of Bulla's pure cream and 1 cup of thickened cream)
1 cup whole milk
¾ cup sugar
1 vanilla bean, split lengthwise
¾ tsp. vanilla extract
1 cup raisins soaked in rum (enough rum to cover the raisins)
1 tablespoon of rum (not too much otherwise the ice-cream won't freeze properly)
Steps:
Place 1 cup of the cream and sugar into a saucepan. Scrape the seeds from the vanilla pod into the saucepan and add the pod to the pot. Warm the mixture over medium heat, stirring, until the sugar has dissolved.
Remove the mixture from the heat and add the remaining cream, the milk and vanilla extract.
Chill mixture thoroughly in the refrigerator, for at least eight hours or overnight.
Add raisins and approximately 1 tablespoon of rum to the mixture. Chill in the fridge for at least 8 hours, or overnight.
When ready to churn, remove the vanilla pod (reserve the bean for another use), and freeze in your ice-cream maker according to the manufacturer's instructions. It takes approximately 20mins to 30mins for the mixture to freeze in the ice-cream maker.
Note: I understand that some recipes say that the raisins should be added after the mixture has been chilled and churned. Cannot quite remember why.
Philly-style Rum & Raisin Ice Cream