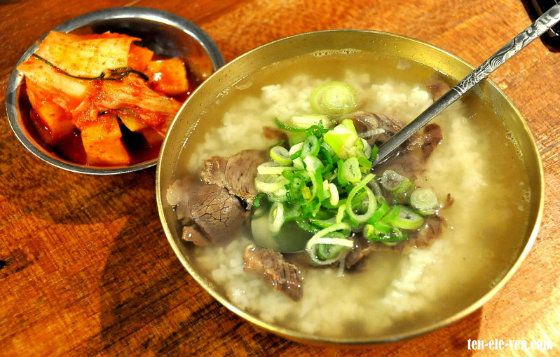 Hadongkwan's gomtang (traditional Korean beef soup with rice) is famous in Seoul. It is very simple food – beef broth poured over a bowl of rice topped with slices of boiled beef slices and spring onions.
The restaurant has been around for more than 70 years, and it has been highly recommended in a number of travel websites. Since the restaurant is located right smack in Myeongdong, a short walk away from our hotel, we popped by for breakfast one morning.
We were not impressed by the gomtang. Unlike the other milky versions that I have tried before, I found Hadongkwan's broth to be very bland and lacking in flavour (despite sprinkling alot of salt over the broth).
It was so unsatisfactory, we had to go look for something else to eat afterwards.
Seoul: Hadongkwan Gomtang