What did I do on Valentine's Day? I had a surprisingly scrumptious lunch at Esquina, a casual Spanish tapas bar located at Teck Lim Road (the road perpendicular to Keong Saik Road) with a friend.
We were quite fortunate to have gotten a table because the bar is pretty much a hole-in-the-wall and does not take reservations. Esquina resembles a ship's alley, and like a Japanese sushi bar, has its diners seated around a counter where they can watch the chefs work.
Previously, I did say that I was never going to step into a tapas bar in Singapore ever again. Well, I take back my words. That is probably why people say 'never say never'!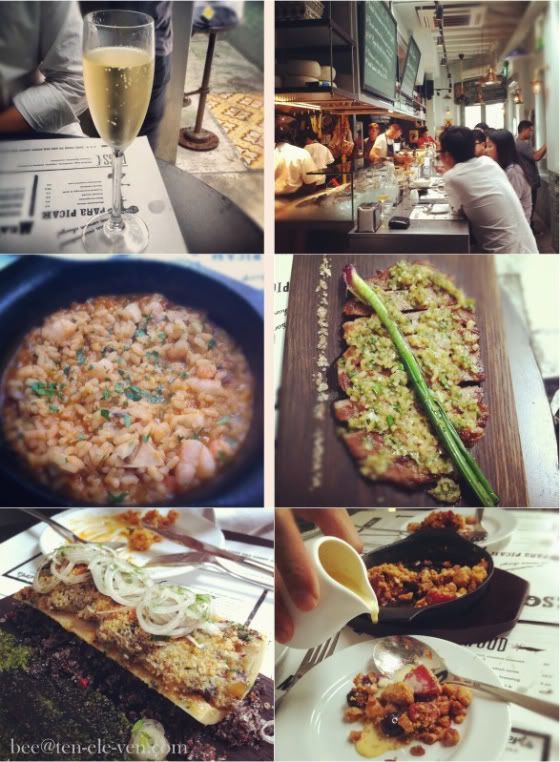 Esquina has a small menu, categorised as appetisers, meats, desserts and drinks. We ordered croquettas, bone marrow, aged Angus steak, rabbit and seafood paella and a sangria poached fruit crumble. We also each ordered a glass of carva, a Spanish sparkling wine.
Portions are small, as expected of tapas. But we filled up nicely after several servings. What we liked about the food here is that the tapas are interesting, and more importantly, well-made using ingredients that are fresh and of good quality. I shall not mention certain tapas places that I have been to which served me fried chicken wings.
It is always fun and educational to eat with my friend. Because he is knowledgeable about quite a number of cuisines, he will usually 'dissect and analyse his food' and provide a commentary about the type of ingredients used, the method of preparation, the region where the food that we are eating originated from and how it is probably prepared differently in a different region.
Esquina: A Spanish Tapas Bar