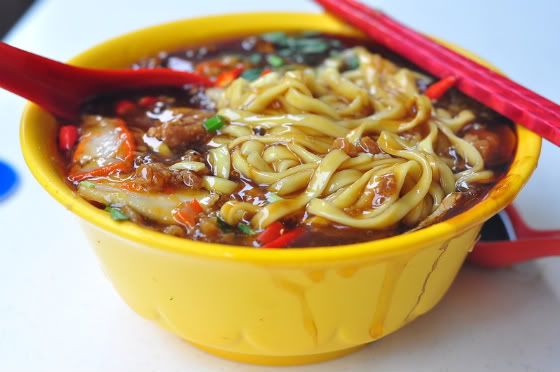 Last Sunday, we drove to the south-west to eat the famous lor mee located at Blk 109 in Bukit Purmei. 
Or rather, I ate lor mee while the husband ate fishball noodles.  He cannot understand why I love the starchy, gooey dish (especially when it comes with deep-fried fish).  I cannot understand why he doesn't like delicious starchy, gooey lor mee.  Or thin-crust pizza, or tomatoes, or steamed fish, or Korean food (with the exception of ramyun). 
I have always wanted to try this stall but never got around to doing so even though it is just a stone's throw away from my in-laws' place.  There was a pretty long queue at 9am in the morning and I decided to go for the biggest serving costing $3.50 (the smallest serving costs only $2!).
I found the lor mee  (not the fried fish type) quite bland, and added heaps of vinegar, hoping that the condiment would enhance the flavour of the sauce, but it didn't work.  In the end, I ate only the ingredients and gave up on the noodles.
Spent the rest of the morning at the Botanic Gardens orchid market followed by coffee at Dempsey, Daiso at Plaza Singapura and a stroll around Bussorah Street.
And trying to forget that Monday was less than 24 hours away.