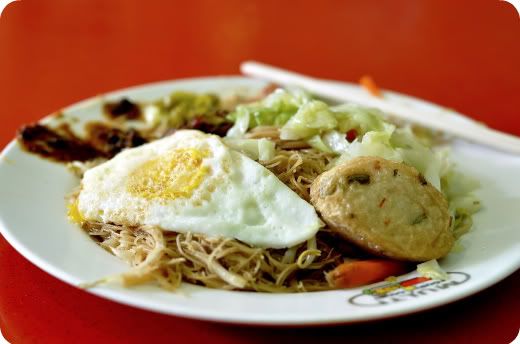 My idea of a perfect breakfast is a glass of freshly squeezed juice, a plate of fresh fruit with yoghurt, a bowl of muesli or cereal with milk, a pot of coffee and a stack of blueberry pancakes with butter and honey (I don't really like maple syrup).
Or.
A plate of beehoon with a fried egg, a slice of luncheon meat, a pile of cabbage, lots of sambal chilli and a cup of teh.
Over the weekend, we drove all the way to Holland Village to eat this very delicious beehoon at the food centre. The stall (#01-11) is immensely popular and there is always a queue. Our friends introduced us to it last year and we have been back several times since.
I like the beehoon, it seems to be thinner than the usual ones, very tasty and doesn't come glistening with oil. The fried fish slices and fried chicken wings are very popular. Unfortunately, the wings went temporarily-out-of-stock just when it was our turn to order. Sad.
If blimping is an option, I will have beehoon for breakfast every morning, Monday to Friday. Unfortunately not. In any case, there are no good stalls selling beehoon around my workplace.