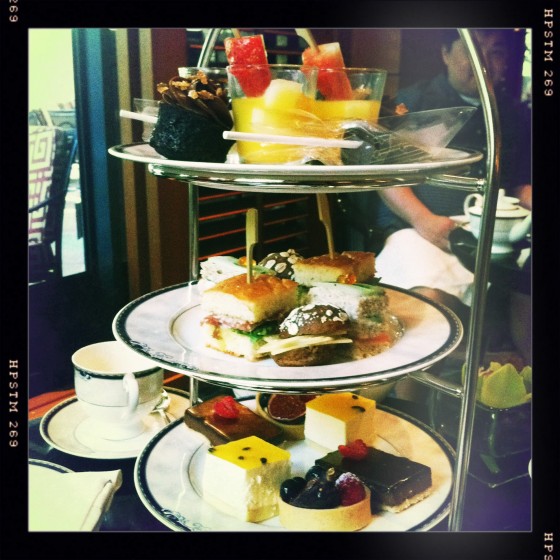 November is a month of birthday celebrations. Apart from my own birthday, I have quite a number of friends who are also born under the Zodiac sign of the Scorpio. If I don't refer to my calendar, I might get some of the birth-dates mixed up.
I went for afternoon tea at the Four Seasons with my 7/11 Scorpio friend. I like having English afternoon tea, the traditional sort where tiny sandwiches, scones with clotted cream and jam and an assortment of cakes and pastries are served on a three-tier silver or gold stand.
It is such a nice, leisurely way of spending a couple of hours relaxing and catching up with friends.
I am not that fond of afternoon tea that comes in the form of a buffet. Somehow, the leisurely feel that comes with afternoon tea is diminished when I have to fetch my own food from a buffet table. Also, conversations are less likely to be interrupted if neither of us had to excuse ourselves from time to time to fetch more food.
The afternoon tea at Four Seasons is pretty good. More specifically, the scones are good. And the hotel serves clotted cream to go with the scones. For me, afternoon tea can be good only when it comes with good scones AND clotted cream.
The items on the three-tier tray as well as coffee/tea are refillable by the hotel staff who goes around to check on how quickly you are scoffing the lot. I find the ambience of the tea lounge to be very pleasant. The day that we were there, the lounge was neither too crowded nor noisy. I like that the tables are placed far away from each other such that so that the lounge did not have a cluttered feel, and more importantly, we did not have to listen to conversations going on at the next table.
I have been to the Goodwood Park Hotel and the Ritz Carlton for afternoon tea but have not enjoyed the experience enough to make a repeat visit. As for the Four Seasons, I dare say I will be going back quite soon.
Afternoon Tea At Four Seasons