I used to dread going west in the general direction of NTU – Tuas/Jurong West.  It is so ULU and there is nothing there to do. 
Maybe it is age or maybe it is a different perspective that comes with aging or maybe it is just that I have a car now,  I actually like going to that part of the island during the weekends.  Where there are no tall buildings, no crowds and lots of greenery.  I feel a lot refreshed and recharged whenever we drive out to Neo Tiew and Old Chua Chu Kang Road to check out the nurseries and farms.  Ten years ago, I would have thought myself insane.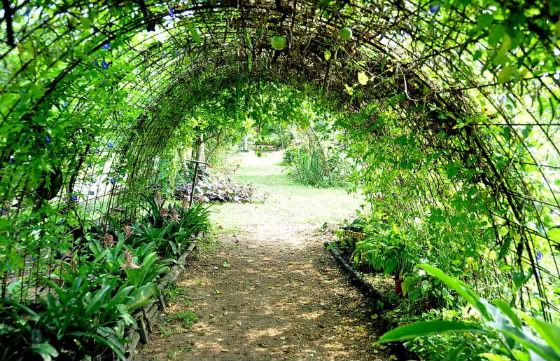 Today we drove out to Bollywood.  We spent a rather short time wandering around in the farm and watching a gecko on a horseradish tree before the scorching heat sent us running to the cafe for cover.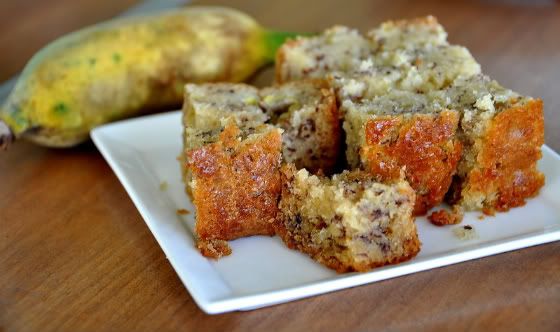 I couldn't wait to eat the banana cake (and cart some back home).  I love love love it. It's very tasty, fluffy and moist. 
Even though I was still full from breakfast, I couldn't resist ordering the banana curry, crunchy chicken with kedongdong salad, brown rice and lemongrass drink.  And one of the staff gave me a banana as dessert.  The bite-sized fried chicken was good but I was a bit disappointed with the kedongdong salad.  It wasn't exactly a salad the way I understand a salad to be but a very small serving of grated kedongdong fruit, which was delicious by the way – slightly tart and crunchy – and I wished for a bigger serving.  The curry was a tad too mild for me as I like my curry hot and fiery.  The lemongrass drink was very refreshing but it could do with a bit more syrup. 
The cafe is a really nice place to chill out.