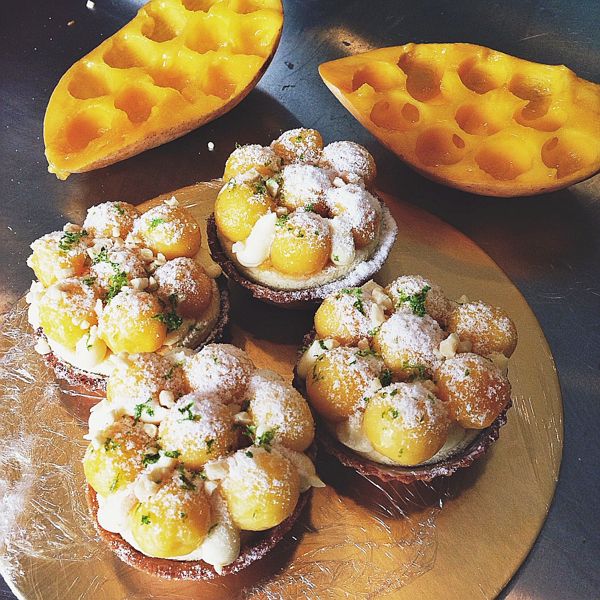 Yesterday, I attended a two-hour baking class at Maple and Market to learn how to make mango tartlets. (I have lost count of the number of classes I have attended at the bakery.) The instructor for the mango tartlet class was Ming Kai, a full-time baker at The Bakery Chef, who teaches certain classes at Maple and Market during his off days (his own recipes btw, not his employer's). I also attended the affable young chap's macaron class (pink macarons with a chocolate ganache and raspberry jam filling) the week before. He made baking macarons so easy and do-able.
I like the informal structure of the baking classes at Maple and Market. They are small, relaxing and casual; the pace is just right with plenty of time for instructor demonstration and hands-on practice. I feel like I am learning how to bake with a friend, and I don't feel any inhibition in asking as many questions as I like. The easygoing environment may not seem professional as compared to some of the other baking schools, but I find that adds to the charm of the classes.
For yesterday's class, I ordered buttermilk waffles with caramelised bananas to eat while the class was in progress ('cos I was soooo hungry). It was quite tricky trying to eat and write down the instructions at the same time. The baking class shares part of the bakers' workspace in the bakery. So while learning how to bake, you get to watch the bakers put on the finishing touches to the cakes, banter with them and enjoy the aromatic wafts of bacon cooking in maple syrup. Participants are asked to help out with washing up the baking equipment during and at the end of the class. While this may not sit well with some people, it is quite fine with me.
I made and brought home four mango tartlets. We learnt how to make tart shells using the blind-bake method. We also made pastry cream from scratch – this was used to assemble the tarts with fresh mango balls. This is the season for mangoes. Sweet juicy Thai honey mangoes are everywhere! I am going to eat as much of them as possible, puree and freeze some for making mango smoothies after the season is over.
Some of the other classes that I attended at the bakery are here:
Japanese Strawberry Shortcake
Pandan Chiffon Cake + Earl Grey Chiffon Cake
Pumpkin Bread With A Pistachio-Almond Topping
Red Velvet Cupcakes With Cream Cheese Frosting Crepe Cake
Strawberry Mousse Cake In A Jar
Mango Tartlet Baking Class At Maple and Market