As I was wandering around Hongdae looking for street art, I was also looking for a morning cup of joe. There wasn't a single cafe in sight at 10.30am in the morning. I tried the Coffee Prince cafe, alas, it was closed for renovation. Disappointed, I continued my search and just 80m away down the sloping road, I spotted Coffee Lab.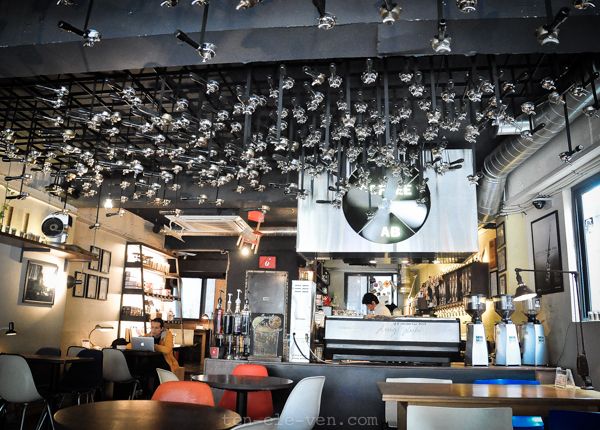 I stepped into a cafe with a dark, edgy and rather masculine decor. What was interesting about the decor was the portrafilters that were hanging from the ceiling. I thought that was a kinda cool concept!
I took advantage of the cafe's wi-fi to read up on the cafe, since it looked like a – if I may say – a serious sort of coffee place, the kind that has got professionally trained baristas, sources its beans from a fair trade farm in South America and roasts the beans in-house. Look at the sleek metallic silver La Marzocco coffee machine. Not the usual cute or quirky-themed cafe that I have been frequenting.
According the Internet, the cafe is owned by a Korean barista champion. I have no idea if it is the person standing at the counter. I also read from this blog called Coffee & Culture (a pretty awesome one) that the portafilters hanging on the ceiling are something new. Previously, they hung chairs on the ceiling! I would really have liked to see that.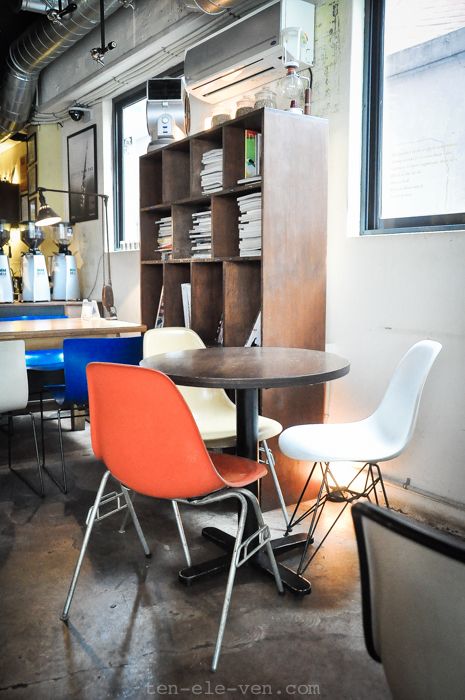 I ordered a Kenya drip coffee. Though I enjoyed it, this was not my preferred cup of joe. I like my coffee strong, robust and aromatic, and from the little that I know about coffee roasting, I understand that this comes from coffee beans which have been roasted for a longer time. My cup of coffee at Coffee Lab was light and slightly acidic.
I tried conversing with one of the baristas as I was keen to find out where they get their beans from and how they roast their coffee beans, but it was quite difficult for us to understand each other, so I decided to just focus on enjoying my coffee.
As I was sipping my coffee, I had a thought. IF. IF I ever opened a cafe, I will name it Portafilter. 🙂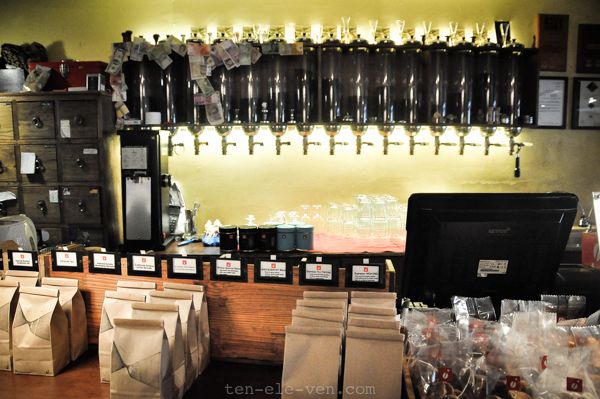 Hahaha. I really like the decal on the toilet seat cover. 🙂 I am definitely making a repeat trip to Coffee Lab the next time I visit Seoul, before or after stuffing my face with churros at Churro 101 :-). I read that they have a smaller outlet called Coffee Express, also in Hongdae. Might check this out too.
On a separate note, I am going to check out all the cafes recommended by Coffee & Culture on my next trip. Lots of high-quality recommendations there!
Coffee Lab is located along the same street as the Coffee Prince, at Wausan-ro 29-gil, in Hongdae. If you approach the Coffee Prince cafe from Wausan-ro 29-gil from the top of the slope, you will see the cafe on your left. Coffee Lab is further down the road, but on the opposite side.
Coffee Lab is marked in yellow and the Coffee Prince Cafe is marked in red.

View Coffee Lab in a larger map
Seoul: Coffee Lab In Hongdae