Although I visit Seoul at least once a year, I have not explored Hongdae. I visited the weekend flea market on my first trip many years ago and remember it to be a sprawling, creative area filled with young people, shops selling all sorts of female adornments, flea markets, push-carts lining the streets selling yummy snacks and restaurants catering to youthful palates with their Western and fusion offerings. But somehow, it didn't create the sort of impression and memories that make places such as Ehwa Women's University, Ihwadong and Samcheongdong so compelling.
Recently, I have been reading about street art in Hongdae in various blogs. I love street art so I decided to take a walk around Hongdae one cold, crisp morning. Bad idea, the area was deserted 'cos all the shops were closed till 11am or 12pm. That's when I decided to find a cafe to drink coffee, and stumbled on Churro 101, the churros bar. I wandered around several streets, peeked into the back alleys and the backyards of some shops, and saw nothing remotely resembling street art.
I was about to give up and go somewhere else when I came across this installation in a litle square just off the main street. I don't quite know who sponsored this installation, or what was the theme of the artwork, or who were the artists, but I am guessing that they involve the Korean Red Cross. There were approximately 10 of such canvas with artworks painted on both sides.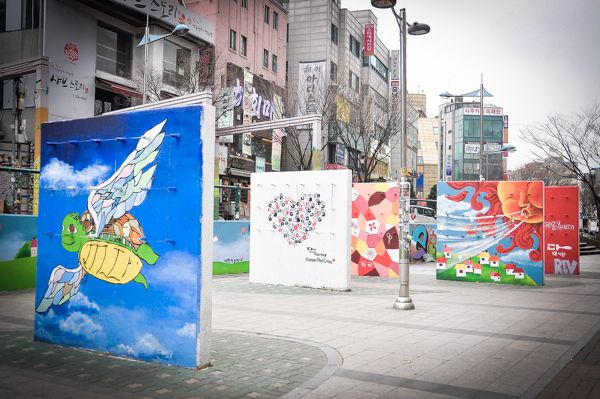 Bright. Colourful. Whimsical. Cheerful. It perked up my mood on a cold, gloomy and foggy morning. I found some of the artwork quite creative and appealing. I was tempted to buy them if they came in smaller sizes.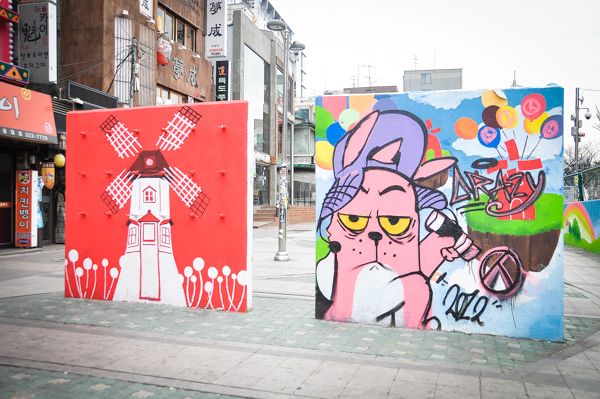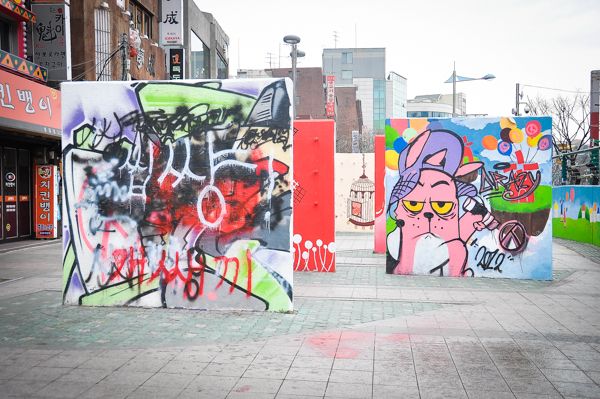 I like this piece from the Korean Red Cross. It conveys the message of love in a simple piece of artwork.
Love the piece with the zebra sitting in a hot-air balloon looking down at the windmills in verdant fields.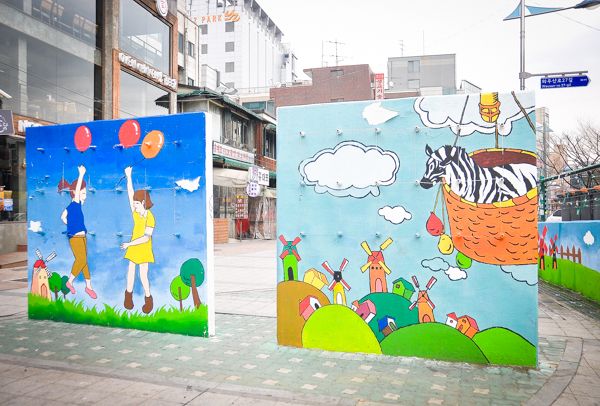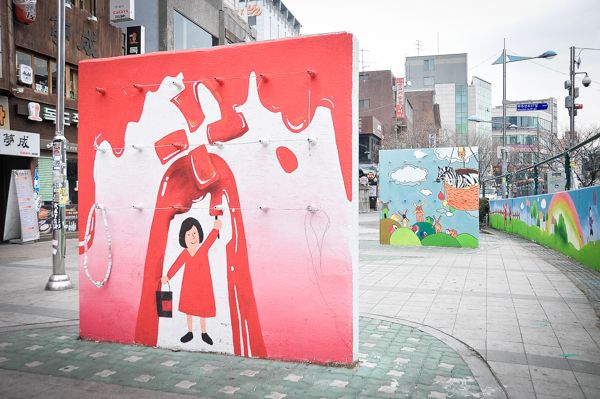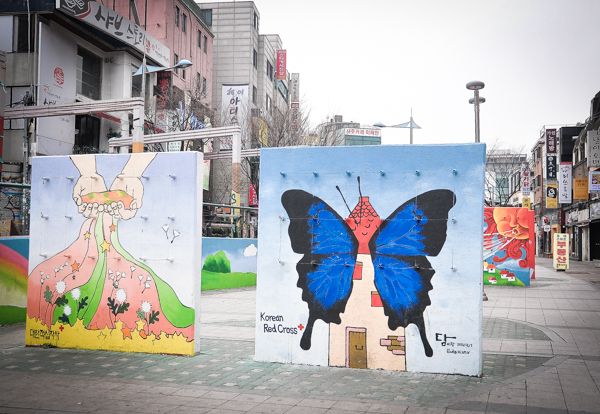 The piece on the left (below) is another abstract-styled piece that I like. Mostly because of the asymmetrical shapes arranged in a palette of cheerful and soothing colours.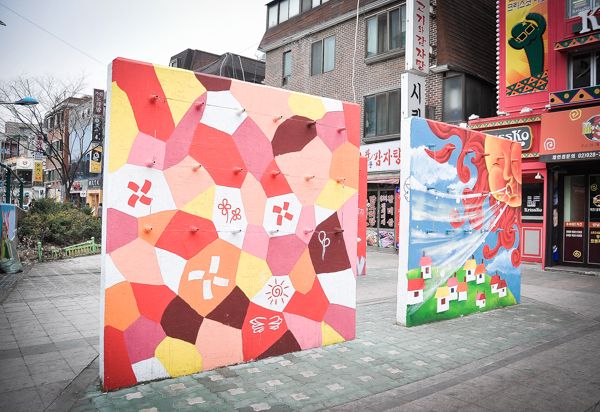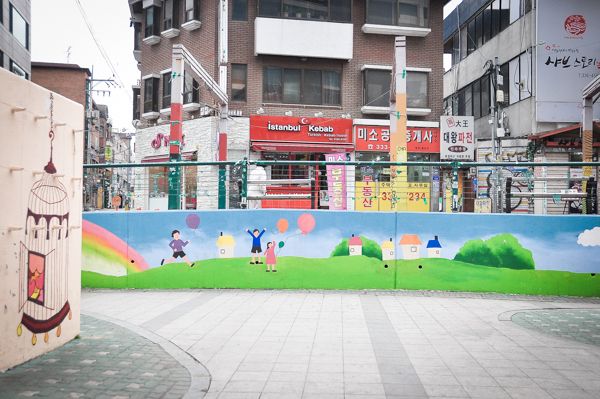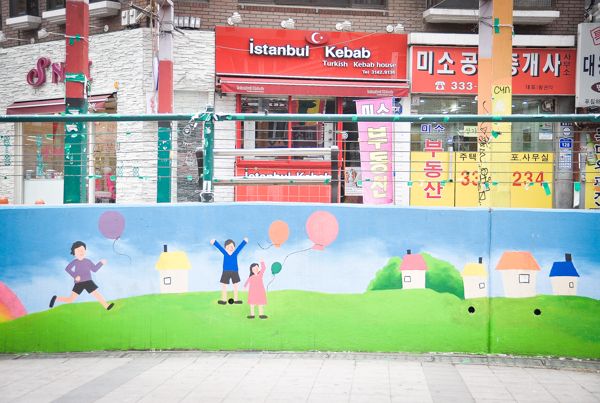 Then I walked around a bit more and saw other bits of street art.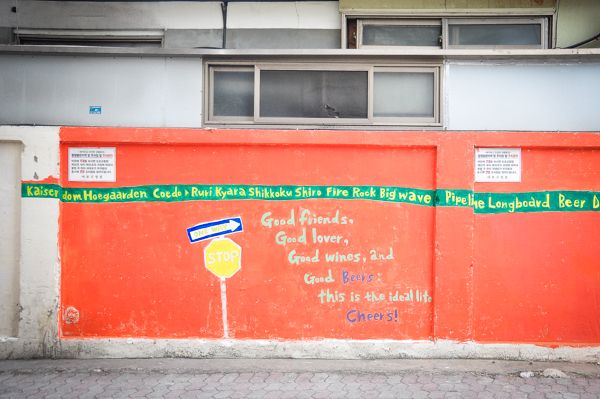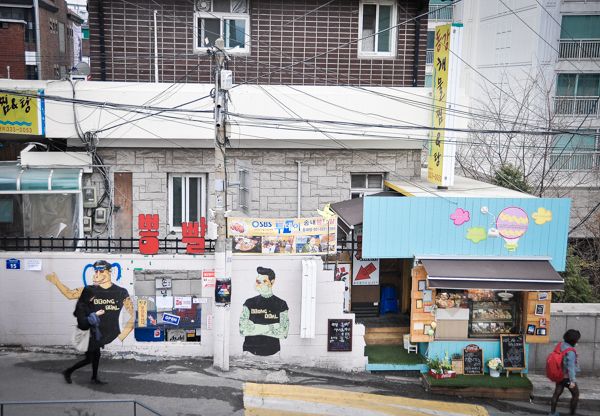 The Piano Cafe is across the road from the shop above.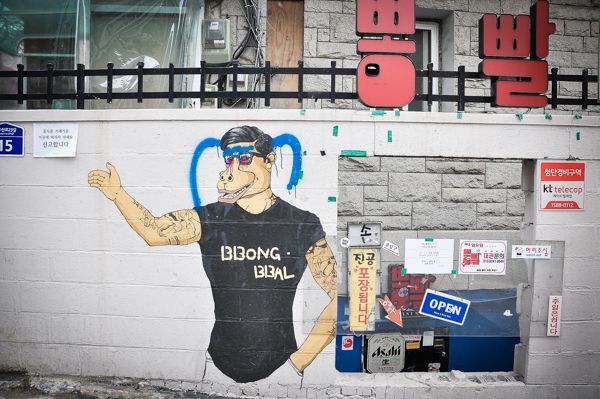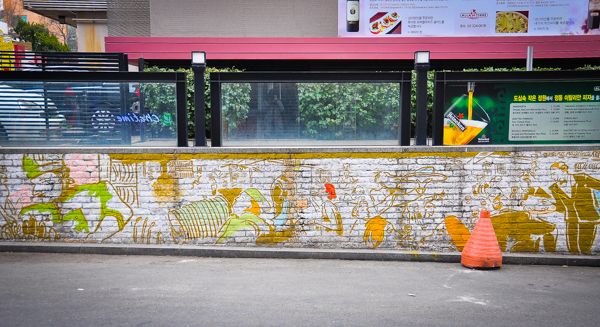 Street art is all a matter of perspective. Some people see it as freedom to express creativity, others see it as graffiti. I wish we had more of this unbridled 'creativity' in Singapore.
Seoul: Street Art In Hongdae