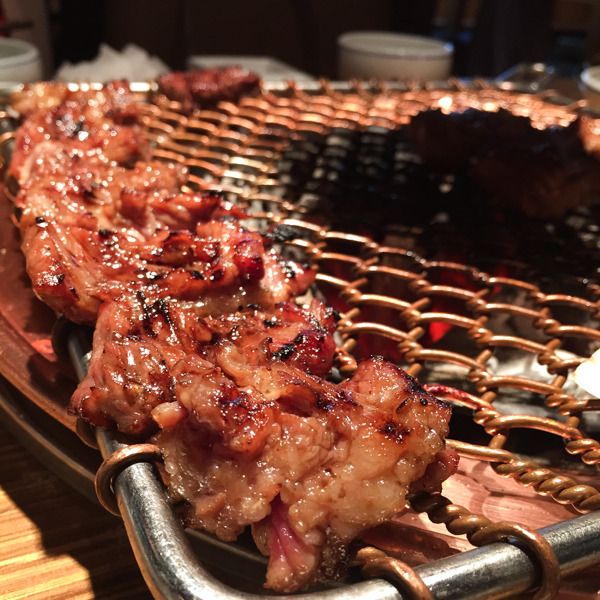 I often get asked for Korean BBQ restaurant recommendations in Seoul but have none to give because this is something that I don't normally eat when I am in Seoul. If I have grilled meat cravings, I would usually go to a gopchang restaurant. I prefer grilled fatty innards over pork belly!
During my last trip, my friend wanted to eat grilled meat so I looked up the Internet for some good places around Myeongdong where we were staying. There are plenty of BBQ restaurants in Myeongdong so if one isn't fussy, you could just turn a corner and walk into one.
After some research online, I decided to try Wangbijib (왕비집). Located near the Myeongdong subway station (take Exit #9 of Myeongdong Station, Subway Line 4. Walk straight ahead for about 50m from Exit #9 and turn right at the first corner. Continue straight for another 50m and turn left. Wangbijib is located on the second floor on the left side of the street), it had mostly good reviews. We arrived at around 7pm and saw that a queue had formed on the stairway. Egads! We hear Singaporean voices too! So we decided to walk around Myeongdong and look for another grilled meat place. We ended up at another Wangbijib located closer to Metro Hotel (just two streets away from Myeongdong Skypark Hotel II and A Twosome Place) but unfortunately, there was also a long queue at this outlet.
Okaaaay, this place must be pretty good then. We decided to return the following evening, at 6pm, hopefully enough to beat the queues! Which we did, and at 6pm, the restaurant was almost full! I am not a big fan of grilled meat but I enjoyed my meal at Wangbijib very much. I can no longer remember what cuts of meat we ordered – a beef and a fatty pork-something. I felt that what made the food stand out was the use of charcoal to grill the meat. Charcoal gave the meat a deeper and fuller flavor. Oh look at the charred bits in the photo. I should have taken more photos of the food, but was too busy stuffing my mouth to do so.
Just like that, Wangbijib is going to be a regular feature in my dining itinerary in Seoul.
Seoul: Wangbijib Korean BBQ In Myeongdong