It has been a while since the husband and I dined out at a nice restaurant on our own. There are so many new restaurants popping up every month, we are spoilt for choice whenever we want to splurge on a meal.
I came across Meta Restaurant when I was browsing around in Chope. The website introduced the restaurant as one that serves modern cuisine with an Asian (Korean) influence. The chef is Korean who was trained in French cooking. I was intrigued by the chef's profile, especially after visiting Jung Sik Dang in Seoul, as it is not usual to see modern cuisine with a Korean influence. You see quite a number of restaurants serving modern food with Japanese flavors; not so much Korean.
Meta Restaurant has only a fixed price menu that changes every season.  We had their Spring menu. I thought the restaurant was a tad cheeky in how they displayed the price of dinner.  At first glance, the menu showed 9 courses for a price of $118++ per head.  However, if you look again carefully, of these 9 courses, 3 courses are supplementary courses (ranging between $20 – $28) that would increase the cost of dinner incrementally depending on the number of supplementary courses you pick.
In other words, the price of $118++ per head is for only 6 courses displayed on the menu, and if you pick all 3 supplementary courses, you would add an approximate $70++ to your dinner bill.  A whopping $190++ per person (excluding drinks) if you eat every item printed on the Spring menu.
Mega OUCH.
Well, the menu and prices are published on the restaurant's website, so you cannot say that you have not been forewarned before making a dinner reservation.
We opted for the full menu and a glass of wine each.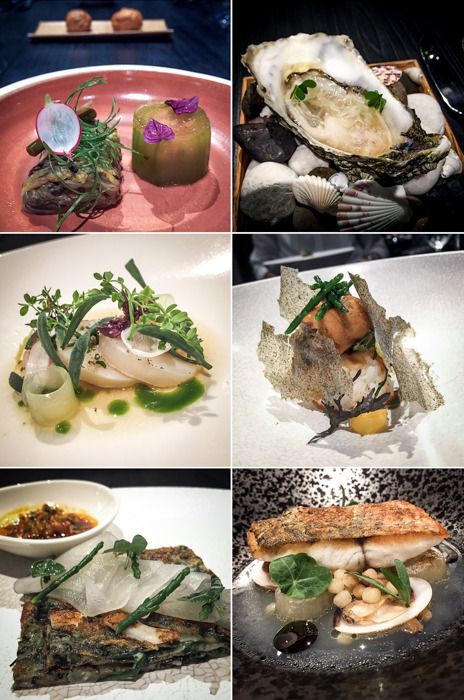 Clockwise: (1) Meat wrapped in a cabbage, pickled cucumber, kimchi puff balls (amuse bouche); (2) Irish oyster in a gingery broth with pomelo (supplementary); (3) Hokkaido scallop in a yuzu-shiso dressing; (4) Bibimbap with sea urchin; (5) Squid and sea snail fennel Korean pancake; (6) Seabass in a clam broth with daikon and fregola (supplementary)
Clockwise: (7) Quail with burdock, Jerusalem artichoke and carrot puree; (8) Lamb with doenjang and celeriac; (9) Wagyu striploin with tendon, shitake and potato; (10) Mango ice cream with passionfruit, toffee and coffee (supplementary); (11) Bingsu; (12) Cookie frozen in liquid nitrogen (courtesy of the chef)
The food was beautifully executed and very good.  Every course had ingredients that were creatively put together, the presentation was visually interesting, flavors were balanced and very tasty.  You do not even have to like Korean food to enjoy the food because the Korean ingredients used are very subtle, not strong and overwhelming like how we know traditional Korean food to be.
We liked everything that we ate – the panfried seabass and quail were my favourites.  The sea bass was fresh and very sweet, and the quail was delicious without being too gamey.
The chef came over to say hello.  He speaks English fluently having spent some years in Australia, but with a Singaporean accent (you can definitely hear the Singlish tones), has a Singaporean wife and enjoys chicken rice and kway chap.
I would recommend Meta to anyone who is interested in modern cuisine, particularly one with a Asian/Korean twist.  But the price is the only drawback here.  I find it is too expensive for most people I know given the numerous dining options available in this city, and for us to make a repeat visit when they change their menu next season.  Pity, 'cos the meal was so enjoyable I would like to know what else the chef has to offer in his next menu change.
Meta Restaurant
9 Keong Saik Road
Modern Korean At Meta Restaurant In Keong Saik