I just discovered Overdrive Media Console, a cool app which lets me find, check-out and read ebooks from the local library on my iPad. The app is free on the iTunes store and you do not have to pay anything to reserve and/or borrow digital books online. Overdrive, the company which developed this app is based in the US with an office in Australia, is a digital distributor of ebooks, audiobooks, music and video worldwide.
I have been using this console for a couple of days and I love it. The search, check-out and return functions are intuitive. The interface is clean, simple, and has functions that are similar to those in iBooks. The console allows you to create bookmarks, look up the meaning of a word, or change the look (such as margins, number of columns, line spacing, text alignment and fonts) of your reading screen just by tapping an icon. It looks like Overdrive has been around for quite a while, so why has it taken me so long to learn about it…?!
The entire process of using Overdrive is straightforward. All you have to do is to download the app from iTunes (I am fairly sure it is compatible with the Androids), add your local library to the database, find a digital title or audio-title, check-out or place a hold on it (if the available digital copies have been loaned out), download the title and you can start reading! Once you are done with the title, you can easily return it just by tapping an icon. If you prefer not to download the digital title, the console allows you to read the ebook through the built-in browser, or a browser of choice.
I added the Singapore National Library to the console. Out of curiosity, I performed a search on the library database and learnt that there are many libraries around the world which are part of the OverDrive database. I have no access to these overseas libraries as I do not have a membership account with them.
In the console, I tap on Singapore National Library and it brings me to our library's database of digital titles. This is where I search for the titles that I am interested to read.
I search for The Diving Pool by Yoko Ogawa and the 'Place a Hold' button shows that there the digital copies have been checked out. I click on the button to reserve the digital title and an email will be sent to notify me when the title becomes available.
I move on and search for something else – crime novels written by Beverly Barton. A list of digital titles appear. I select the digital title that I want, the 'Borrow' button appears which shows that a digital copy is available for check-out. I click on the 'Borrow' button and a screen appears that prompts me to log into my library account. After I log into my account, I am asked if I prefer to download the ePub copy of the digital title, or to read online via a browser. I select the former, the digital title downloads and appears on the bookshelf of the console.
I can check-out a maximum of 6 digital titles and am given 20 days to read each title. Once I am done with the ebook, I return the copy through the console. Also a click away. Easy-peasy! I prefer reading physical books but I have to admit that digital books are much more convenient when you are on the go, especially if I can get hold of some of them through the library.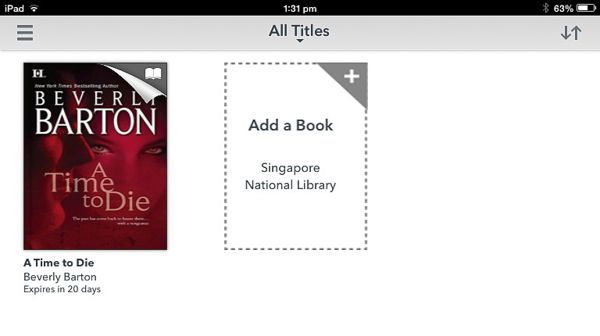 As I was writing this post, I thought about my two nieces and wondered if this console would get them to read more books, or listen to audiobooks, during the day when they are home with their grandparents. They are 4 years old and 2.5 years old each, and are pretty adept with using the iPad to watch Youtube videos and play games without adult supervision. Honestly, I find it hard to wrap my mind around how such young kids can maneuver their way around mobile devices so easily on their own these days! Digital devices are such a big part of their DNA now. So why not teach them to read or listen to digital titles on the iPad since they already spend so much on it anyway.
I am also curious to know if Overdrive is anywhere in the manga distribution space. I have tried several digital manga readers by various manga distributors and the experience has not been positive. The interface is usually unattractive, wieldy to use and slow to load when you swipe the pages.
Oh well, I shall enjoy Overdrive as much as I can!