We are always tempted to veg out at home on weekends. But still, we try to do one or two light activities such as going for brunch, grabbing a coffee or ice cream somewhere, visiting the nursery to get fresh flowers, and aim to head home after lunch.
A couple of weekends ago, I signed up for two classes over Saturday and Sunday. One class was to learn how to make scented candles, and this was held at Bloesem, a charming and cosy studio in Tiong Bahru. The other was to learn how to make jewelry at a class taught by Woon Hung at Soon Lee in Haji Lane. I love Woon Hung's handmade jewelry, and I have purchased a number of pieces made by her.
It was clearly not great planning to schedule two classes in one weekend, because this meant that I spent most of that weekend out.
The scented candle making class, held on a Saturday, was a 3-hour session. I really liked the vibe and look of Bloesem studio – it is basically an old Tiong Bahru apartment with a kitchenette, a bedroom and a living room, that has been converted into a bright, airy, modern space. The living room became a work space for conducting classes, the kitchenette is a functioning one that is used to make coffee, warm up snacks and prepare lunch for the participants of the class.
The class was conducted by the folks behind Deckle & Hide, who supply Bloesem with their homemade scented candles out of their home studio in Brisbane. They talked us through the theory of making scented candles – their philosophy when sourcing for ingredients, the type of aromatherapy oil that is best for making candles, what to consider when selecting a combination of scents, how to mix and match them using cotton bud sticks, and the ratio of oil versus wax (we used soy wax in the class), points to think about when selecting the shape of containers for the scented candles.
Trial and error! My favorite combination – orange, lavender, cedar and lime. After a while, you can get quite overwhelmed by the aromatherapy oils that you have to keep sniffing at. Olfactory overload. Good thing is that good quality organic botanical oils were used during the class; otherwise, I may have felt quite nauseous.
I like how they serve you little tea cakes, cookies and coffee at the start of class. Tasty treats.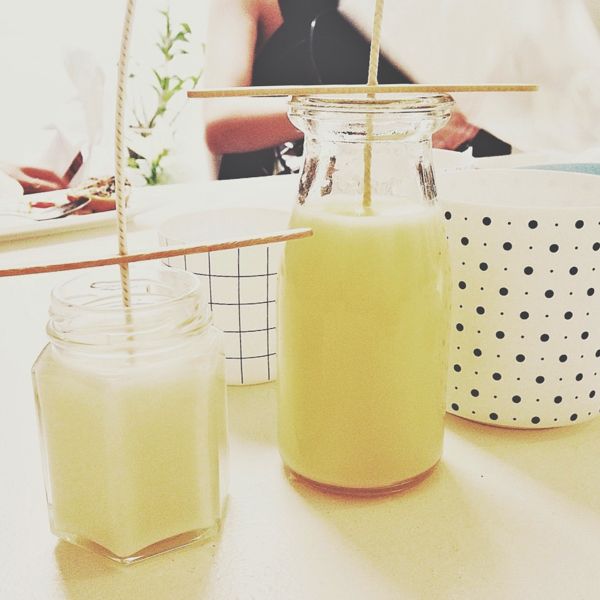 My scented candles – using a little peanut butter jar and a milk bottle. I was advised not to use a cylindrical type container as the flame gets too close to the mouth of the bottle which may cause an explosion.
We ended off the class with a light and tasty lunch – pomelo salad tossed with shallots, peanuts and prawns. Loved it! I have to learn how to re-create this.
Bloesem has pretty interesting classes, if you look at their past workshops. I am already thinking about signing up for the next one.
Making Scented Candles At Bloesem