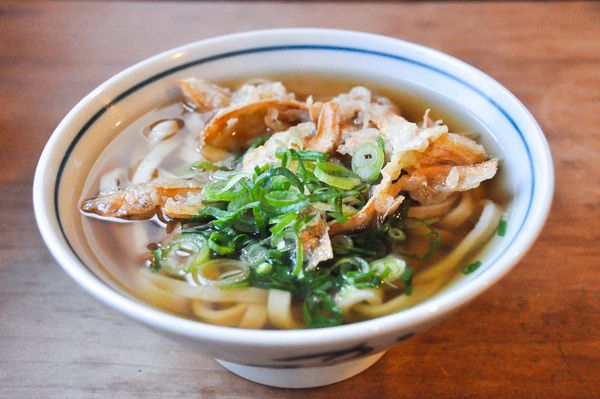 Although Fukuoka is famous for its tonkotsu ramen, the most memorable noodles that I ate during my stay in Fukuoka was this delicious udon from a shop called Karo no Udon, located on Kokutai Road. A chef-friend recommended this udon shop to me and impressed upon me that I must try it. He said that their udon is so good that he dropped by the shop every day to eat their zaru udon during his stay in Fukuoka.
Udon over tonkotsu ramen? This udon shop must be quite something. I rarely eat udon in Singapore. From time to time, I eat zaru udon because cold noodles dipped in tsuyu are refreshing in our hot and humid weather. I usually eat hot udon only when I am in Japan during cold weather 'cos a piping hot bowl of broth is what my body craves when feeling cold.
Back to Karo no Udon. I dithered over what to order – zaru udon or hot udon. In the end, I ordered the gobo ten udon, which is hot udon topped with battered burdock chips and spring onions, because the staff assured me that it is their bestseller.
Karo no Udon's handmade noodles are thick, flat and chewy, not really the same as Sanuki udon or Inaniwa udon that I am used to eating back home. The dashi broth is flavorful and more complex than the other places that I have tried. Their battered burdock chips are super good and goes very well with the noodles. I ate all the noodles, held the bowl to my mouth and downed every drop of the broth. And wanted another bowl immediately. But it was only my first night and I held myself back from overeating. I ended up coming back every evening for the rest of my stay in Fukuoka.
I also tried their zaru udon. It is very good. The chewy noodles tasted even better cold, without being soaked in hot broth. It was tough deciding which version I liked better. The hot udon had a slightly better edge 'cos of the delicious broth and battered burdock chips.
This yummy udon makes me want to go back to Fukuoka soon, and try some of their other udon offerings. The shop is run by a pair of brothers, their wives and mother. The brothers are friendly and chatty, and I managed to converse with them in a mixture of English, Mandarin and very basic Japanese.
As part of their service and consideration towards their customers, the shop does not allow photography indoors. I took a photo of this delicious bowl of udon with their permission. Until my next visit, I can only look at this photo… and drool.
Karo no Udon
Address: 〒812-0026 福岡県福岡市博多区上川端町2−1
Hours: 11:00hrs to 19:00hrs. Closed on Tuesdays.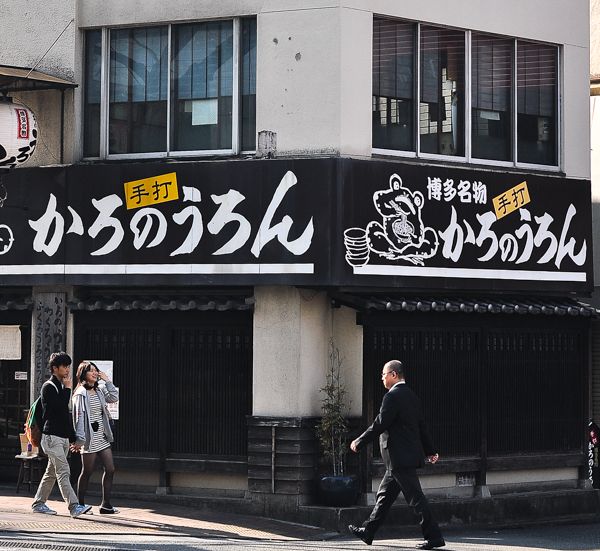 I call this shop 'The Frog Udon' because the shop's logo is a frog. I am not sure why the name isn't 'Kaeru no Udon' since 'kaeru' means 'frog' in Japanese. The shop is located along Kokutai Road, near the entrance of the Kawabata Shopping Street, and is a short walk from the Gion subway stop. Cannot miss the shop's distinctive signage.
Edit: Ah, I just realised that I made a mistake with the name of the shop. It's 'Karo no Udon' and not 'Karu no Udon' as I originally spelt it.
Fukuoka: Karo no Udon / The Frog Udon