I have ticked off another item off on my bucket list, which is to visit Paris. I made plans to visit Paris last November but because of the terrorist attack on the city, I cancelled my travel plans. The trip in June was an impromptu trip with two other girlfriends who planned to shop, eat and do the cultural sights (in the same order of priority)! They were going on a trip to celebrate arriving at a new decade in their lives and invited me to join the party. 🙂 Despite the heavy focus on shopping, we managed to visit a number of sights and eat some pretty good meals during the short 6-day trip.
We went to several bistros for traditional French food including Josephine Chez Dumonet, Pierre Gagnaire in Hotel Balzac, Ze Kitchen Galerie near the Notre-Dame Cathedral, L'atelier de Joel Robuchon and Cafe Breizh (for buckwheat galettes). I enjoyed all my meals but if I was asked to choose my favorite amongst them, it will definitely be L'atelier. It was one of those meals that was so memorable, you can re-play the experience in your mind again and again long after the meal had ended. Just to name several places where I have had such wonderful meals: Boulevard in San Francisco, Ristorante 245 in Kyoto, the Chinese restaurant in The Lalu at Sun Moon Lake, Karo-no-udon in Fukuoka.
To accommodate a rather hectic shopping itinerary that day, we decided to have a late lunch at 2pm. By the time we got to L'atelier, the three of us were the only customers dining in the restaurant. I had expected lunch service to have ended between 2pm to 2.30pm but was surprised that this was not the case.
We ordered the 3-course lunch set. Each course was generously sized and delicious. Service was good too. The food photos that I had taken are not great because I was too ravenous by that hour to put much care into taking photographs. The lack of natural light in L'atelier's trademark red-and-black interior did not help matters.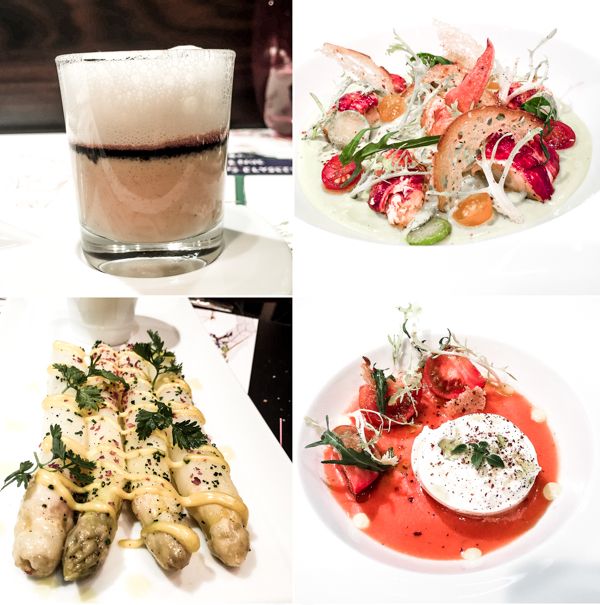 The amuse bouche was a shot of mushroom soup laced with truffle oil (I think). For starters, I ordered the burrata in a strawberry-tomato sauce and my friends had the lobster salad and grilled white asparagus. I was torn between the burrata and white asparagus (which I love and were in season then) but decided to go with the former. The bread basket, amuse bouche and appetizers filled us up quickly. We were definitely going to struggle with the main courses.
Right after we were served our appetizers, a friend reminded me on Whatsapp to order the famous Robuchon mashed potato. OMG, how could I have forgotten about the mash. All that frantic shopping must have scrambled my brain. I placed an additional order for mashed potato and we were each given a small serving of it.
The Robuchon mashed potato was luscious – smooth, thick, and so creamy. I loved it so much!
For mains, two of us ordered the duck breast and the other friend had the cod in a consommé. The duck breast was cooked perfectly and I savored every bite of the tender, juicy meat. The cod was very tasty but we did not think it was special because it is quite similar to how we prepare Chinese-style steamed cod.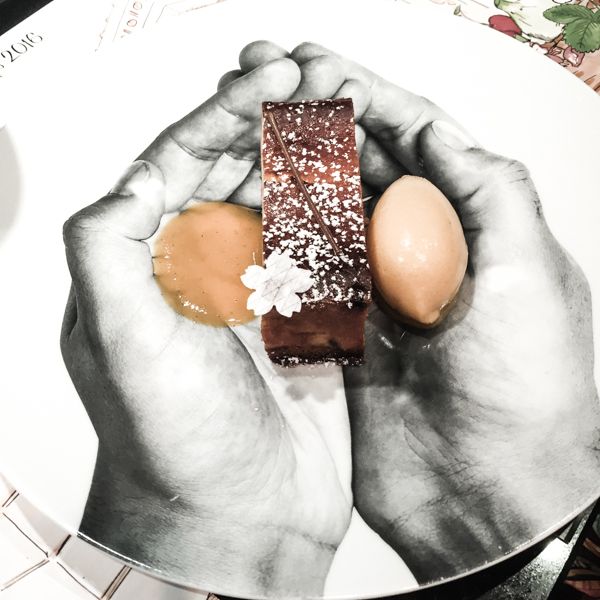 The options for dessert were chocolate mousse, a cake with citrus sorbet and a cheese platter. We opted for the chocolate and cake. I love how they plated the cake and sorbet – the plate is gorgeous, isn't it? We ended the meal with coffee and very delicious madeleines. It was a thoroughly enjoyable meal!
L'Atelier de Joel Robuchon, Champs Elysees – Excellent Lunch In Paris