Last month, K and I signed up for flower crafting classes with Wonderland For Detailed Planners. I saw the stunning paper flowers that WFDP made for the Penang Festival on their Facebook page and I was curious to learn how to make them. It was supposed to be a 2-hour class which ended up to be twice as long! We learnt how to make a paper rose, a dahlia and an anemone. We had loads of fun together! At the end of the 4-hour marathon, I ended up with a sore back, a rumbling stomach…and three lovely flower crafts.
We started with the prep work for making the paper rose by applying colors to a light brown 'chwee kweh' paper. We were taught to mix colour dyes with a white dye (the type that we used to paint our white canvas school shoes with to make them look very white) to create a thick mixture which we used to paint over six pieces of brown paper.
Pink! Blue! Purple! Yellow! I was greedy to have all the colours. On hindsight, I should have chosen only one colour for the paper rose, instead of creating a multi-coloured one. You will know what I mean when you see the paper rose later on.
After each piece was painted, we laid it on the floor to dry. While waiting for the paper to dry, we moved on to create the second flower craft, the dahlia. We had to use coloured tissue paper for this craft and I chose two shades of purple for the petals and yellow for the heart of the dahlia. To make the dahlia, we were required to do a lot of cutting using the scissors. I struggled to cut even strips…
Ta-daaa! Our dahlias!
Who said these things only interest women? We had male participants too.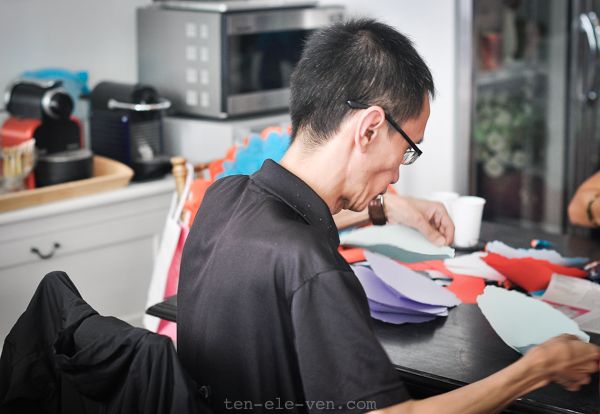 By this time of the class, we were lagging very far behind the other participants so I didn't have the time to take photos of how we made the anemone and the paper rose. But they involved more cutting, tracing, snipping and using the glue gun. The fruits of our labour. I loved the dahlia and thought the anemone to be quite cute, but the multi-coloured rose … just looked kind of weird! I should have stuck to one color.
Some of the other participants and their crafts. Pretty right? 🙂
This is Melissa Wang, the lady behind WDFP. I managed to get a photo of her and the bouquet that she was putting together for a client. 🙂
I really like her classes. Am looking forward to the next one!
xoxoxo
Other posts on Shop Wonderland:
Shop Wonderland / Wonderland For Detailed Planners
A Wild English Garden With Wonderland For Detailed Planners
Flower Crafting Classes By Wonderland