I have long admired the work of Wonderland for Detailed Planners. I like their classy-with-a-touch-of-whimsical event and table styling creations. As part of their services, they also do gorgeous, lush floral arrangements which appeal to my sense of aesthetics.
If I could turn back the clock, I would have used them for my wedding and hired their Tiffany chairs! I wouldn't have been able to escape from having the usual Chinese-style wedding dinner, but perhaps, I could have done something different for my friends. Maybe I could have hosted an intimate lunch event at a slightly more interesting venue, instead of the usual hotel ballrooms. Oh well, it's all too late.
When I learnt that Wonderland was conducting floral arrangement classes, I decided to sign up for one on the whim 🙂 This was my first floral arrangement class.
The class was held at Maple and Market, the bakery where I go for my occasional baking classes and to buy delicious and interesting birthday cakes. Signing up for these classes help to fill my weekend with some 'productive' activity (and I don't consider housework to be 'productive' weekend activity…!). Otherwise, I would find myself lazing at home the entire weekend in front of the computer or on the couch.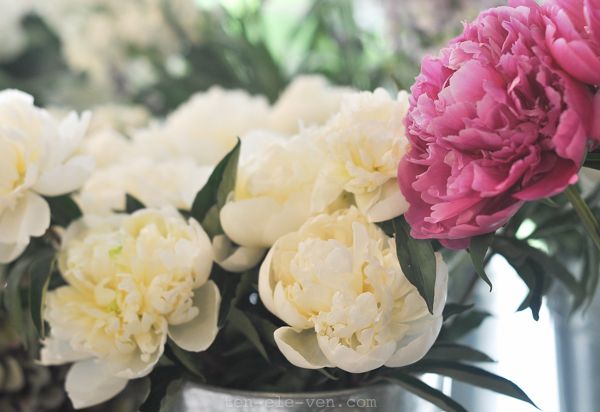 Wonderland turned a small area in Maple and Market into a mini flower marketplace with numerous vases containing an array of flowers for the class. Every guest who walked into the bakery was treated to a vision of white and fushsia peonies, white and purple matthiolas, purple delphiniums, white and purple hydrangeas, sweet william, cream, purple and champagne eustomas! Lucky me that peonies are now in season 'cos they are my favourite flowers. It is a pity that our weather isn't very kind to peonies, and these weren't going to last for more than a day, two if we are lucky.
It was wonderful to be surrounded by the fragrance of flowers, coffee and baked goods on a *haze free* Saturday morning. I could feel my spirits being lifted up instantly.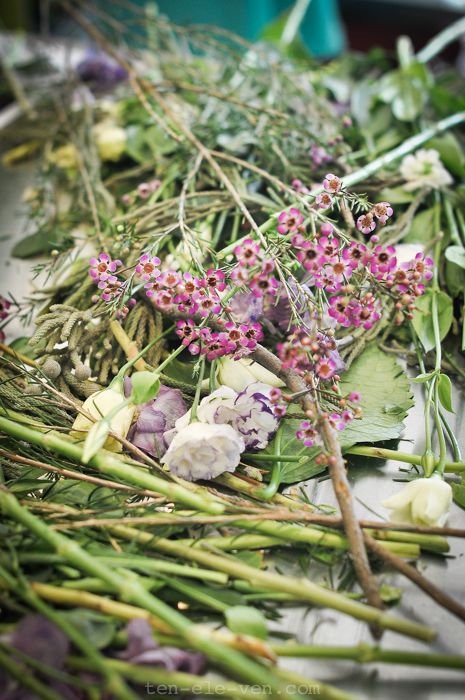 The theme of the class was to create a floral arrangement that was akin to a wild, lush English garden using the flowers that had been provided. Every participant was allocated with a fixed number of flowers which we picked from the vases. I picked a purple hydrangea, two white peonies, a delicate stalk of delphinium and a bright orange pincushion as my main flowers. We were taught to trim the foam (that had already been thoroughly soaked in water) to fit the pretty blue European-style vase, to condition the stalks of flowers and how to place markers in the foam using the wax flowers.
Then it was free play for all.
I huffed and puffed over my arrangement, mostly 'cos I couldn't decide where I wanted to place each stalk, and trying not to destroy them with my clumsiness. Some of the participants in my class were very deft with their fingers and completed their pieces in half the time that I took.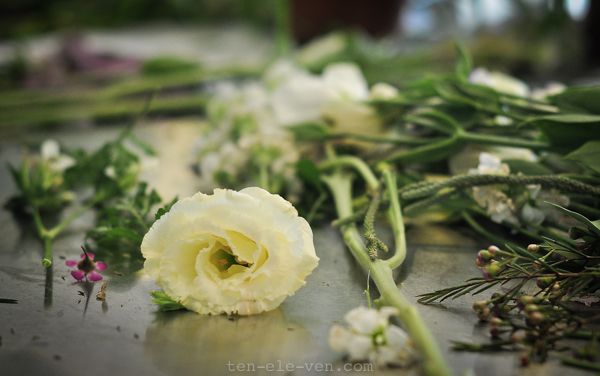 My messy work area…
This arrangement was put together by the lady whom I was sharing a workspace with.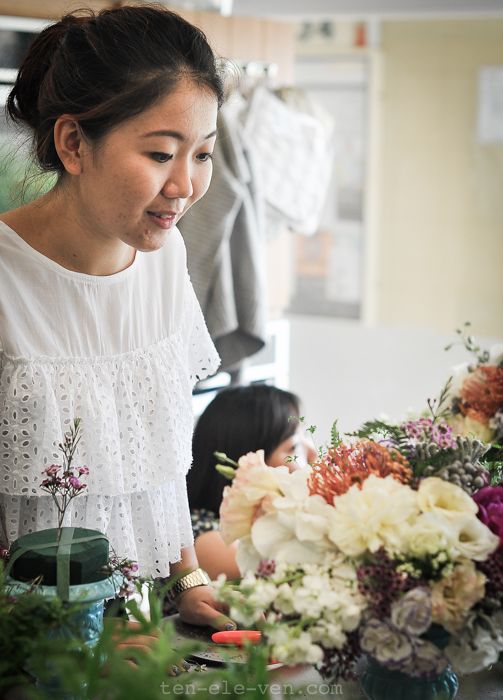 That's Joyce from Wonderland admiring some of the creations.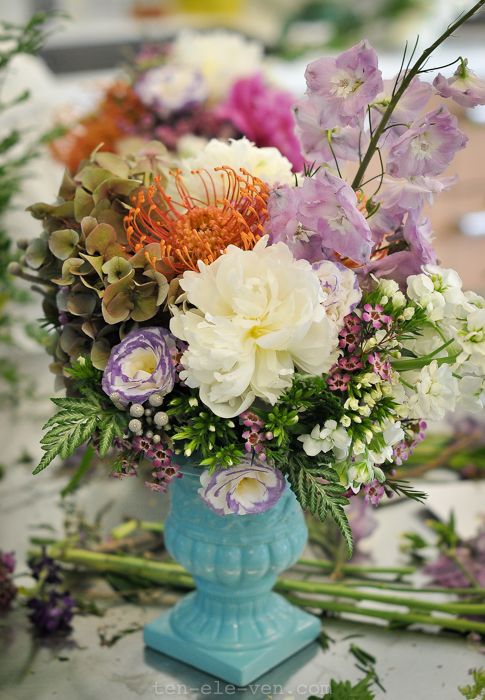 And this is MINE! 🙂
I had plenty of fun for 2 hours. I am thinking about signing up for their table styling classes…
xoxoxo
Other posts on Shop Wonderland:
Shop Wonderland / Wonderland For Detailed Planners
Flower Crafting Classes with Wonderland
A Wild English Garden With Wonderland For Detailed Planners