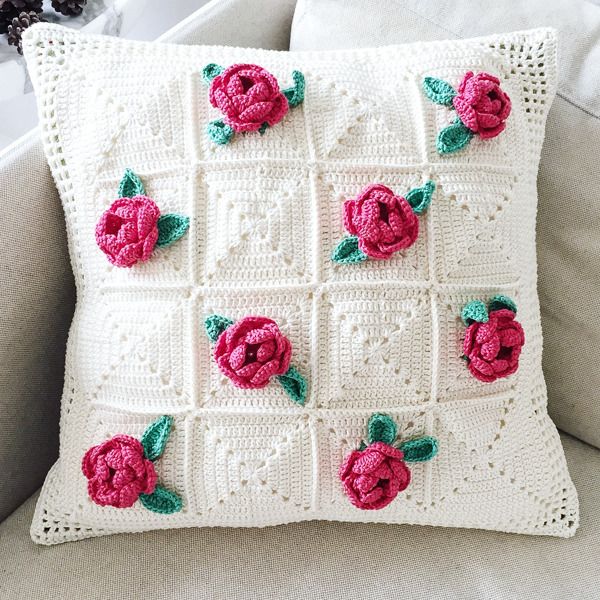 Another cushion cover!
I have been seeing this beautiful rosette pattern quite a bit on Instagram, but I could not find any written instructions in English online.  After much searching, I found a video tutorial on a blog for this pattern.  Unfortunately, the instructions were in a foreign language – Turkish, I think – and not in English.  You can find the video tutorial on Gulay Degirmenci's Youtube channel here.
I played the video forwards and backwards countless times to eyeball the stitches and after much hair-pulling, managed to figure it out.  It is quite an easy pattern to make and I have to find some time to write it down before I forget.
I thought it would be an overkill if I made a rosette on all the granny squares so I decided to alternate the rosette granny square with a plain solid granny square, and then made a lattice-style edging before stitching it to the fabric.
Another milestone in my self-taught sewing lessons.  I made a zipper that is concealed.  It turned out quite well though the machine stitches could have been neater.
I love the print of this fabric which I bought from Sin Mui Heng at People's Park Centre.  This is a lightweight and silky-smooth cotton fabric from Japan that costs $16 for a yard.  I could have bought something cheaper from Spotlight but I do not like the look and quality of their fabrics which are mostly from China.  I like going to Sin Mui Heng – most of their staff are elderly aunties who are helpful and polite.
If someone were to tell me 30 years ago that I would resemble my mother 30 years later in that we both love buying fabrics (for making clothes in her case), I would say the person is crazy.
Crocheting: Rosette Granny Square Cushion