In the last year or so, thanks to Kaixo, I have the opportunity to enjoy the very tasty flavours of Basque food without having to be in San Sebastian. I have come to love eating peppers, onions and tomatoes sauted in olive oil. The fragrance and flavours produced from this combination of vegetables are so delicious and comforting.
To satisfy my curiosity about Basque food, I bought a cookbook featuring Basque recipes called The Basque Table sometime ago. There is a chicken recipe in the cookbook that I have been meaning to try out in the kitchen for a while and I finally got around to doing so this weekend.
Chicken Basque-Style
(Recipe from The Basque Table)

Ingredients:
One 3 to 3.5 pound chicken, cut into pieces
Coarse salt
3/4 cup olive oil
3 garlic cloves, minced
1 medium onion, cut into strips
2 red bell peppers, cut into strips
2 medium tomatoes, peeled, seeded and diced
Salt
1-1/2 tsps sugar
1 cup dry white wine
Juice of 1/2 lemon
2 tbsps chopped flat-leaf parsley

Directions:
1. Sprinkle the chicken generously with coarse salt. Set aside.

2. In a skillet, heat 6 tablespoons of the olive oil over medium heat. Cook the garlic for 1 to 2 minutes, until it turns golden brown. Add the onion and sauté it for about 10 minutes, until softened. Add the red peppers and tomatoes, mix well, and season with salt and sugar. Cook, stirring, for about 15 minutes, until the tomatoes release their liquid.

3. In a deep skillet or stockpot, heat the remaiing 6 tablespoons olive oil over high heat. Add the chicken, and cook it for 10 to 15 minutes, turning it, until it is lightly browned on all sides. Add the pepper-tomato mixture and the wine, and mix well. Reduce the heat to medium, partially cover the pot, and cook for about 40 minutes, until the sauce thickens and the chicken is cooked through.

4. Gently stir in the lemon juice and cook 5 mintues more. Serve the chicken and sauce garnished with parsley.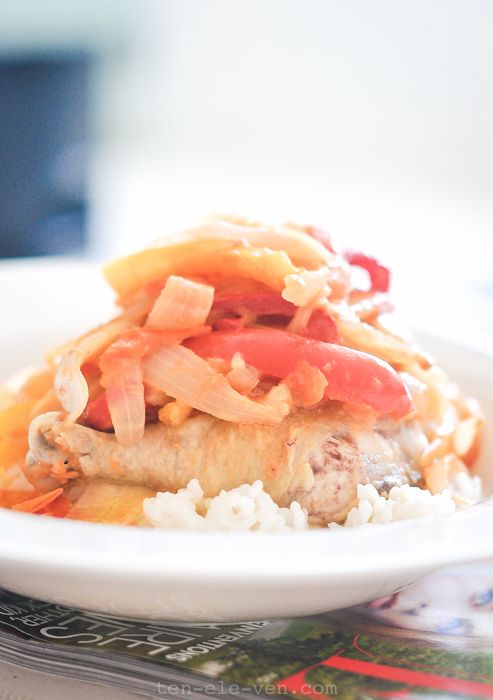 The method of cooking and flavors of this chicken dish remind me of the Italian version known as Chicken Caciatore (which I also love), except that the Basque version is slightly lighter in flavor. Instead of a dry white wine, I used Txakoli, the classic Basque white wine which is crisp and delicious. I can drink an entire bottle on my own and I almost always have a few bottles in our wine fridge.
We paired the chicken with white rice and it was yummy! The gravy goes really well with rice. I have alot of leftovers from lunch which I will be freezing for weekday dinners. I am sure the dish will taste even better after a few days when the flavours come together.
xoxoxo
Chicken Basque-Style (Pollo A La Vasca)