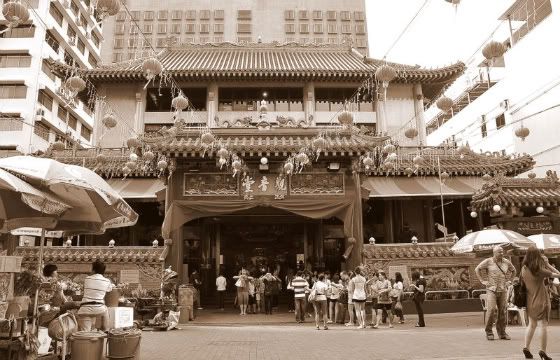 My mom brought me on a walking tour of Bencoolen St/Queen St/Waterloo St yesterday. This area is so foreign to me now.
We had coffee at the Albert Court food centre, shopped in Fu Lu Shou Complex where I bought a little gold ingot for good luck, visited the dried goods wholesale centre in Albert Court (which I never knew existed), offered an incense at the Goddess of Mercy Temple (my mom, not me), browsed at the Chinese New Year stalls that were operating in Bencoolen Street, dropped by the Korean supermarket at Burlington Square.
I was probably 8 or 9 years old when I last visited this area with her. She used to bring me to the Goddest of Mercy Temple at Waterloo St almost every week – to offer incense to the Gods and ask for good results (for me) and good health (for everyone else in the family) – and thereafter, shopping in the Fu Lu Shou Complex and and the shops around the Rochor/Bugis area.
Maybe all that praying did do me some good.
I remember being totally unimpressed with these trips because going to a temple was very un-cool. I'd rather hanging out in places like Orchard Road. I also hated the devotee crowds and how the smoke from the burning joss-sticks and incense stung my eyes. After all the praying was done, she would purchase flower petals from the vendors outside the temple for bathing. This is the only bit about her faith that I liked – showering with water sprinkled with fresh petals.
I stopped going to the temples with my mother when I turned 10 – the age I started going to church (not that I do anymore) with my maternal grandparents (who converted to Christianity when they were close to 70. Come to think of it, my mother seems to be the remaining Taoist on her side and my dad's side of the family. Even my dad has converted.
I think growing another year older is making me nostagic.