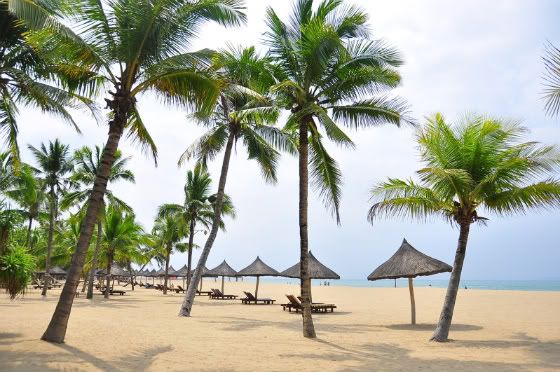 Sanya (三亚), Hainan Island.
I have never really thought about visiting the place where my maternal grandparents were born, and whose Hainanese blood runs amok in my veins.
Expiring annual leave and a Jetstar voucher gave me the opportunity to visit this tropical island which is often referred to as the 'Hawaii of China' with a colleague who is Hainanese. (I am actually Hokkien….in form.)
We went down to the southern tip of the island known as Sanya and spent two days doing nothing.
Drinking tea. Enjoying sandy beaches, pristine waters, nice weather, fresh air (are we really in China..?!). And COCONUT TREES. SO MANY OF THEM. Everywhere.
It was a little odd at first hearing the Hainanese dialect – albeit slight variations of the dialect that we speak at home – almost everywhere when the dialect is rarely heard in public in Singapore. I kept wondering if I should also converse with the locals using the dialect.
I think my "bullet-train" speech patterns found its roots in the Hainanese dialect which I picked up from living with my maternal grandparents for many years.
We 'talk very fast' and at higher-than-the-usual decibels. So we sound like we are engaged in shouting matches with each other when we are merely having a civilised conversation.
TBH (who grew up in a soft-spoken environment) gets un-nerved by our family conversations because we make such a DIN. And my friends, alarmed by the decibel-level, used to tell me to "stop shouting at your mother"!
For goodness sakes, no one is shouting. We are just animated folks.
Whenever squabbles broke out at home (involving gramps, mom and me), my dad would immediately put on his headphones and turn up the volume on the CD player. Neighbours would, at some point, turn up at our doorstep to see what the ruckus was all about. Oh, so embarrassing.
The next trip to Hainan Island, I will visit the villages where my grandparents came from. But I think I will have to leave the 'mister' at home. Doubt he will survive being Hainanese-d.
Hainan: Touching On Family Roots