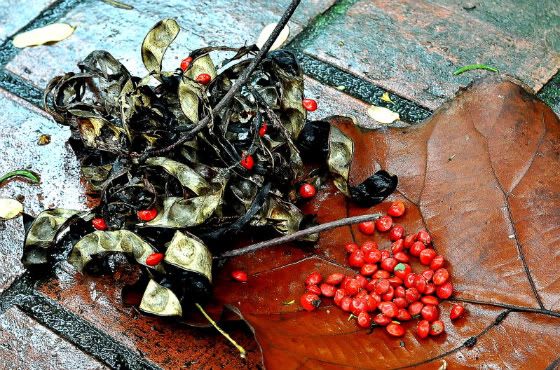 Had a delicious kway chap lunch with C at Old Airport Road and chatted for a couple of hours at the hawker centre, oblivious to the crowds around us. At least I was oblivious; not sure about her! 🙂
Then I headed to Medi-ya at Liang Court to see if I could find my Korean banana milk. None to be found. Sigh. Ended up buying a tub of Haato gelato in two flavours – yuzu and black sesame – and Tampop Deli's nama chocolates and a slice of cheese chiffon cake.
Yoyow! The chiffon cake is really good. Light, moist and airy. Now, I want to go back to the shop and get the whole cake.
While waiting for TBH to knock off, I decided to pop over to Fort Canning Park for a walk. It was nice and cool after the rain…and I saw plenty of red saga seeds lying around on the grass. Just waiting to be collected!
So that was what I did – hunched over, rustling amongst the grass, soil and piles of dead leaves, picking up saga seeds, piling them on a huge leaf.  I like hunting for the pods and plucking the seeds off them.  When I was a kid, my neighbours and I would have this competition to see who can collect the most saga seeds in a day.  And playing hopscotch.  That was how we amused ourselves then.
It has been a long while since I saw black saga seeds. Wonder where I can find them.