At the urging of a good friend, I signed up for a baking class at Dulcet & Studio, Tampopo's new restaurant-cum-studio at Liang Court, one of my favourite malls because it houses Mediya, Nirai Kanai and Shin Yeh. I love the Okinawan food at Nirai Kanai and the Taiwanese cuisine at the Shin Yeh. Oh, and I cannot leave out the ramen at Tampopo. I love to eat Tampopo Deli's light and soft cheese chiffon cakes and it is great that they now have a spacious sit-down place where you can have coffee, eat cake or lunch and linger.
Back to the baking class. My friend has been attending baking classes run by Dulcet & Studio for a while and keeps asking me to give their classes a try. The classes are taught by Mayumi-san who, in a simple tee-shirt and jeans, looks like she has just floated out of the cover of Oggi. Tall, slim, elegant and well-groomed. I am so envious of how most Japanese women manage to always look so effortlessly chic, stylish and cool.
I signed up for the January class which taught participants how to make three types of sweets – a Mont Blanc, rum and raisin ice cream and caramel chocolate. I don't usually sign up for baking classes but when I do, I prefer hands-on classes, where I make at least 80% of the desserts from scratch. I don't like standing around or sitting on a chair watching demonstrations performed by the teacher. I learn best by doing, not by watching or listening.
From what I know, the classes at Dulcet & Studio are 80% demonstration and 20% 'get-your-hands-dirty', and you get to eat the desserts at the end of class. Not the instruction format that I enjoy but the mouth-watering Japanese-style desserts looked so enticing in the promotion flyers, I decided to sign up.
There are only four participants in each class, and even then, the studio is too small to set up individual work-stations for each participants. We watched the instructor put together the items, with a number of steps having been prepared in advance. To make three desserts from scratch within a 3-hour timeframe, especially with the Mont Blanc being a more complicated item to make, was just not possible. I felt that she was going through the demonstration at break-neck speed, with the rest of us trying our best to digest her explanations and scribbling away furiously on our instruction sheets.
Although the class was scheduled for 3 hours, the instructor completed all three desserts in slightly less than 2 hours. I have no idea why she was in such a hurry. All the hands-on work that we were required to do was pipe three meringues and the chestnut cream for the Mont Blancs.
Mont Blanc
The instructor showed us two types of piping for the Mont Blancs. The one in the foreground is the 'cross' piping and the one in the background is the 'spiral' piping. My hands ached from piping three Mont Blancs 'cos the chestnut cream was quite stiff. I shall not complain about how much it costs to buy a Mont Blanc.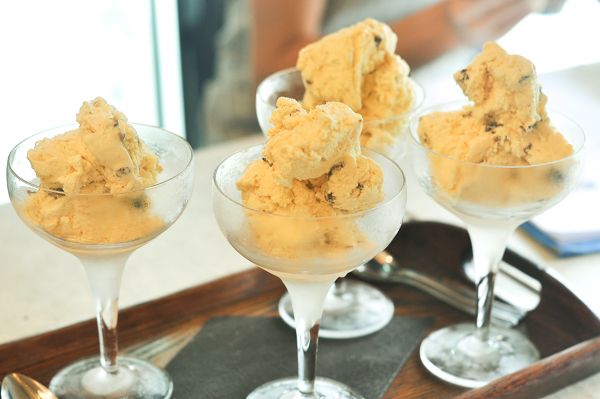 Rum and raisin ice cream
Caramel chocolate
At the end of the class, we sat down at a table and the instructor served us the desserts and a hot cup of tea. In one sitting, I ate a Mont Blanc, a huge serving of rum and raisin ice cream and tasted a piece of chocolate. I was stuffed! I thought all the food tasted very good, with the ice cream being the most outstanding. I also brought home three Mont Blancs in a beautifully boxed-up carrier and several pieces of chocolate.
Having seen the studio's monthly promotion flyers for baking classes, I like the desserts that they teach. The instructor speaks good English and is clear in articulating her thoughts and methods. However, the class would have been more enjoyable and beneficial to me if the studio focuses on teaching only one or two items at a slower pace and includes more hands-on opportunities. Unless the format of their baking classes changes, I suppose I will just stick with buying chiffon cakes at Dulcet & Studio.
Baking Class At Dulcet & Studio