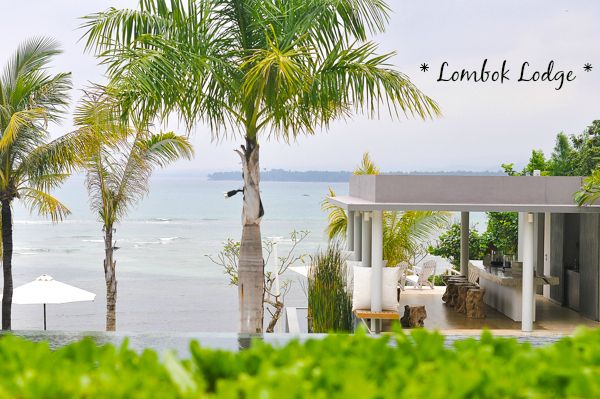 On the third day of Chinese New Year, after completing our Chinese New Year visiting, we left on a 5D4N getaway to Lombok. Late last year, we started looking around for a resort in the region for a short vacation, and decided on Lombok. Quite a number of people I know have been to Lombok and there are others who have never heard of the island. Lombok, an Indonesian island located next to Bali, is two-and-a-half hours away from Singapore by Silkair or Tiger Airways. Unlike Bali, the majority of the people who live in Lombok are Muslims, and the rest are Hindus and Buddhists.
Compared to Bali, Lombok is less touristy, less commercialized and hence, less crowded. A couple of friends recommended that we stay in Qunci Villas & Hotel, but after some research on TripAdvisor, we settled on Lombok Lodge situated in the northern part of the island. It is highly rated on TripAdvisor and has many positive reviews by guests of various nationalities. What really nailed it for me was the fact that it is a small property, with only 9 villas (or what the resort refers to as Lodge Suites). We like small, quiet resorts which come with very good service and hopefully, an excellent chef/kitchen.
We bought a package that comes with daily breakfast and 5-course dinners as well as two-way airport transfers.
We arrived on a late Sunday morning. Clearing customs was a breeze because the airport was not crowded. That's a very good start to the getaway – no issues with customs. The one-half-hour drive from the airport was smooth, took us past acres and acres of verdant fields. We also saw troops of monkeys scampering around the winding road as we drove through the Monkey Forest.
The villas in Lombok Lodge are simply furnished, in shades of greys and whites. My favourite colour palette (if you have been to my flat, you will know why…) 'cos it has a calming and relaxing effect on me. The room comes with an iPod, a Nespresso machine and four capsules per day (I should have brought along my own capsules) and a DVD player. There is a small library in the reception area where we could borrow books and DVDs to help you while away our time.
There is in-room wifi but the signal in the room was quite unstable as compared to outdoors. I was able to connect to the in-room wifi using my Macbook Air but not with my iPhone or my iPad Mini. Not sure what was the problem, but it didn't create any major issues for me (except that I couldn't watch any videos on my computer 'cos the wifi signal was not sufficiently strong or stable). So whenever I needed wifi connectivity on my iPhone, I had to pop out of the room into the patio to get a stronger outdoor signal.
My favorite spot in the villa was the bath-tub. Just the perfect length for me, and I liked that they provide a sturdy removable tray placed over the bathtub which I used to hold my computer while soaking in the tub. The bathroom was roomy with an outdoor shower room that has a strong jet of hot water from a rain shower. Nothing more annoying than having a head full of shampoo and all you get is a weak stream of lukewarm water trickling out of the shower head.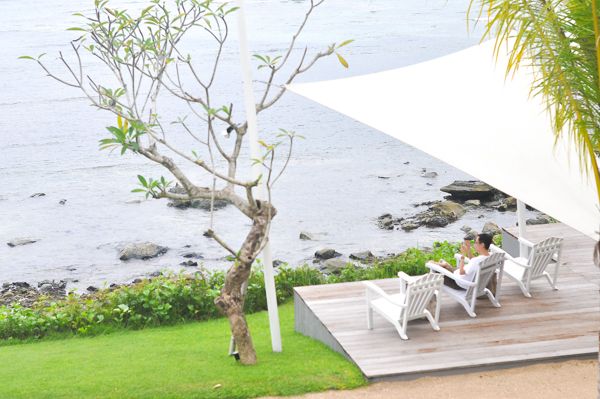 Due to its size, Lombok Lodge does not have many facilities. It has a small spa and an infinity pool but does not have a gym or yoga classes. They constructed a small deck facing the sea that guests could use for yoga but we have never seen anyone do so. My husband likes to plonk himself on the deck after breakfast to think deep thoughts while I play HayDay on my iPhone.
What else does one do when staying in the Lombok Lodge? The resort offers complimentary boat services to the nearby Gilis Islands for snorkeling or we could hire a car to take us to see the waterfalls or the traditional village. We were perfectly happy not to leave the resort at all, and did just that.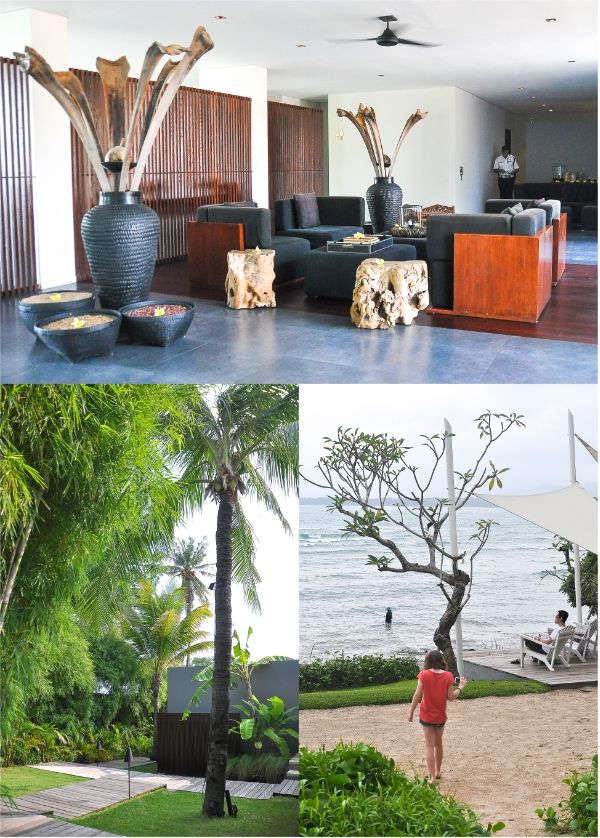 Besides us, we saw American families with young kids, a Belgian family living in Shanghai, a group of Singaporeans, and several couples, also Asians, who were staying at the property.
I am not sure about the quality of the cocktails concocted by the bar 'cos we have only tried the Lombok Mojito. We loved the mojito and had at least two glasses everyday. It is not easy to find a good mojito and when I find one, I become greedy. If the rest of the cocktails are anything like the Lombok Mojito, then they must be pretty good too.
The bar facing the sea is a nice place to hang out with a cold bottle of Bintang beer, or a cocktail. We did not get around to doing so 'cos the weather was too warm during the day and it drizzled in the evenings.
Whenever we go to a resort, we like to stay in for our meals as much as possible, so having a good restaurant where we could look forward to each meal is very important to us. In the case of Lombok Lodge, there are not many dining options around the resort so it was necessary to eat in every night. We were so glad that the chef exceeded our expectations. The food was excellent, and we could tell how much passion and love the chef has for cooking.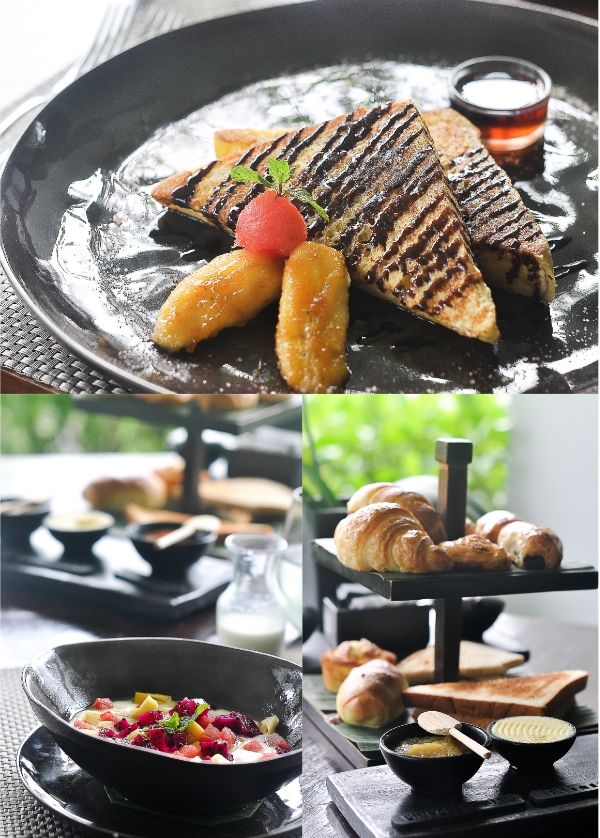 The breakfast menu contains the usual Western items – breakfast rolls and croissants, French toast, pancakes, eggs benedict, croque monsieur, yoghurt, granola, fruit, etc, and Indonesian fare such as mee goreng and Indonesian chicken rice porridge. I ate the same things every morning – juice, smoothie, yoghurt with fruit and coffee. My husband usually goes for the savouries and heavy-duty stuff such as the chocolate French toast and mee goreng.
The spicy beef salad was sooooo good. The chili in Lombok can kill people. It is SO spicy. After the first meal where my mouth felt like it was on fire, I learnt my lesson and was always careful to tell the resort staff to keep the level of spiciness in my food mild.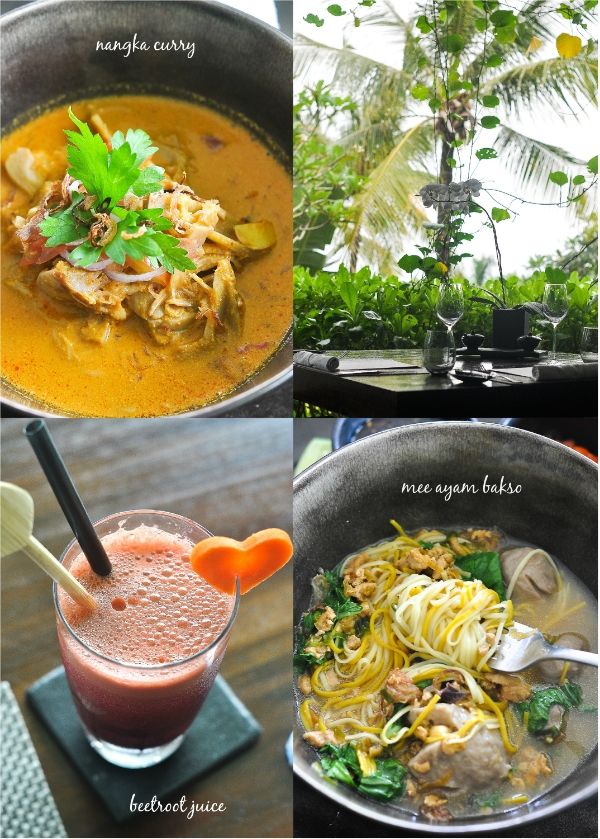 Our package came with daily breakfast and 5-course dinners. Lunch was not included. When the resort sent me an email to confirm our reservation, they asked that I let them know if I had any special requests and they would try to accommodate. So I put in a special request for our usual beetroot juice (made with beetroot, carrot, green apple and kale/spinach) to be served during breakfast, and they said OK. Except for one morning when beetroot was not available, two glasses of beetroot juice were brought to our table every morning.
On the day that we arrived, we were again asked if we had any special requests. I decided to try my luck and asked if the restaurant could prepare certain Indonesian dishes that were not featured on their lunch menu. I had REALLY wanted to eat nangka curry (young jackfruit curry), mee bakso, mee soto and chicken Taliwang, a classic Lombok dish of spicy grilled chicken that is named after a village called Taliwang in Lombok. I adore Indonesian food, the flavours are refined and subtle even though the cooking uses alot of spices and chili.
The resort said that they had no problems with our special orders as long as they were given a day's notice in advance. So we had mee ayam bakso (twice) and nangkang curry for lunch on three days, and chicken Taliwang was served as part of the set dinner menu one evening. The food was soooo yummy. This is really great service by the resort and we appreciate their efforts. I felt like Christmas and Santa Claus came on holiday with me!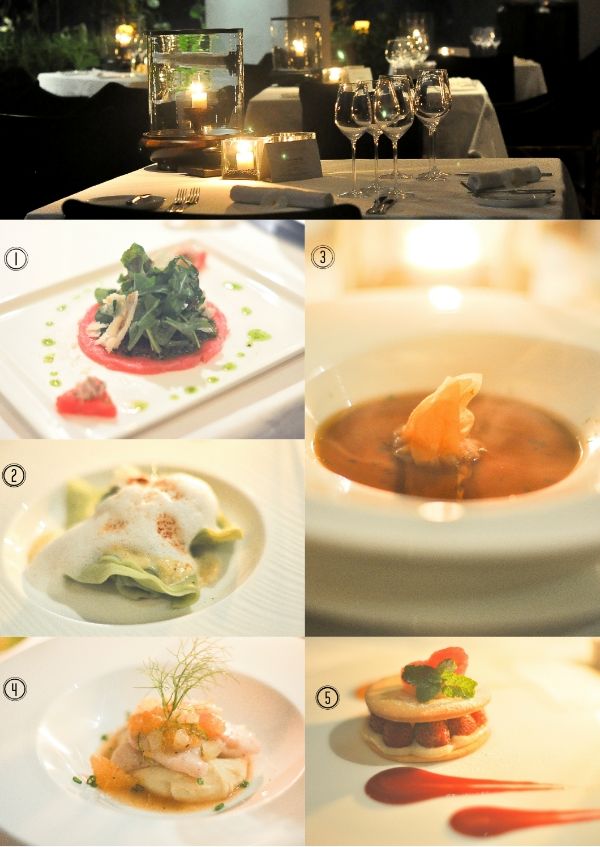 While the lunch menu is a fixed one, the dinner menu changes everyday, alternating between Indonesian cuisine and European cuisine featuring local seasonal ingredients. So we were not served the same dish twice during the course of our stay with the resort. The dinner menus were displayed at the entrance to the restaurant every morning, so we know what it is we would be on our plate that night, and if there was something that we would like to change, due to food allergies or preferences, the resort was happy to accommodate.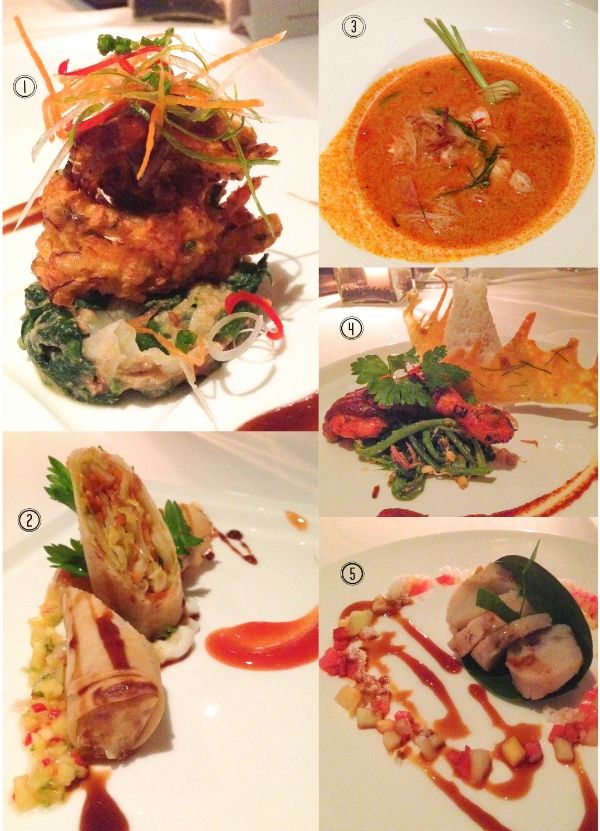 We were served the European set dinner on our first (seen in the first photo collage above) and last nights, the Rijstafel on our second night and the Indonesian set dinner on our third night (second photo collage above). As the lighting in the restaurant was quite dim in the evenings, I decided against using my DSLR after the first evening. I did not bring my speed-light with me and even if I did, the flash-light going off would have been very annoying to the other guests. I used my iPhone where possible and the images were not great given the low lighting.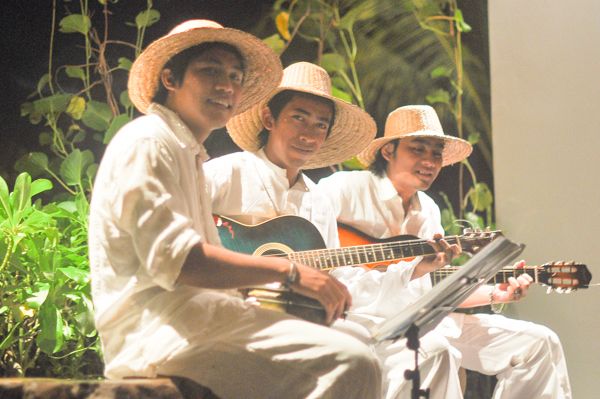 This is the excellent 3-men band that entertained the guests over dinner during two evenings that we were there.
We enjoyed our stay at Lombok Lodge very much. Besides the food, what stood out was the level of professionalism exhibited by the the staff. Service was delivered competently, promptly, in a friendly manner and always with a smile or a joke or two. Like how anyone working in the hospitablity industry should be, but you don't always get that. The resort manager and restaurant manager, both Indonesians, were easily accessible to guests and we could reach out to them directly whenever we needed to. They were both so hospitable and accommodating. I guess being a small resort helps!
This is definitely a resort that I would recommend to friends who like small, romantic, and exclusive places where they can chill out and do absolutely nothing for a couple of days. After an unhappy stay in Clubmed Phuket last December, we are so glad that this getaway turned out so well for us. We came home feeling relaxed and happy.