If you are planning to visit Arashiyama and love unajyu, please include Hirokawa in your itinerary! Having been around since 1967, the famous traditional eel restaurant is now located in a beautifully designed sukiya (wooden architecture) building right across the street from Tenryuji Temple and the entrance to the bamboo forest. We spotted the sukiya quite easily after our morning excursion to the bamboo forest and the Okochi Villa.
I looked up Hirokawa's menu online before visiting the restaurant so I already knew what I wanted to eat. Unajyu and boiled loaches (the dish known as Yanagawa on the menu)! Hirokawa's unajyu comes in five different sizes (small, medium, large, extra large, kids), or you could choose to have one whole eel without rice and eaten with a dipping sauce. There were other tempting side dishes as well but I had my mind firmly set on boiled loaches. I was extremely curious to find out how loaches taste like. I have never seen this fish in Singapore before.
We managed to get a seat after waiting in line for approximately 45 minutes, without a reservation. We ordered one unajyu (medium; 2,900 Yen) each and shared a Yanagawa (boiled loaches served in a broth and scrambled eggs).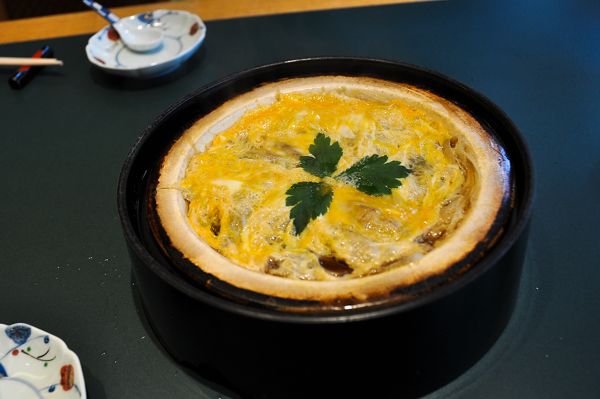 The Yanagawa came first and we tucked into the tasty hot soup which had a herbal flavour to it. I didn't know what to expect of boiled loaches; I thought they were a lighter-tasting version of eel.
Unajyu served in a beautiful lacquer box. Delicious! Even the husband who doesn't like unajyu ate up every morsel in the box. He finds unagi too 'fishy' for him and unajyu too sweet, the sauce overwhelming his tastebuds. Hirokawa's version is just perfect for us, their special sauce complements the eel and rice very well. Not too sweet, yet sufficiently so to combat the strong flavour of the grilled eel, bringing down the level of 'fishy-ness' of the dish.
Hirokawa
Lunch: 11:30 ~ 14:30 (last order)
Dinner: 17:00 ~ 20:00 (last order)
Closed on Mondays
Tel:075-871- 5226
The location of Hirokawa can be found here.
Kyoto: Unajyu At Hirokawa In Arashiyama