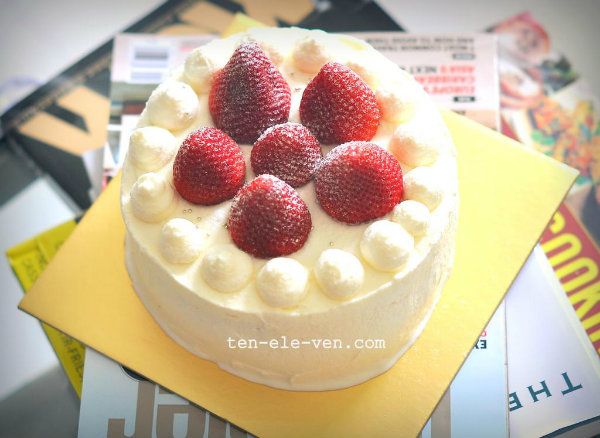 I love the Japanese Strawberry Shortcake – it is a popular Christmas and birthday cake in Japan. It is my favourite cake. A confectionary of sponge cake, whipped cream and strawberries. It is so pretty to look at. And because the flavours are quite light, I can eat one entire cake by myself. I am not fond of strawberries but I adore sponge cake and whipped cream.
Initially, I couldn't understand why the cake was called a "shortcake" when it is primarily made with sponge cake. But what the heck, it tastes good, looks good, and that's good enough for me.
When I read that Sarah of Sarah's Loft was teaching classes on the Japanese Strawberry Shortcake, I jumped at the chance to sign up. I have been reading her blog for a while and I love her photos, her cakes, pastries and cookies. The presentation of her baked goods is always so pretty, whimsical and tasteful. I also thought making the cake at a class was a foolproof way of getting the husband a wedding anniversary cake, which I could sneakily present as something that I had made on my own. Not entirely false there.
The baking class was conducted at Sarah's home, on a Sunday afternoon, and lasted approximately 2.5 hours. There were 3 students per class and it was a hands-on, relaxed, easy-to-follow lesson. I had a bit of difficulty with icing the cake; I just couldn't get the icing to be even because my wrist was just not moving in the right way and my cake was "balding". Well, nothing that more practice cannot fix! 🙂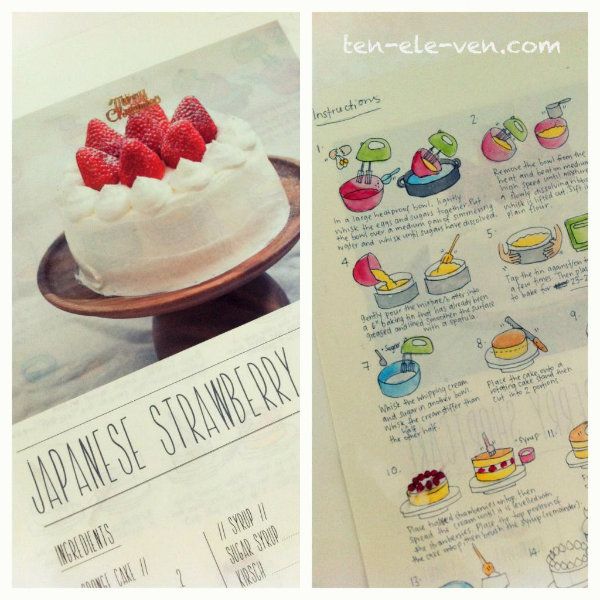 Don't you love her instruction sheet? 'Cos I do. She made sketches of each step of the method and coloured them! There is so much heart in her work. ♥♥♥
Japanese Strawberry Shortcake