We went hiking in the Horton Plains National Park on the first day of Chinese New Year. It is a plateau located in the central highlands of Sri Lanka, about 30km away from Nuwara Eliya, where we were staying.
I was taken aback when our driver told us the day before that we were going on a "9km walk" in the national park, when our itinerary mentioned nothing of that sort. It was a good thing that we thought to pack a pair of walking shoes in our lugguage because the "9km walk" turned out to be a 3-hour hike up and down some fairly rough terrain in Horton Plains – rough, from my perspective as someone who hasn't been exercising as regularly as she should.
Perhaps the Sri Lankans consider such a hike to be a walk in the park, but for city folks like me, I need to mentally prepare my mind (and my butt) for strenuous exercise.
We set off for the national park at 6.30am with our guide and a packed breakfast.  The drive from our hotel to the entrance of the park was a rather bumpy ride up the highlands which took us close to 2 hours.  Being in such beautiful surroundings made the bumpy ride bearable and the morning fog gave the whole landscape a surreal quality.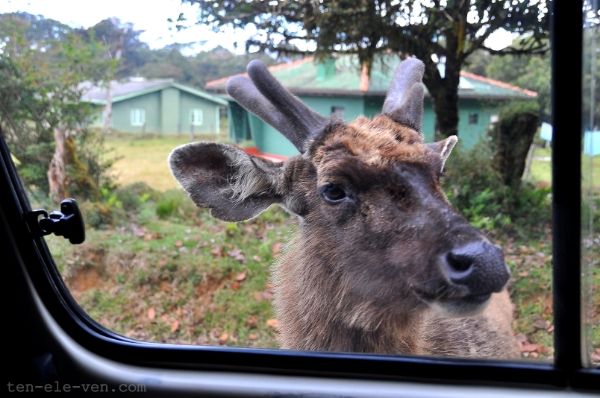 No skyscrapers. No noisy traffic. No hordes of human beings. Just us and acres and acres of verdant hills. Plenty of fresh air. Greenery everywhere. Trying to spot a Sambar deer hiding amongst the trees far away.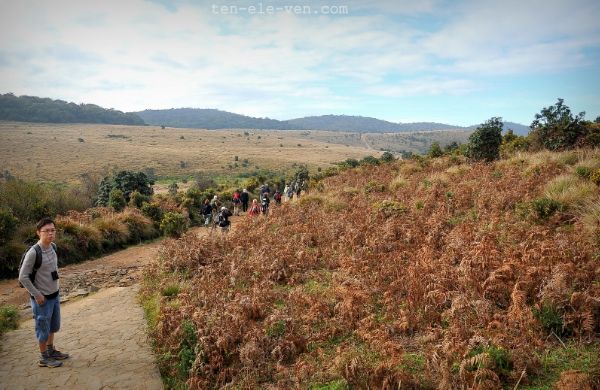 Bird-watching. We bought a pair of binoculars for bird-watching but unfortunately, we didn't catch sight of many birds.
World's End.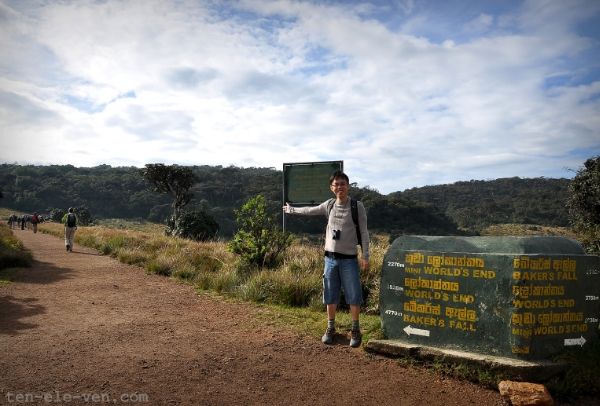 I thought the whole point of doing the arduous hike was to see Mini's World End and the World's End, a very steep cliff offering breathtaking gorgeous views of mountains and valleys. While the view at World's End was gorgeous, I very much preferred the flat areas, with large open spaces which didn't require climbing up and down slopes.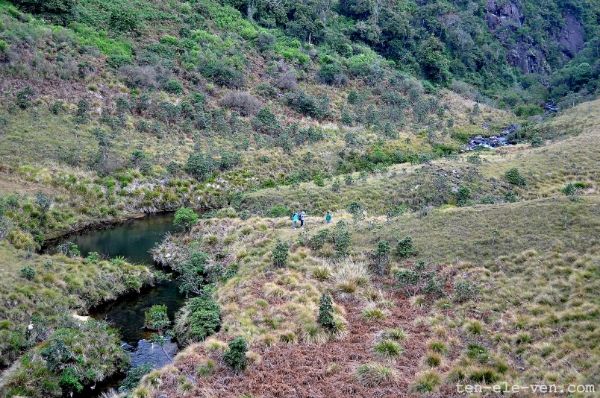 I enjoyed the walk in Horton's Plains sans the hiking bits. And I made sure I inhaled enough fresh air to last me for 1 month, until I get to Yosemite in March! 🙂
Boy, was I glad to catch sight of the park's headquarters.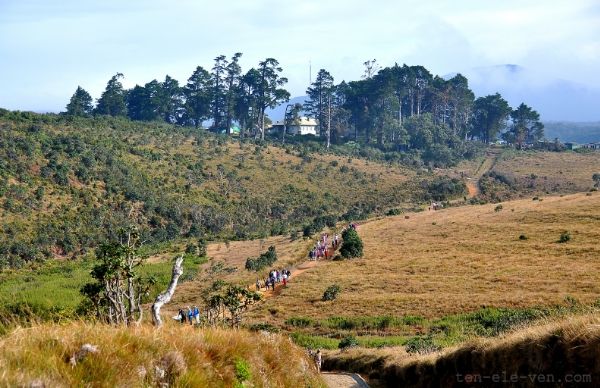 Sri Lanka: Horton Plains National Park