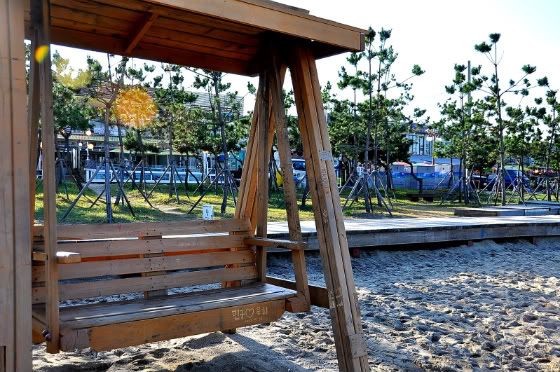 I am pretty much whacked-out today. It is only 9.30pm (Korean time) now and I can barely keep my eyes open. My sleep on the plane was disrupted by the crew serving breakfast at 4am…!  Who eats breakfast at 4am?
I arrived in the Land of the Morning Calm at 7am this morning and it took me over three-quarters of an hour to clear immigration. After I collected my luggage, I hopped onto the airport limousine for the 1-hr ride to the Dong Seoul Bus Terminal in Seoul where I caught the express bus to Gangneung. The express bus turned into the Gangneung bus terminal at 1pm, by which time I was dead beat and starving.
I was hoping to be able to eat something in the Gangneung town centre before heading to the hotel at Gyeongpo beach where I had reserved a room. But the town centre resembled a ghost town. There was hardly a soul on the streets – where is everybody? The shops also didn't seem to be open for business on a Monday and the Tourist Information Centre was closed.  I figured that I should just forget about lunch and get myself to the hotel asap.
Late fall is probably the off-peak season for the coastal town. While I hoped that the Gyeongpo beach area might be slightly more bustling, I am also looking forward to a quiet time in this little town. Which is one of the main reasons why I headed to Gangneung the minute I arrived in Korea instead of spending some time in Seoul – I wanted some andante to wind down, far away from the mad crowds in the city.
The hotel that I stayed in was just a street away from Gyeongpo beach – which was also deathly quiet.  The quiet beach was lovely, with a cloud-less blue sky, clean beaches and gorgeous crystal clear waters.   The air was so fresh and crisp, I could have sat there for hours on stretch sitting on the wooden swings watching the waves crash onto the beach.  Instead of having just benches or beach chairs, the Koreans installed heavy wooden swings (with lots of love messages engraved on them) on the beach.  I thought the swings are a great idea. 
So excited over the beach, I almost forgot that I was very hungry.  I walked along the stretch of seafood restaurants facing the beachfront, trying to figure out which one I should dine at.  In the end, I decided on this particular restaurant only because the owner  was very friendly and he spoke some English.
First meal of the day – a huge pot of haemul tang (or spicy seafood soup).   It was delicious, especially the snails!  I was determined to return the next evening to try their raw fish. 
I crashed out immediately after dinner.