It is Labour Day today!  (And it has been exactly a year since I went back to work.  Time really flies.)  We went for brunch at Toby's Estate, a cafe located near Gallery Hotel at Rodyk Street.
For some reason, brunch-ing in Singapore seems to be synonymous with "digging into a plate of cholesterol-laden Eggs Benedict".  I hate Eggs Benedict.  There is something about the combination of Hollandaise sauce and runny egg yolks that simply tastes awful.  So Eggs Benedict, Eggs Royale,  Eggs Florentine, Eggs-so-on-and-so-forth isn't for me.
My ideal brunch is a plate of hot, fluffy pancakes with some honey. I also hate maple syrup. Or a plate of scrambled eggs on toast.  
At Toby's, J ordered the Eggs B.  They were quite good about replacing the prosciutto with bacon, so that's a plus point for the place.  He thought that the Eggs B were okay, and since he licked his plate clean, it should be quite decent.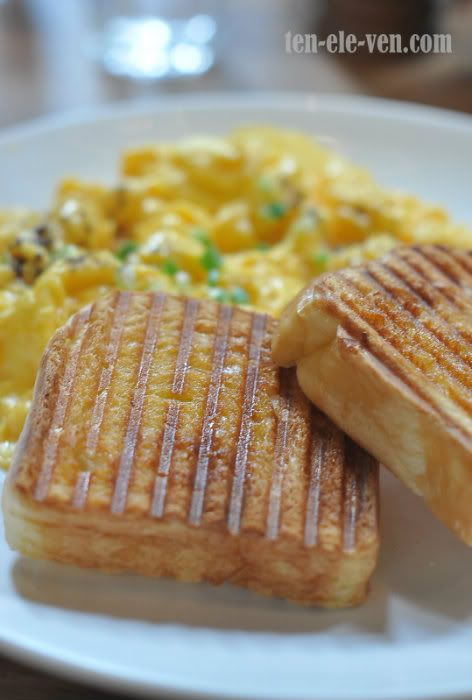 Unfortunately for me, Toby's Estate doesn't do pancakes.  Hear me grind my teeth.  In my view, it is a travesty for a breakfast/brunch sort of place not to have pancakes on its menu.  But well.  We adjust.  So I ordered scrambled eggs on toast. And so did K.  In the case of Toby's Estate, they serve scrambled eggs on toasted brioche.  The brioche was very good, but the eggs were alright, just not great. I think the flavour of the eggs is missing out on something. It needs more milk, or more cream, or more of both.  
K and I ate up the brioche, and left behind a ton of eggs. I don't know how they made the brioche, but it has a melt-in-your-mouth texture; not chewy like how bread is.  The next time I go there, I am just gonna order a plate of toasted brioche with jam.
TBH ordered a Toby's Breakfast, which is the usual big breakfast comprising of the full works. Bacon, eggs, mushrooms, cherry tomatoes and brioche.  He held the same view as the scrambled-eggs-on-toast-duo – brioche was really good; everything else was fairly ordinary.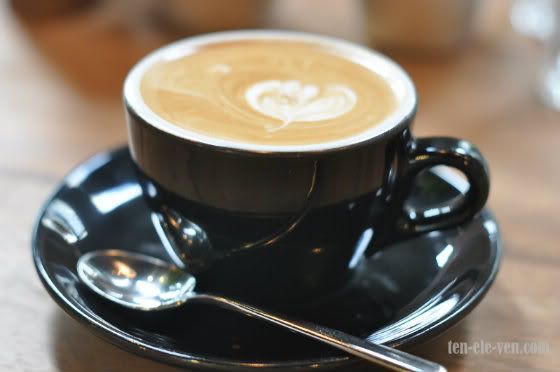 I was tempted to try their Piccolo Latte, but remembered what happens to me every time I have a cup at Oriole's.  Because Oriole uses ristretto in its Piccolo Latte which is too strong for my stomach, I suffer from a day-long bout of nausea after drinking a cup. I wasn't about to take my chances with Toby's so I ordered a flat white and TBH ordered a macchiato. Verdict – coffee was alright but Jewel's is still better.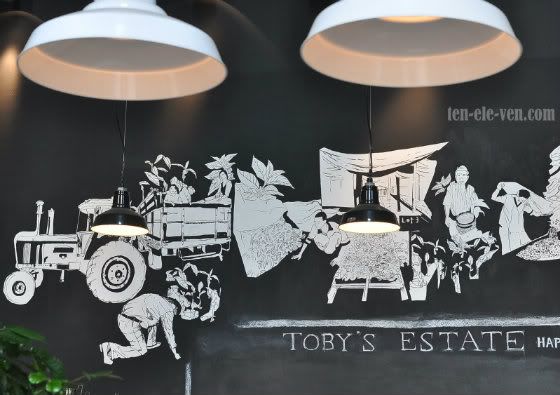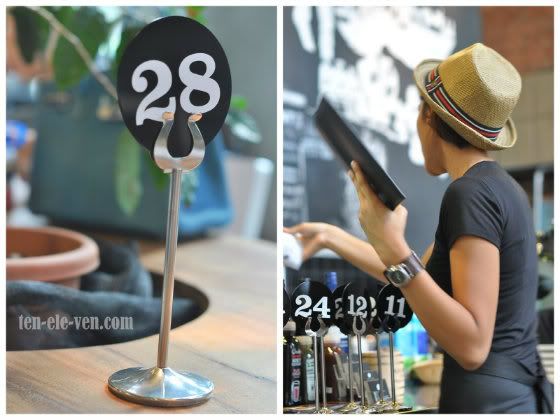 Overall, I like Toby's Estate ambience. It is bright and cheery, with high ceilings and a relaxed vibe. The indoor seating area is confined to a long bench where customers enjoy a communal-style of eating. I like that.
The cafe was very crowded when we arrived today, even though we were there at slightly past 9am. I spotted so many interesting gadgets and knick-knacks in the cafe and would have liked to capture them on camera, but I gave up on the idea given the large number of people in the cafe.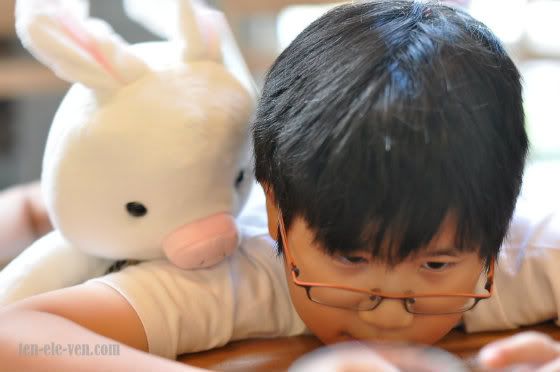 The kids were quite taken with the pig-rabbit plush, and insisted on taking it along for brunch. The plush does look quite cute eh? Whisked from the streets of Seoul to hot and humid Singapore, it is now in the hands of loving owners (I hope!).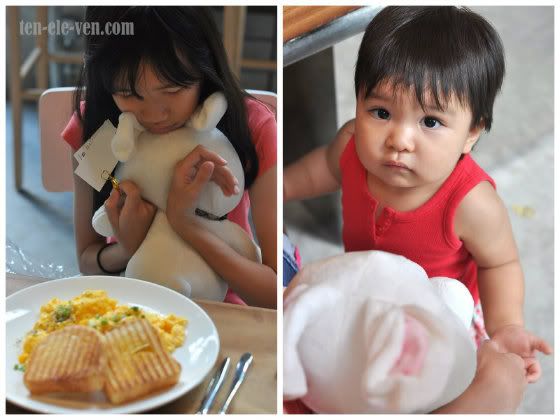 Having caught sight of the plush, a toddler siddled up to K with her eyes fixated to it for a long while. Was she going to insist on holding it, and keeping it? It then turns out that her dad is someone we know…!  Small world.
I think Toby's Estate is a nice place to hang out on a weekday, when it isn't crowded with hoards of people. It can be a little stressful eating there when you see people streaming in looking for a seat, and you feel somewhat obliged to eat quickly and bugger off.