Last month, we went on a 4-day getaway to Bangkok with another couple friends of ours. It was the husband's birthday that week and the trip was some sort of an extended celebration. An excuse to indulge, really. We had a delicious dinner at Waku Ghin the weekend before we went away, and during the trip, continued to pamper ourselves with nice meals at Nahm and Gaggan, over and above all the yummy local food that we ate in the City of Angels.
I have heard so much about SabX2, the famous wanton noodles at Pratunam in Bangkok, I couldn't wait to try it for myself. I love eating the version sold in Singapore and I wanted to see how it fared against the original one in Bangkok.
SabX2 is located in an alley (Soi 19 Petchburi Road) directly across the road from Platinum Mall, so it is a very convenient pit-stop for lunch after some shopping at Platinum Mall.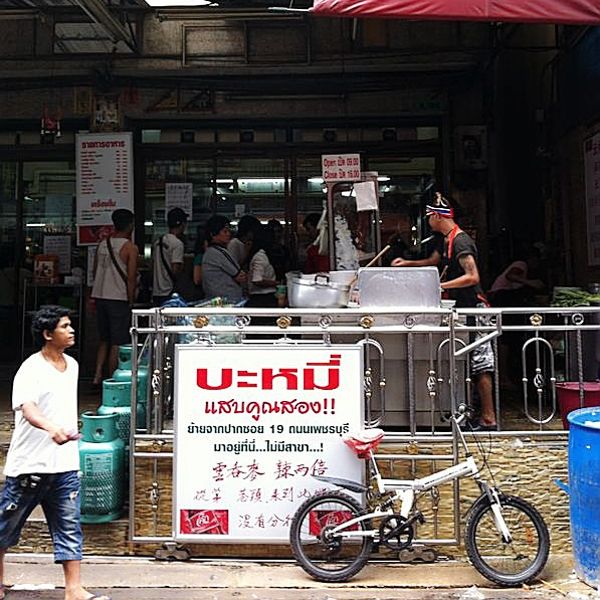 You cannot miss the stall, and the snaking queue, once you walk into Soi 19. SabX2 sells wanton noodles as well as braised pig's trotters and intestines. The food is prepared out at the front, where you place your orders while in the queue, before being led into the air-conditioned dining room by the extremely efficient wait staff.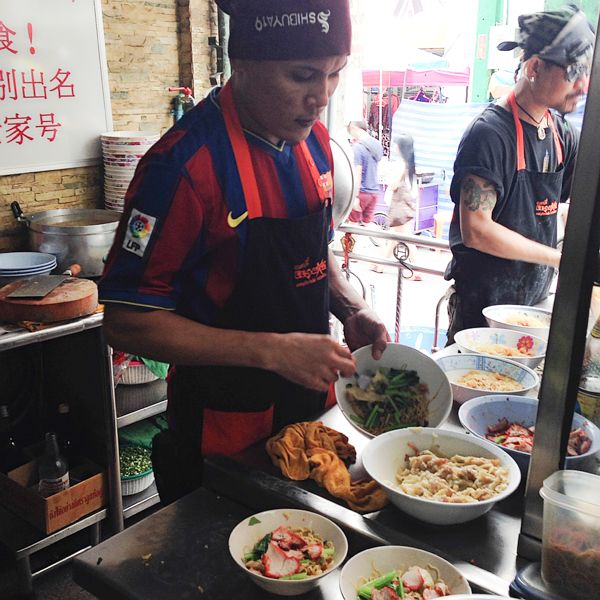 Stylo-mylo hawkers. They look like hip-hop dancers, especially the chap wearing the sunnies.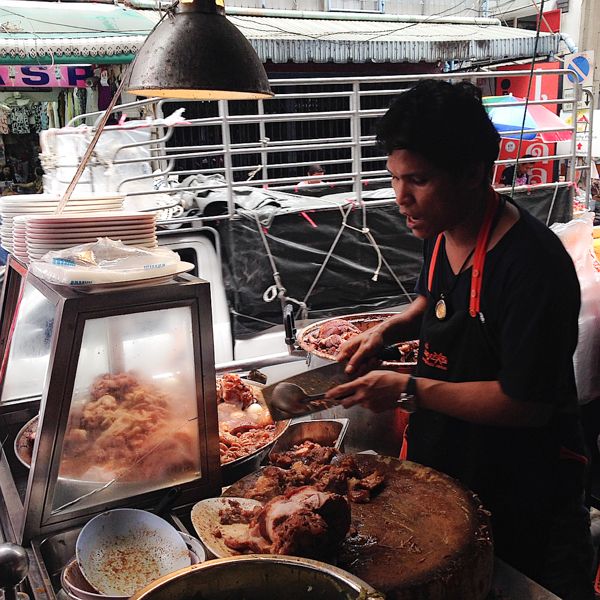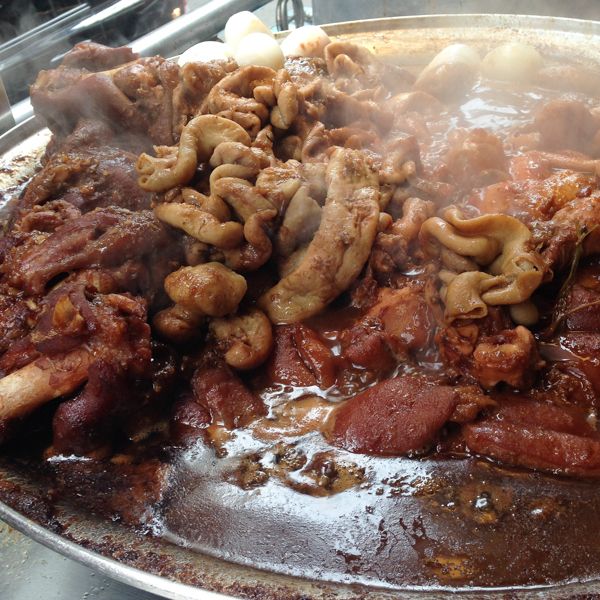 The massive vat containing mouth-watering but cholesterol-laden braised pig's trotters and intestines. I LOVE innards. Pig innards. Cow innards. Chicken innards. Have not tried sheep innards, but game to give it a try when I get the chance to. I could not wait to stuff my face with intestines. It was during our second visit to the shop that we ate the pig's intestines. The first time that we were there for lunch, the intestines were sold out. According to the wait staff, the intestines are very popular and sell out usually before lunch. So we made sure to drop by again the next day at 10am for brunch, and ate two plates of intestines and trotters.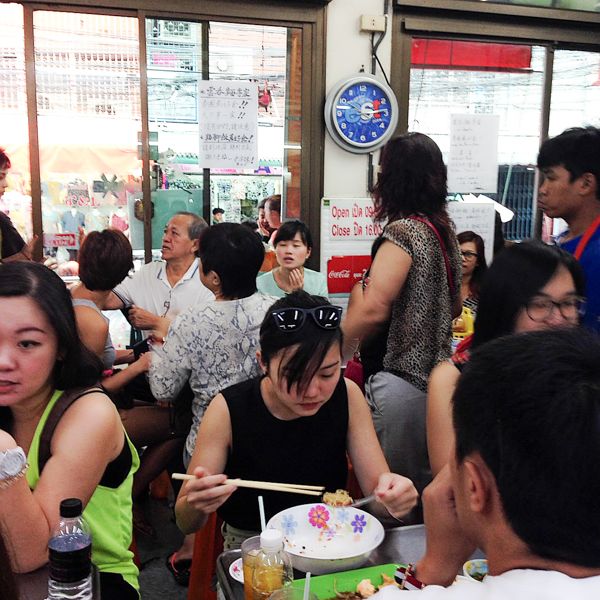 Tiny place but air-conditioned, thankfully. Customers are packed like sardines in a can. But no one seems to really mind because everyone is happily tucking into platters of sinful food.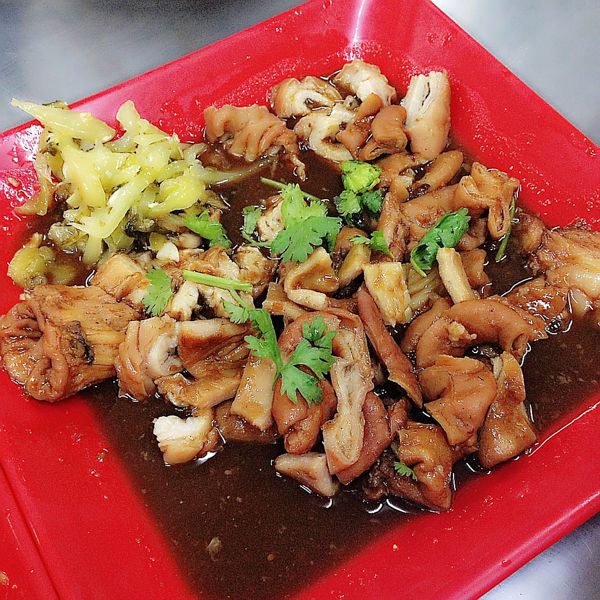 Unctuous. The best braised pig's intestines that I have eaten. The magic is in the gravy. It is ADDICTIVE. There is a strong hint of five spice powder, but I am sure there are other spices in the concoction. Get hold of that recipe and you will be assured of a perpetual queue AND a ringing cash register in Singapore.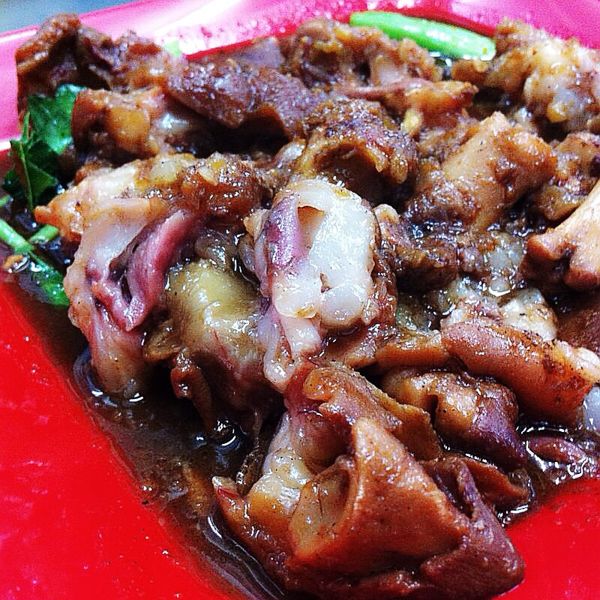 Melt-in-your-mouth cartilage, tendons and pig's skin soaked in that glorious gravy.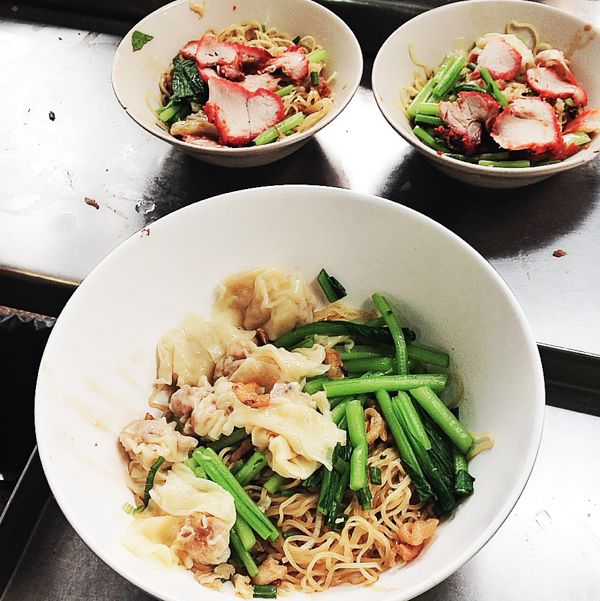 THB50 for a tiny bowl of wanton noodles. It takes three big bites of the noodles and you are done. I had to eat two bowls to feel some measure of satisfaction. Overall, I prefer the Singapore version – just because the wantons are tastier and the noodles are cooked slightly more al dente than the version in SabX2. Taste-wise, both stalls are fairly similar. SabX2 is definitely worth a visit if you are a lover of pig's trotters and intestines. I am definitely going back when I next visit Bangkok!
SabX2 Wanton Noodles
4/32-33 Soi Petchburi 19
Pratunam, Bangkok, Thailand
Tel: 02-653 9618, 081-839 5105
Opens daily from 9.30am – 5.30pm
Get there by 10am if you want to eat the pig's intestines!
Bangkok: SabX2 Wanton Noodles & Pig's Trotters And Intestines