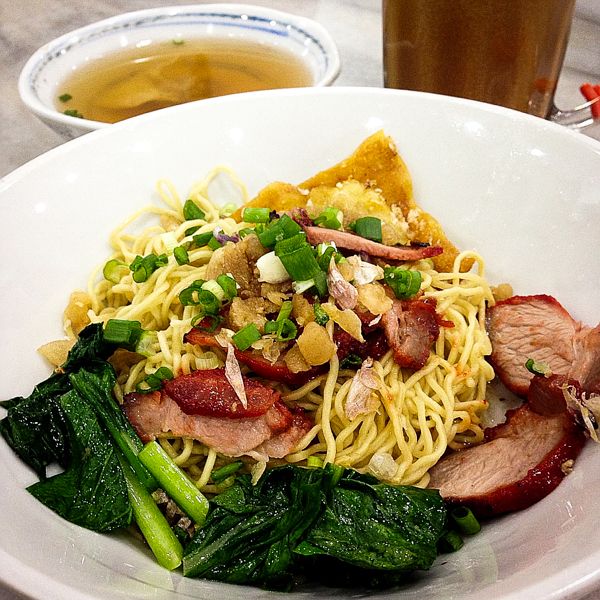 Having seen this wanton noodles stall being written up in several food blogs, I decided to check it out today.
Unlike the Singapore-style and Malaysian-style noodles, this bowl of Thai wanton noodles does not come with a sauce. The springy noodles are flavored with pork lard and a little oil. Very tasty! A $3.50 bowl contains a generous helping of char siew, vegetables, two fried wantons and two wantons in the soup. I am going back to introduce this stall to the husband this weekend.
The coffeeshop is in a block of flats that is opposite my now-defunct primary school, Hong Dao Primary School. I was happy to be re-visit this part of Ang Mo Kio where I spent six very happy years in primary school. (I wish kids these days can say the same about their primary school days.) I looked forward to school everyday, 'cos it was fun. Oh, I have so many good memories of those school-days. My classmates and I wanted to be prefects, not because of the prestige or CCA points that come with it, but to enjoy the privilege of going out for recess earlier than the scheduled time – no need to queue for food! We also competed to be appointed as librarians because librarians could take out an additional three books. End-of-semester parties were something that we looked forward to twice a year. We had pot-luck parties, played games and dressed the classroom up with confetti and paper chains.
I still keep in touch with several of my primary school classmates, and I wonder about how the rest are doing.
Soi 19 Thai Wanton Mee (十九街雲吞麵)
Address: Blk 151, Ang Mo Kio Ave 5
Opening Hours: 7.30am to 3pm
Soi 19 Thai Wanton Noodles In Ang Mo Kio