I have yet to write about our trip to Siem Reap last November. After I return from a trip, I spend alot of my time editing, organising, uploading and captioning photographs; by which time, I am too tired to write a long post about the trip. [Bits and pieces of my post on my short Seoul trip last October are still lying in a folder somewhere.]
Before my memory fades, I thought that I should just kick off Siem Reap and write a little as I go along. To start the ball rolling, here is our itinerary (not including the two travelling days).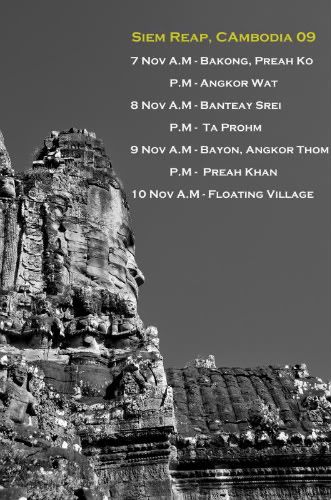 We landed in Siem Reap after dusk, alighted from the plane and walked on the tarmac to the airport. The exterior of the airport could be mistaken for a Balinese resort with its wooden structure, sloping roofs and curved eaves. It was a refreshing change from the usual bricks-mortar-glass-and-steel structure that we are used to.
Clearing customs was a breeze and the hotel pick-up was waiting to pick us up. The ride from the airport to the hotel was smooth and traffic-free, and I saw numerous Korean restaurants lining both sides of the main road leading to the hotel – I learnt later that Siem Reap is a popular tourist destination with Koreans.
We reached Hotel De La Paix in 30 minutes, checked-in and quickly changed for dinner at Abacus. Friends who had dined at this French restaurant highly recommended the place for its excellent food at very affordable prices. We had Googled the restaurant and read many complimentary reviews regarding its food, price and service.
The bellboy got us a tuk-tuk to bring us to Abacus – and back as well – which is situated in an alley off the main road between the airport and the hotel. The Siem Reap tuk-tuks are very similar to the ones in Bangkok. I have always loved riding in tuk-tuks because they are so much fun. Unfortunately, the ride to Abacus was quite bumpy as the roads were uneven and full of potholes – I hung on tightly and tried to enjoy the short ride.
Abacus is situated in a bungalow with a beautiful garden but it was too dark for us to appreciate the surroundings. The restaurant setting was warm, cosy and casual. I am always slightly nervous about dining in a French restaurant because I find the atmosphere in a number of them rather formal and, may I say, uptight. I felt relaxed in Abacus, well, relaxed enough to take out my camera.
The menu is quite substantial, with choices of French and Khmer-style courses. We ordered two appetisers – the mango and crabmeat salad and beef carpaccio – to share and the restaurant also served an amuse bouche. Very yummy. By this time, I was seriously regretting having eaten on the plane.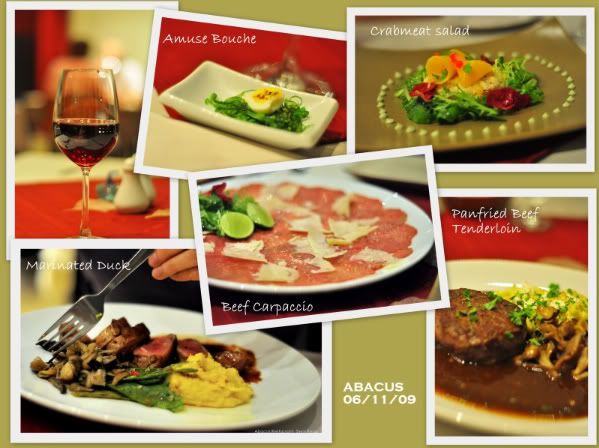 For mains, I had chosen the pan-fried beef tenderloin, wild mushrooms with mash potato, foie gras truffle sauce, while TBH opted for marinated duck breast served with mashed potato and pumpkin, wild mushrooms and snow peas. We each had a glass of red wine.
The meats were really good but for me, it was the sides – wild mushrooms, snow peas and mash – that shone. Regretfully, we had absolutely no space for dessert and could only order cappuccino to round it all up.
The food was excellent, we were very happy and no, the bill did not break our pocket. We could afford to return another day.
With our very stuffed bellies, we braced ourselves for the bumpy ride back and hoped it wouldn't make us throw up our dinner.
Good thing, it did not.
Other Posts on Siem Reap:
Siem Reap: Day 1 – Overview
Siem Reap: Day 1 – Bakong
Siem Reap: Day 1 – Preah Ko